Premier Meat Company
August 1, 2013
Premier Meat Company
has been a family owned business for over 50 years. Since the beginning, they've been commited to providing meats raised in humane and natural ways.
"We've worked with relentless passion and integrity to raise the bar as we continue to provide you with the freshest, most sustainable, humanely farm-bred and raised, top-of-the-line, hand cut product that you've come to love over the years."
Premier Meat Company partners with some of the best family-owned farms around the country. They hand-select their partners from ranchers who share their committment to humane and natural methods.
Their partners include:
Mary's Chickens
- Chicken (Also Mary's Turkey)-
Oxy has been serving Mary's chicken and turkey for many years. Mary's Turkeys are always served at the Organic Thanksgiving Feast.
Pittman Farms' chickens aren't simply chickens, they're Mary's Chickens. Every chicken is vegetarian-fed and air-chilled vs. being left to sit in water. This unique pre-processing allows for more natural flavor and juices in our chicken. Pittman Farms also works with organizations such as
PETA and Temple Grandin, professor of animal science, to ensure Pittman Farms' chickens live in the utmost
conditions prior to processing. (200 miles from Oxy)
Niman Ranch has built their name on raising the best breeds of livestock both humanely and traditionally, feeding them an all-natural 100% vegetarian diet. Raised on sustainable, family owned U.S. farms and ranches, all of their products are hormone and antibiotic free, as well as gluten-free. Today, the Niman Ranch network has grown to become the largest network of independent American family farmers and ranchers. The care that goes into raising each animal results in superior marbling and tenderness with exquisite flavor that's 100% traceable from farm to plate.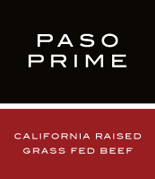 Paso Prime
– Beef
Paso Prime prides themselves on free-range, grass-fed beef with steer that gather their natural flavors and abundant nutrients from the land on which they roam. Through cross breeding French Charolais and American Angus Steer, the resulting beef retains superior marbling and bold flavors, while maintaining a larger size. And to achieve maximum sustainability, Paso Prime only allows 3 heads of cattle to graze per acre. But grass-fed beef isn't just about fullness of flavor, it also offers a variety of health benefits including:
-Low in calories and great for burning fat
-Heart friendly, reducing the chances of heart disease
-Dietary defense against cancer
Creekstone Farms supports local farms and from birth to processing, ensure their livestock are handled compassionately and humanely. We share a strong belief that humanely treated livestock produce unrivalled taste and more tender meat.
Imperial Wagyu
- Beef
Imperial Wagyu incorporates holistic and natural methods through all stages of production. All cattle are raised in lush green environments before entering a long, slow feeding phase over 400 days. The feeding period is used to promote the production of highly marbled, velvety textured Wagyu beef.
Office: Johnson Student Center, 2nd Floor
phone: (323) 259-2629
e-mail: dining@oxy.edu