From Jonathan Veitch
In the midst of the hue and cry over the high cost of education and the value of a bachelor's degree, as well as the important national conversation over sexual misconduct on college campuses (which you can read more about elsewhere in this magazine), the good news about your alma mater can get lost or ignored. I'm pleased to report that Occidental has had a very successful year.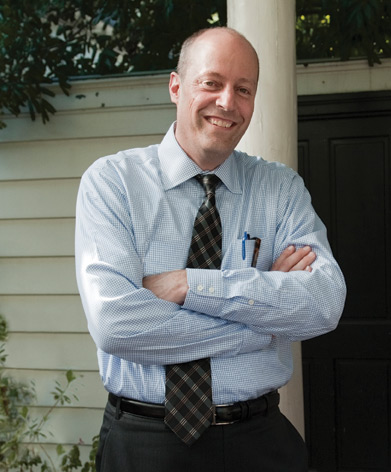 Student applications remain at near-record levels, with international students applying in greater numbers than ever. On Founders Day in April, we announced a $1.5-million gift from Merle and Peter Mullin to landscape the entrance to Oxy's campus—look for details in the coming months—and dedicated our new 1-megawatt solar array on Fiji Hill. Then, Los Angeles Mayor Antonio ­Villaraigosa participated in the festivities and talked warmly about Occidental's innovative role in the life of the city.
Any day now, we will take the wraps off the McKinnon ­Center for Global Affairs (featuring the completely renovated Choi Auditorium and the Varelas Innovation Lab), as well as the Rose Hills Student Activities Center. And we are preparing to close the books on one of our most successful fundraising years ever, with gifts and pledges in the neighborhood of $23 million.
Eleven Oxy students and alumni were awarded Fulbright fellowships to work and study abroad, setting a new Oxy record for a single year and reaffirming our status as one of the country's leading producers of Fulbrights. Their success is a testament to the quality of our students and the tenacity of David Axeen, professor emeritus of American studies, who has chaired the Fulbright program at Occidental for the last decade.
Add to that a set of Truman, Goldwater, and Strauss scholarships, two National Science Foundation Graduate Fellowships, and a Pickering Graduate Foreign Affairs Fellowship, and the 2012-13 academic year will go down as a landmark one for Oxy in national and international award competitions.
Tamara Shogaolu '08 became our 15th Luce Scholar and our fourth recipient in four years, a record matched only by Yale. The remarkable Libby Evans Blanchard '06 has received her second Gates Cambridge Scholarship to pursue her Ph.D. in geography, focusing on environmental issues. Libby became Occidental's first Gates Scholar only last year, and recently completed her M.Phil. degree in environment, society, and development at Cambridge.
On the heels of Ben Affleck '95 taking home the Best Picture Oscar for Argo, aspiring filmmaker Raffy Cortina '13 was awarded a gold medal for his short Bottled Up in the 2013 Student Academy Awards—the first Oxy student to win in the 40-year-old international film competition. Raffy shot his ­previous short, Cross Court, inside Rush Gymnasium—where two-time SCIAC player of the year Makenzie Brandon '13 soared to new heights in becoming Oxy's all-time scoring leader on the women's basketball team.
To ensure that future generations of award-winning students have all the tools they need to develop a modern set of skills, we will use a generous grant from the Michael J. Connell Foundation to equip our first digital production studio in the Academic Commons. And to give them greater opportunities to translate those skills in a difficult job market, our Career Development Center has dramatically expanded its paid summer internship program.
We made a concerted effort to broaden the conversation on campus with an invitation to our first Kemp Scholar. Morton Kondracke, the veteran journalist and biographer of Jack Kemp '57, spoke of the emergence of "Kempism"—a conservative alternative to political polarization with a bipartisan message of thoughtful compromise that he hopes will appeal to ordinary citizens. To expand our intellectual presence in Los Angeles, Oxy launched a new partnership with Zocalo Public Square called OxyTalks, with topics ranging from immigration reform to whether music still functions as the cultural force for change that it once did. Next year—thanks to a gift from the Annenberg Foundation and Metabolic Studio—we will devote ourselves to the subject of water in commemoration of the 100th anniversary of the opening of William Mulholland's Los Angeles aqueduct.
Not bad, all in all, for a 125th-anniversary celebration. As I embark on my fifth year at Oxy, I remain excited by the opportunities that a liberal arts education provides, and proud of the work of your alma mater.
Jonathan Veitch, President