What's Happening
What's happening in the Department of Religious Studies at Oxy??? Let us tell you...
...about our faculty:
The Religious Studies department is delighted to welcome Dr. Peter Anthony Mena to the department from Spring 2014-Spring 2015 as our Mellon Fellow. Dr. Mena earned a B.A. at the University of Texas at Austin (History), a M.A. from St. Edwards University (Liberal Studies), a M.A. from Union Theological Seminary in the City of New York (Church History), and his Ph.D. from Drew University (Religion). Dr. Mena's research centers on the history of Christianity; gender, sexuality, and the body; and constructions of orthodoxy and heresy. He has served as Adjunct Instructor of Religious Studies at Marymount Manhattan College (New York) and Manhattan College (New York). At Occidental, he will teach the following courses: Women, Gender, and Christianity in Late Antiquity and the Middle Ages; Chican@ Religious Identities; Religious Violence from Antiquity to the First Crusades; Mapping Religious Identity: Place, Race, and Empire; and History of Christianity.
In 2012-2013, the Religious Studies department was honored to have Prof. Marko Geslani as our Mellon Fellow. Prof. Geslani's current research focuses on the role of the ancient Vedic priesthood in the development of mainstream Hindu image worship and temple planning; the formation of the royal ritual calendar; and how the new specialization of astrology affected the style and organization of Hindu rituals in mainstream texts of the medieval period. At Oxy he taught Introduction to Hinduism, Pilgrimage and Sacred Space in South Asian Religions, and Hindu Ritual in Theory and Practice. We were privileged to have him in the department and we are proud to send him off to Emory University, where he will be an Assistant Professor in the Department of Religion.
...about our star students:
We are immensely proud of our major, Natalie Malter '13, for winning the Phi Beta Kappa Benjamin Culley Prize. The prize is awarded to one graduating senior whose initiative and creativity beyond the classroom has notably enhanced the quality of intellectual life at Occidental.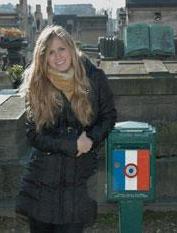 We are also delighted to report that our rising senior, Aralyn Beaumont '14, has had a year of food-related successes. In the Fall semester, she presented a paper entitled, "You are what you eat: food and identity in Ancient Rome," at the Second International Conference on Food Studies in the Fall semester. To read her abstract, go to: http://o12.cgpublisher.com/proposals/220/index_html
In the Spring semester, she studied abroad in Paris and there interned at L'Atelier Guy Martin. This summer, she was got a coveted internship at the hot new food journal, Lucky Peach. To read a story about Aralyn on the oxy website, go to: http://www.oxy.edu/news/food-historian-adds-modern-cuisine-her-repertoire
...about our exciting course offerings:
This year, Prof. Upson-Saia taught her study abroad program, Turkey: Then & Now, for the second time. The program includes a Fall semester course and a study tour in Turkey over winter break.
In the Fall semester course, students acquired a background in the history, culture, and issues of Turkey from antiquity to the present: from the Hittites to the Greco-Romans to the Ottomans to Atatürk's reform and the modern Republic. Throughout this historical survey, the class concentrated on three themes:
1. Landscape—we explored how the physical geolography (e.g., seaports, mountains, easily traversable routes for trade, etc.), as well as how unique geological formations (e.g., faults, hot springs, etc.), influenced the peoples living in and travelling through Turkey.
2. Layers and exchange—we dissected the manner and nature of interactions between peoples and cultures living in and travelling through Turkey, as well as the way successive generations incorporated and built upon the remnants of their predecessors.
3. Memorialization and Representation—we analyzed the memorials of historical peoples (to understand how they wanted later generations to see and to judge them--such as monuments, grand buildings, official histories--as well as the lasting artifacts that they may or may not have intended to be representations of their society and identity, but have nevertheless remained extant and have become indicative of Anatolian/Turkish identity (such as underground cisterns, cave dwellings of obscure ascetics, arts and crafts). We also considered the difference between the way contemporary Turkish, European, and American scholarship (and media) differently represents the history and issues of Turkey and the stakes underwriting each perspective.
Near the end of the semester, students conduct research projects on an aspect of Turkish history/culture related to their intellectual interests and major curriculum. In Turkey, participants presented their research at a site related to their topic.
To read an Oxy Weekly story on the trip, see: http://occidentalweekly.com/features/2013/02/12/students-get-a-taste-of-turkey-during-break/
Location: Fowler Hall, 4th floor
Email: mdessornes@oxy.edu
Phone: (323) 259-2787