Guest Artists
Performances, residencies, workshops, and collaborations with Guest Artists enrich the experience of Oxy Theater students.
---
Guest Artists for 2012-13: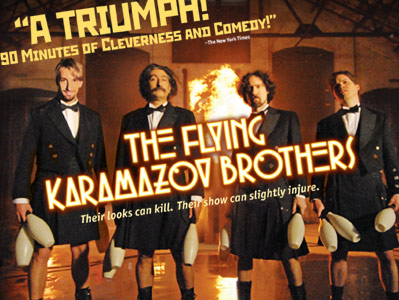 Hume Fellows: The Flying Karamazov Brothers (Performance and Workshop) including Zossima
(alum Stephen Bent, Music '09)
Performance in Thorne Hall,
Friday September 14, 8 pm.
Distinguished Alumni Speaker: Tim Sanford, Artistic Director of Playwrights Horizons
Public talk on Monday, September 24, 5:15 pm in Keck Theater.
Stage Combat Workshop with Nick Erickson, Assistant Professor, Stage Movement Specialist.
Saturday, March 23 and Sunday March 24
Inaugural Guest Artist in Residence for the Edgerton Program in Theater: Dan Dietz, Playwright, Television writer
Intro to Writing for Television Workshop
Saturday, March 30 from 1:30pm to 4:30pm
---
Recent Guest Artists (supported variously by the Culley Fund, the G. William Hume Fund, and the Remsen Bird Fund) have included:
Roberta Levitow, artistic director of Theatre Without Borders
Laura Wong, costume designer/Oxy alum '08
Christina Wright, costume designer/Oxy alum '88
Patrick Shaw, actor/writer/senior program representative of the O'Neill Center/National Theatre Institute
Roger Guenveur Smith writer/actor/director/Oxy alum '77 (2011 Hume Fellow)
Will Power hip hop solo artist/writer/actor/director (2010 production of The Seven)
Kathryn Bostic singer-songwriter/composer/ (music director of The Seven)
Grace Shinae Jun choreographer/educator/performer/scholar
Ellen Newman, artistic director of the London Dramatic Academy
Phone: (323) 259-2771
Email: beatrice@oxy.edu
Fax: (323) 341-4987