Numbers don't tell the whole story, but they're a good place to start.
Student Body

Total Enrollment

Student: Faculty Ratio

Average Class Size

Classes with Fewer Than 30 Students

Classes Over 50 Students

Freshman Retention Rate

Full-Time Faculty with Ph.D. or Terminal Degree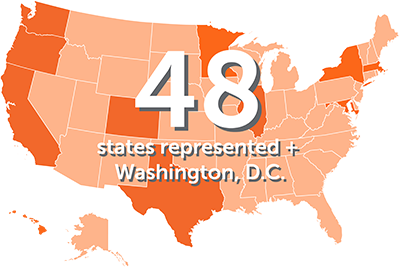 Top states: CA, WA, NY, OR, IL, MA, CO, TX, MD, MN and HI

Domestic Students of Color

First-Generation College Students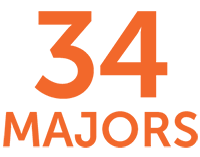 Most Popular Majors: Economics, Biology, Diplomacy and World Affairs, Sociology, Psychology, Mathematics, Urban and Environmental Policy
Alumni Achievement
Oxy has been a top 10 producer of Fulbright Fellowships for the last decade.
10 Rhodes Scholars graduated from Oxy.
One year after graduation, 94% of alumni are fully employed, attending graduate school, or are pursuing both.
Alumni attend top graduate schools including Harvard, Stanford, NYU, University of Chicago, UCLA, USC, UC Berkeley.
Campus Life

Days of Sunshine

Live on Campus All Four Years

Participate in Athletics

Clubs, Organizations, and Teams
Other Oxy Facts
We're in L.A., with access to beaches, mountains, deserts and leading companies in the entertainment, technology and financial fields.
Occidental boasts the nation's only residential academic semester program at the United Nations. A cohort of students live together in New York and take courses with Occidental professors while maintaining a full-time internship at a U.N.-related agency or country mission.
Notable alumni include President Barack Obama; Oscar-winning director, writer and actor Ben Affleck; Congressman and NFL quarterback Jack Kemp; documentary filmmaker Gabriela Cowperthwaite (Blackfish), and Andrea Elliot, Pulitzer Prize winner and investigative journalist with the New York Times.
Our beautiful campus has been featured in more than 80 movies and TV shows, such as Clueless (1995), "NCIS" and "Arrested Development," since the first filming took place in 1919.