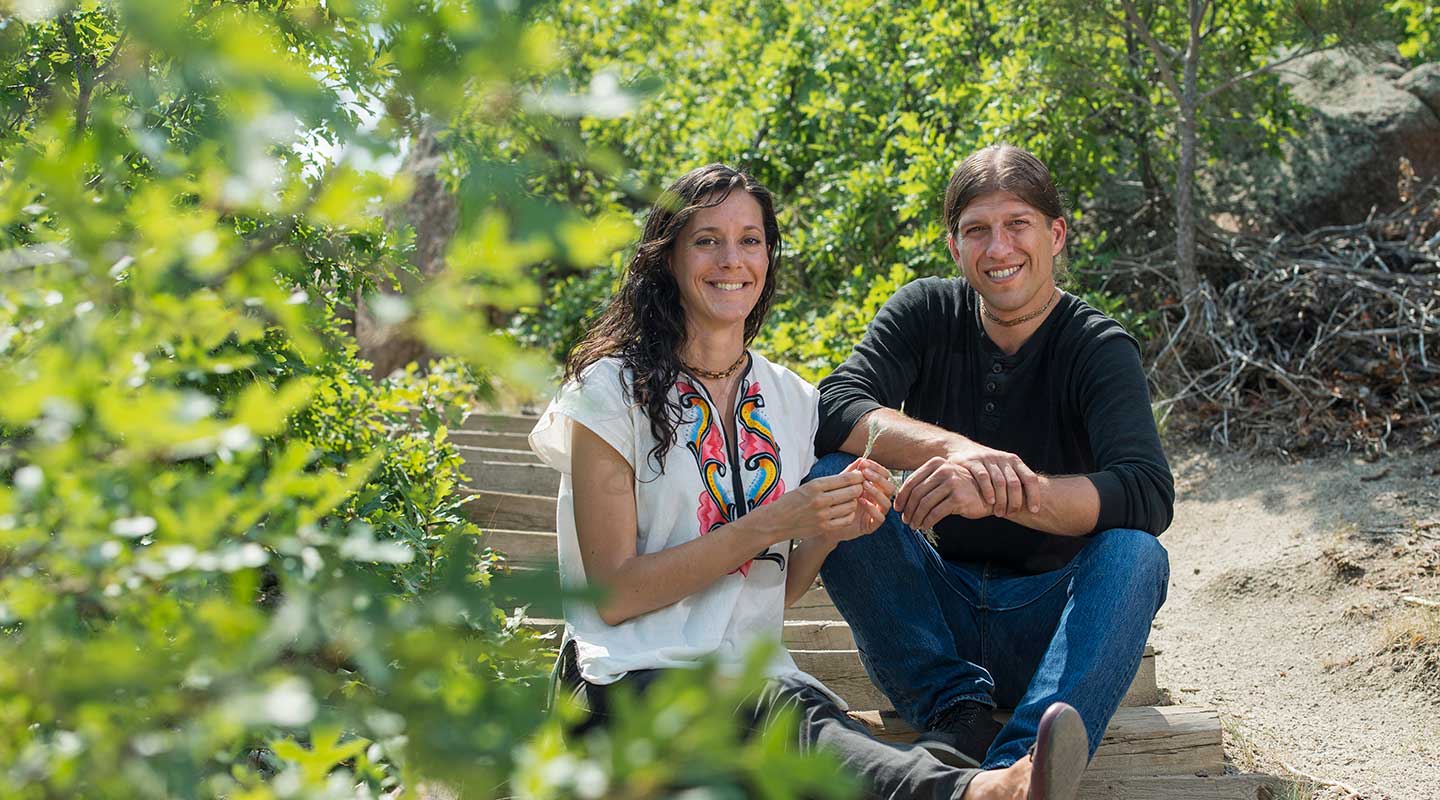 High on a Peruvian mountain more than 4,000 miles from Oxy, Adrienne (Spivak) Hostetler and her husband Garrett Hostetler bring modern ideas to the practice of plant-based medicine.
"Work life, home life, and social life—it should be all integrated," Garrett says. "They say fragmentation leads to illness. In the ancient world, when someone got sick, the healer treated the whole family, not just the person. It was an extension of health to the whole community."
The community's shared devotion to the interconnectedness of life prompted Adrienne and Garrett to establish the Asociación Rueda Sagrada, or Sacred Wheel Association. It's a nonprofit organization based near Cusco, Peru, that promotes a natural way of life, emphasizing community, reciprocity and collaboration.
In addition to studying plant-based medicine founded in ancient traditions to treat the whole body, the Hostetlers' work focuses on providing educational programs to teach the practices and culture of the Andean people to both local people and visitors from around the world. "We take their philosophical vision of life and apply it in a practical way," says Adrienne, who grew up in Denver and majored in art history and visual arts at Oxy. "Healthy living, natural medicine, agriculture, food, science and arts are all aspects of a complete sense of life. We live in harmony with nature."
Adrienne and Garrett, a biochemistry major from Gardnerville, Nev., met by chance through a mutual friend about a month before graduation. Both played sports for all four years at Oxy—Adrienne as a soccer forward and Garrett as a football offensive lineman—"so we had many of the same friends, and somehow we did not meet until then," Garrett recalls.
After they graduated, Garrett took a job as a biochemistry investigator and lab associate at a pharmaceutical company. Adrienne, meanwhile, worked a few unsatisfying jobs before she decided to hit the reset button. She sold all her possessions, bought a backpack and a one-way plane ticket, and left for South America in November 2009. They kept in touch, and Garrett eventually joined her in Peru, where the couple was married in 2013.
Integrated medicine is the focus of the research laboratory at Rueda Sagrada. Garrett says much of the work is cataloging and documenting the medicinal plants of the region as well as researching the locals' understanding of the traditional healing power of plants and the dynamics of plants and the human body.
"We integrate the ancestral vision while working with natural medicine makers, native healers, Ph.D. pharmacists, doctors, lots of modern science. It's a collaborative laboratory, the first of its kind in the Andes," Garrett says. "We work with the plant in its wholeness, keeping the integrity of the plant. We can't just take out a physical element. We integrate empirical data in discussions with pharmacists and medical doctors."
The ayllu, or traditional community, is built upon the understanding that everyone is interconnected, and that living in community requires working together and helping one another. "When someone needs to build a house, they all work together," Adrienne says. "We don't separate what's good for me and what's good for you. It's a completely different economic system. Not capitalism or communism—it's communal living. We exchange goods and services."
Their focus is not only on sharing their way of life with the world, but connecting with the next generation of Quechuan people. Garrett says community leaders are concerned about their children's aspiration to the Western lifestyle and their lack of desire to pass down ancestral knowledge. The Hostetlers, meanwhile, delight in learning Quechuan traditions, and they try to model the appreciation and application of those customs.
"Kids see it as going back in time," says Garrett, who stresses that his work with traditional medicine integrates and complements modern science, rather than dismissing it. "But it's not going back to the past; it's how this ancestral vision can apply to the modern day."
Each morning, Adrienne and Garrett eat breakfast with their community of 20 people, high on a mountain in rural Peru, and then everyone begins their service hours. Whether it's cooking the meals, doing research in the laboratory, or going through plants and making medicine, each person has an assigned task for the day. In the evenings, they have reuniones, or meetings, sharing lessons from challenges faced that day.