Philosophy major Cléo Charpantier is the winner of this year's Lauter Prize, presented annually to the author of the best senior comprehensive paper in philosophy. After Oxy, she is planning to pursue a Ph.D. in the subject.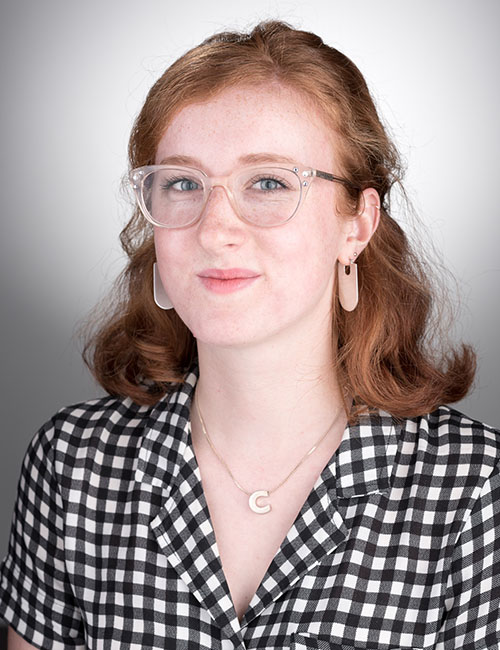 How did you decide to be a philosophy major?
I had an unusual high school education and took an introductory philosophy class my senior year, which made me fall in love with philosophy's big and lofty questions. So I arrived at Occidental already thinking I would minor in philosophy. Then, as I took my first few philosophy classes, I really loved the content and the faculty, so I decided to major in it! And I'm so glad that I did.
What is your favorite class?
It's so hard to pick a favorite, I've enjoyed all of my philosophy classes. I took "Philosophy of Race" with Professor Clair Morrissey my sophomore year, which I liked a lot because of the way it challenged both historical and contemporary understandings of race, and because of the way Professor Morrissey pushed us to be critical of our own assumptions. I also really enjoyed our Senior Seminar class taught by Professor Ryan Preston-Roedder and the engaging, deep philosophical discussions we had as a class.
Has there been a class or professor that stood out to you?
"Ethics Bowl" with Professor Erica Preston-Roedder stands out because of what a different approach to philosophy it took. Ethics Bowl is a philosophy debate competition of sorts, for which you research 15 contemporary ethical dilemmas and prepare philosophical responses as a team. I loved being able to apply philosophical concepts I'd learned during my time at Oxy to important issues I am passionate about, such as felon voting rights and self-driving cars. It was also great practice in doing philosophy in community with others and working through ethical questions collectively. I grew a lot as a philosopher through this class.
Can you talk about your research on campus and abroad?
For our philosophy senior comprehensive project this year, we were tasked with developing an original response to Elizabeth Barnes' book The Minority Body. For my paper, I researched philosophy of disability and feminist philosophy about dependence. I then proposed that to further disability studies and disability rights, we should adopt a feminist conception of dependence as something with potential value. This research was very personally important to me.
My junior year, I was lucky enough to study abroad in Copenhagen on a DIS Study Abroad in Scandinavia program, which emphasized philosophy. While there, I took a class all about Søren Kierkegaard and his extensive body of work. I wrote a research paper about Kierkegaard's notion of personhood and how it is exemplified through his writing, across his different texts. This was a really interesting project, in part because it was so vastly different from the philosophy I have done at Oxy. It was especially meaningful to work on this while living blocks away from where Kierkegaard was born and bus ride away from where he is buried.
What is your plan after college?
This summer I will be attending the Summer Immersion Program in Philosophy at Brown University, which is a program for minorities within philosophy (which, yep, still includes white women). This program is intended to give participants a taste of graduate school and help them decide whether that is the right next step. I'm strongly considering getting a Ph.D. in philosophy and becoming a professor, and will be applying to graduate programs in the fall. I'm also interested in pursuing politics and public policy. No matter what it is I do, though, I know the values and skills I've learned as a philosophy major here at Oxy will shape my work and help me in my aim to contribute to the greater public good.