Los Angeles local Diego Zapata didn't have to venture far from home to find his best college experience. A biology major with an environmental science concentration, he has brought his love of gardening and hope for building a better community along with him on his short drive to Oxy.
As the director of FEAST (Food, Energy and Sustainability Team), Diego is growing plants, food and community across campus. Here, he shares how his academic experience is building on his life as a youth community organizer and why sustaining an urban garden is heaven on campus.
Following the Signs
I grew up locally in Lincoln Heights, about three miles away. Growing up in Northeast L.A., I actually didn't know much about Occidental. The reason why I applied to Oxy in the first place was because on my way home [from high school] there was a freeway sign that pointed to Occidental College. Because I plan on living in Lincoln Heights for the rest of my life, since I'm really committed to bettering my community, I really wanted to go to a school that was close to where I lived. I wanted to maintain the networks that I had established and still have a connection to the community that shaped me so much. When I saw the sign pointing to Oxy I truly felt that it was pointing me in the right direction and I applied Early Decision. The first day of moving in, I'd actually never visited Oxy before, so it was a complete leap of faith. Knowing Oxy now, I still would apply because I love it so much. I can't imagine going anywhere else.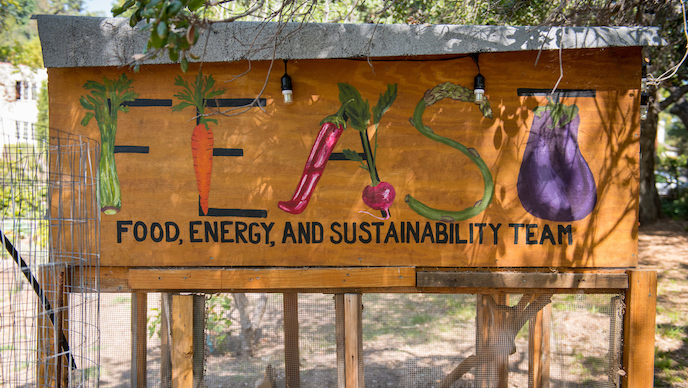 Organic Growth
My first year at Oxy I joined FEAST, but wasn't very active, because it was an adjustment period. During sophomore year, I decided to take a leap of faith again, and I signed up to be the winter break garden manager for FEAST. Since I was local, I could commute here anytime and take care of the garden. After that, I really became part of the leadership. I came in at an optimal period, because the previous president of FEAST, Skye Harnsberger '17, graduated a semester early. There was no one here who knew how to grow food and could navigate a garden area, so I organically filled in one of the leadership roles of FEAST as a club. Now that FEAST is a student service, I've become the director. Skye and Dylan Bruce '16 built that momentum to make FEAST and helped conceive what FEAST should be. As FEAST's first director, my job was to formulate how it would operate as a student service with a mission for plurality, community and sustainability in mind. The garden is like a heaven on campus, and I really want others to know that. Growing your own food and having a sense of community is really important. FEAST is here to do that.
Science Matters
I'm a biology major with an environmental science concentration. I'm really into botany and agro-ecology, so that's what I wanted to do. There is definitely a fluidity to me being a biology major and working at the FEAST garden. I have a much deeper understanding of all the smaller parts of a huge dynamic cycle of gardening. I'm still negotiating [how to] really make an impact on the world as a scientist because you can formulate hypotheses, set up experimental designs and do the research to inform people and policymakers, but you can't execute a policy. I was really considering urban and environmental policy as a major as well, but I decided to do biology because I just feel like I want to have an intimate connection between the two—that's why I'm at a liberal arts college, because I want to have an interdisciplinary education. I want to do science and policy, so that I can really make a difference in the world.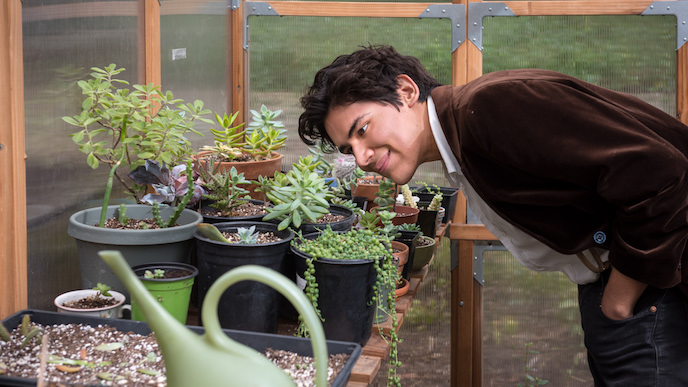 Back to My Roots
Working at FEAST has really given me a sense of belonging, a feeling of agency over my life. Working in a garden and being able to bring life out of something that seems inanimate, it's empowering. My family comes from an agrarian background, so working in the garden has really instilled in me a respect for my family's roots. It's also cultivated in me a sense of understanding of how to get people more involved. Teaching people how to grow their own food, knowing that they feel more empowered over their lives and feeling like they can make a difference really has cemented that sort of community-organizing aspect of my life before Oxy. In high school I was really involved in this nonprofit youth organization called the Southeast Asian Community Alliance (SEACA), which is based in Chinatown. Their approach is to build up local youth community organizers who have a better understanding of the needs of each community's residents. [Through SEACA], we lobbied for a policy—the Cornfields of Arroyo Seco Specific Plan, CASP—that made sure there was a quote for affordable housing in any sort of apartment that was built in the area, which is really awesome because it had never been done before. I want to [continue to] mobilize people to address many of the issues around their community through the means of gardening and green spaces.
Planting a Community
Coming to Oxy was a culture shock. Growing up around here I never felt like a minority, but coming into college I definitely felt like one for the first time in my life. There was a lot of having to cope with that, and coming to terms with myself and my belonging in the overall Oxy community. Coming to an entirely different social environment, it's going to be hard, but I think what you have to do is really find your niche in the community. Doing what you enjoy is really important at Oxy. There's definitely a lot of resources to help find out what you want to do, like FEAST or all the other student services and clubs. Get out of your little circle and meet people, get involved, because it honestly does make a difference. College is a time of experimentation and self-discovery. Find out what you like to do, do it, and you will leave your mark in the world.
Follow FEAST on Instagram to stay updated on community events.