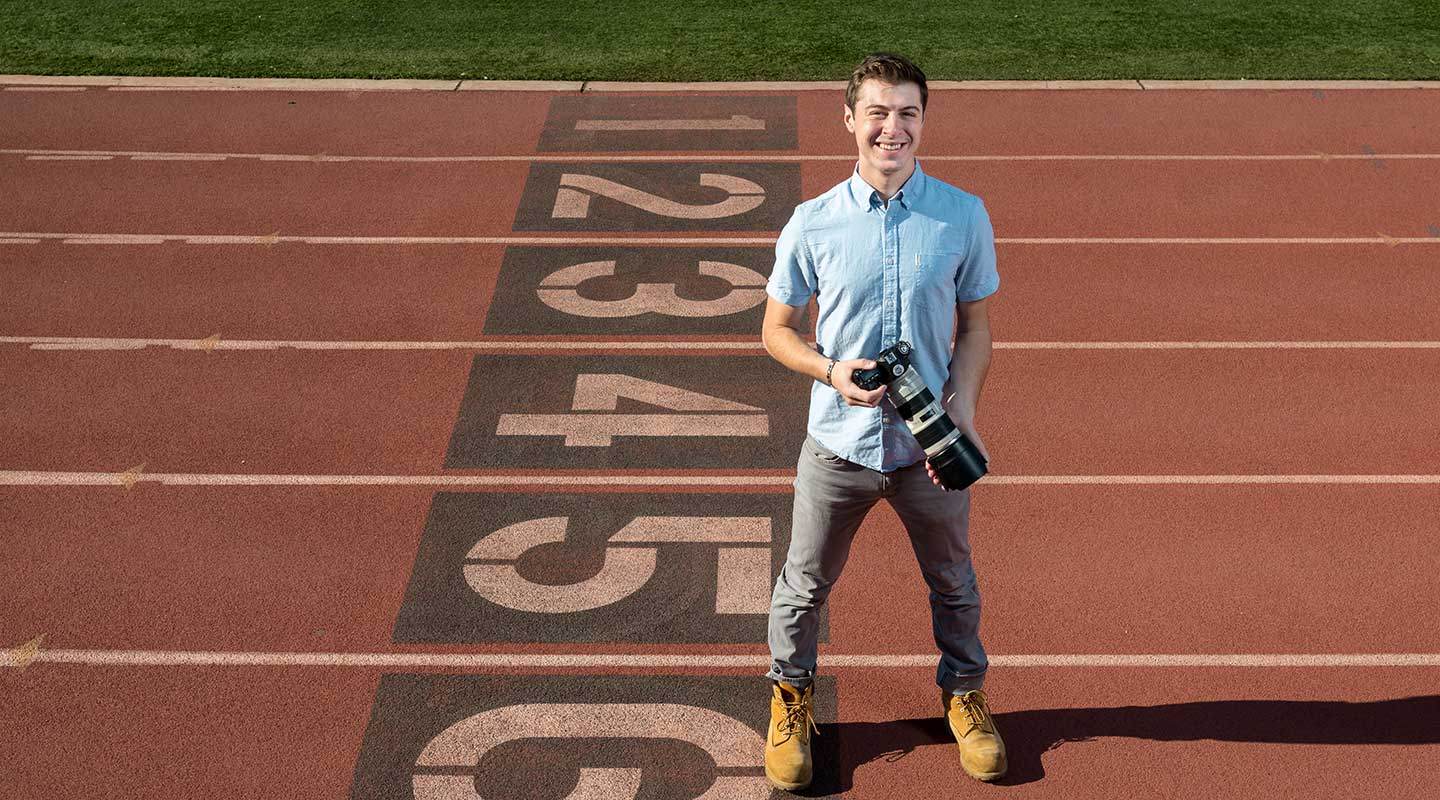 For most college students, days and nights are filled with memorable events to look back on in the future. But even with sophisticated camera-equipped devices everywhere, Oxy students are glad to have the talent and expertise of Jeremy Bloom to capture moments on campus and off.
As a student-athlete and working photographer/videographer with a full load of classes and on-campus jobs, he has a busy calendar of events to juggle, all while earning degrees in media arts and culture and economics. Bloom shares how he got his start as a small business owner, why that has resulted in frequent party invites and how the last four years have taught him unexpected life lessons.
Oxy in the Picture
When I was looking at schools, it came down to small school vs. big school. I wanted to be at a school in a city where I could continue running track and field, and I knew I wanted to study film, so being in Los Angeles is kind of the place to be for that. Oxy was one on the small school list, and I really fell in love with it when I did my campus visit. I liked the programs that Oxy offers. I originally wanted to study marketing and was really into business and subjects like that, and I was planning on doing economics at Oxy. I knew I liked media arts and culture (MAC) and film/video production (because I'd started out in photography), but didn't take my first film class until spring of my first year. I declared a double major my sophomore year as economics and MAC and went from there.
Behind the Camera
I was never really exposed to production courses until I got to college. I'd always loved playing with my dad's old camera when I was kid. It wasn't until my sophomore year of high school that I started Bloom Photography. I didn't have the intention of starting a company, it was just a medium to post all the pictures that I'd take at sports events (because I worked for my high school newspaper), and I would post pictures from events and formals on there so I could share it with all my friends. Just posting them for fun turned into paid work, and it blossomed from there. I made my first promo video for the track and field team and realized "Wow, I really like this." I like seeing people's reactions to my work, and it was really fun to make. It made me switch from what was Bloom Photography to JSB Productions.
A Balancing Act
When I go out and work at college parties, like the Greek party formals, I honestly do enjoy it. People expect me to be there [doing photography] now, which is odd. I've met a lot of people through photography and production, whether it's shooting Greek life to working on The Occidental. I've been able to take what was just for fun and turned it into a business. Time management is absolutely imperative to what I do (my Google calendar is my best friend), and I manage to have a pretty balanced schedule given how much I do. Athletics have been a really big part of my life. I ran cross country for the first three years, and I've been on the track team for all four years and I love it. I've been dealing with injuries on and off for the last three years, but even when I haven't been able to participate to the best of my ability athletically, still being on the team and having that atmosphere and training regimen seven days a week, being around a team that's supportive, it's definitely something I'm going to miss once I graduate.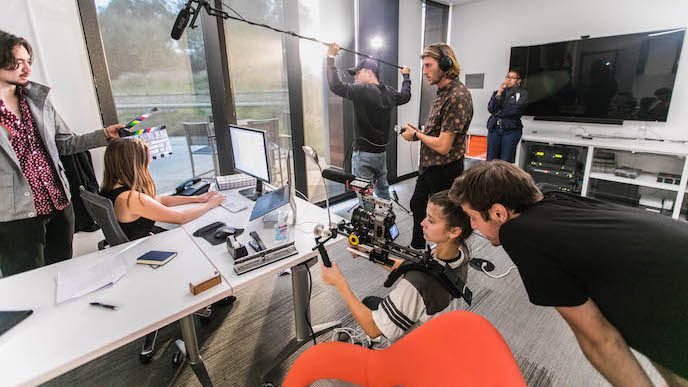 Photo credit: Willie Siau '18
From Page to Screen
Production classes at Oxy are really interesting because they bring in speakers who are usually Oxy alum and are working in the industry to give us tips and tricks. One day we had a sound recordist come in and teach about boom mics; we've had cinematographers come in to give lessons and they ask us about our scripts and we can make up a lighting scenario for a scene in our script. With MAC senior comps, it's been a really cool opportunity to create our own projects and bring them to life. You start crafting your script during spring of junior year; it's due in the fall of your senior year. Mid-way through the fall semester you go into production in groups of four and everyone rotates jobs: you write/direct/edit your own film and the three other students act as cinematographer, sound recorder and producer. In the spring we'll take Advanced Editing to edit the projects. I'm not a writer by any means, I'm more of a trained cinematographer and editor, so it was great to workshop my ideas as I was writing the script and get help from my peers. I also worked with a few of my mentors from past internships to really workshop this film and get it to tell the story that I wanted.
Senior Year Reflections
Throughout my time at Oxy, I've learned to be fearless, to network and to put myself out there and really make a name for myself. Don't be afraid to reach out to people and ask for advice, for informational interviews, to work for free to get experience or a foot in the door. The worst someone can say is no, and that's not always a bad thing. Another thing I've learned is problem-solving: being put in difficult situations and learning how to get out of them by looking at all of your options, seeing what tools and resources you have at your disposal and using it to the best of your ability. See things from multiple perspectives. I think that's vital, not only coming to a campus that's diverse and everyone is from a different background and being able to be cognizant of that but also in terms of photography and production, thinking about things from multiple perspectives. There's not always one right way to do something, you've got to take everything into account and think about what everyone else brings to the table.
Find JSB Productions on Youtube to watch more videos featuring Occidental Athletics. Learn more about the Media Arts and Culture major or schedule a campus visit.