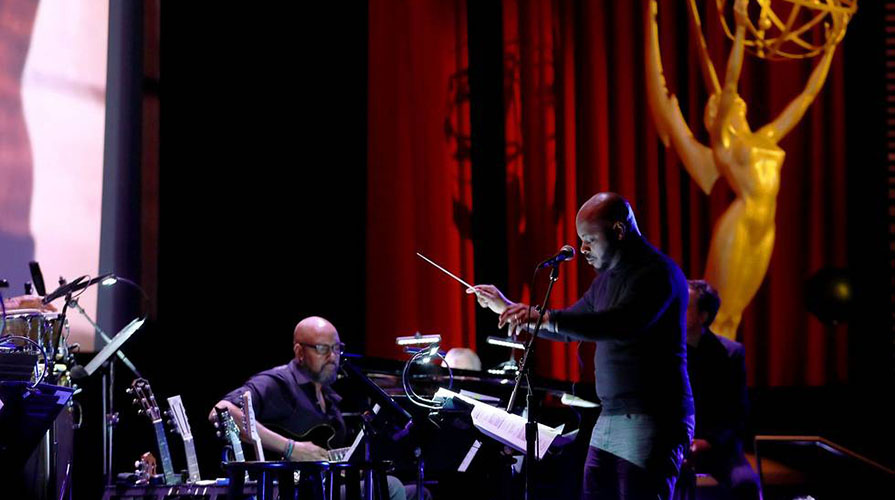 From music to computer programming and back again, music production instructor Jongnic Bontemps has found a way to parlay his liberal arts education into a career that satisfies his passions and pays the bills.
Born and raised in Brooklyn and Long Island, Jongnic Bontemps' childhood was steeped in music.
"I sang in choirs, played in bands and wrote songs," he says. "It was always something I just did for enjoyment. But when I got to college, I realized how much I loved music and wanted to delve into it."
So he chose to major in music at Yale University. His ultimate goal was to attend law school, he says, but once he took the LSAT those dreams were "crushed."
"My score was bad," he laments. "I wasn't going to go to the schools I wanted to go to. So there I was, answering an ad in the paper for a computer programmer, no experience necessary."
As part of his liberal arts degree, Bontemps had elected to take computer science class in artificial intelligence. The discipline piqued his curiosity, and he went on to teach himself HTML and basic scripting.
"My comfort with computers allowed me to pick up skills very quickly at that first job, where I spent a year consulting for them once I went through their basic training."
His second job was at Music Boulevard Network, a retail music information and sales website.
"I expanded my computer science programming knowledge and quickly became a manager," he explains. "I fell in with a great group of executives that really liked me, and for the next 15 years we worked with various companies, building out websites and e-commerce platforms."
Music makes a comeback
Bontemps was eventually recruited by a software company in Silicon Valley. It was around that time that music began to make a comeback in his life. He started playing in church again and writing songs using the digital audio software Logic.
"A friend listened to one of my songs and said, 'this sounds a lot like film music.' And it dawned on me that there are people who actually write music for media. I never thought about the idea that you could make music and have a viable career, and not be gigging in bars or touring. You could enjoy a musical life and be part of telling stories."
Bontemps started taking steps to bring this possibility to life, taking classes online and in San Francisco, writing music and doing lessons, all while working his full-time job.
"I would fly down to L.A. twice a month to take private lessons with a composer. So it was a journey that not only invigorated me, but that I invested a lot in. And it paid off because I got accepted to USC—the number one film school program in the world—and it totally changed my life."
Making music, paying the bills
Of course, Bontemps jokes, once he graduated Warner Brothers wasn't exactly waiting for him with a job. And by that time he had acquired a wife and two kids.
"They hadn't exactly signed up for this transformation, so I had to figure out how to keep them off the streets," he laughs.
I was able to pivot from music into technology after graduating because I had a liberal arts education," he says. "It taught me how to think, analyze, take in information, produce something, communicate effectively and lead teams."
So he combined new skills with old ones, launching ComposerTech, a high end computer consulting company. Word of mouth connected him with clients like Danny Elfman, Alan Silvestri, Alexandre Desplat and Teddy Shapiro. Bontemps gained valuable insight into the workflow of composers working at the level he aspired to, but it also allowed him to pursue smaller projects and build his personal resume.
"That's one of the things I always tell my students," he says. "You have to figure out what skills you have to keep the lights on while you pursue the dream."
There's nothing wrong with working at Starbucks, he explains, but that's not going to inform your passion.
"You have to identify the skills that are both income-generating and adjacent to what you want to do long-term. Find some support role, like a copyist, an orchestrator, or an assistant engineer in the studio. Those things build your network and experience. It opens up doors and opportunities, because you're already in the room."
Learning how to learn
Bontemps's successful music career has little to do with conservatory training, he says.
"I was able to pivot from music into technology after graduating because I had a liberal arts education," he says. "It taught me how to think, analyze, take in information, produce something, communicate effectively and lead teams."
A liberal arts education also gives you a point of view and a sense of your own voice, he adds, and informs who you are as a person.
"One of my professors said, 'They can teach you how to write music, but they can't teach you to say something.' So how can you have something to say to the world? That comes through education and exposure—that's what shapes your worldview."
Read about Bontemps conducting his original music from the HBO documentary film United Skates at the Television Academy in North Hollywood.