Diplomacy & World Affairs
Juve Cortes researches issues of democracy, democratization and new forms of democratic participation with a focus on Latin America.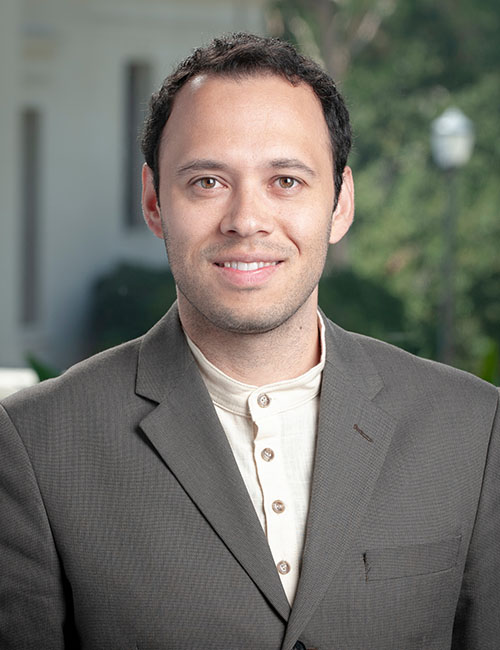 Cortes, assistant professor of diplomacy and world affairs, has a B.A. in political science from UC Berkeley and completed his Ph.D. in politics and international relations from USC in 2015. He came to Oxy as the John Parke Young Initiative Postdoctoral Fellow in 2015.
When did you take an interest in political science?
Cortes: Politics has always been part of my life, in one way or another. I grew up in Mexico in a village of about 600 people but despite its tiny size, it experienced many issues found in larger polities: land politics, water concerns, political divisions, and even religious divisions. In 1994, my family of nine moved to the metropolis that is Los Angeles—a process that began when former President Reagan granted amnesty to dad. Migrating was a massive culture shock but that is where I first began thinking about societies and the rules that constitute them. As I began high school, concerns of migration, politics, and the state continued and I decided to pursue them further at University.
What attracted you to Occidental?
Cortes: Everything, really. I always attended large universities where teaching was not emphasized but that is where I felt my real strength was. We've all had that teacher that encouraged us and had a strong impact on our futures—that is the position I hope to have and that's for a couple of reasons. First, I know that having the right teacher or adviser can make a positive change and second, many kids growing up in our union need encouragement and role models. I certainly did. After finishing my Ph.D., I began co-teaching a class at Oxy and, at the conclusion of my first day, I decided that Oxy was where I wanted to be.
What do you enjoy most about teaching?
Cortes: The most rewarding part of teaching is witnessing the development of students. This is my fourth year at Oxy and so I've had the opportunity to help some of my advisees from their freshman to senior years. In this process, they find their voice, develop interests, and become rather ambitious. It's witnessing the creation of future leaders. And this is generally what I see as my responsibility: to prepare individuals to become future leaders no matter their background.
After three years in the classroom, what are your impressions of Oxy students' intellectual curiosity?
Cortes: My impressions are very positive. Part of what makes teaching so enjoyable is that students continually challenge me; which means that I learn as well. This helps me improve as an educator but student's insights and diverse points of view also help in my research. I am also impressed by the amount of students partaking in internships, study abroad programs, and other activities outside the classroom. It's quite clear to me that Oxy students are a unique bunch, eager to learn and accomplish great things.
Of the classes you will be teaching this fall—Latin American Politics, Democracy & Comparative Democratization, Physics for Future Presidents—do you have a favorite? If so, why?
Cortes: Both Latin American Politics and Democracy & Comparative Democratization are favorites of mine. The topics are my expertise and students really love learning about the tremendous history of Latin America, which exemplifies variation in key political, economic, and cultural variables. It really is a fascinating region. Among my students, however, my most popular class might be Physics for Future Presidents. This class teaches the science, technology, and physics that every world leader needs to know to make informed decision on technical issues—and we know how important this is. We primarily study political issues that have technical aspects and then place them in the cultural, political, economic, and international contexts. Some of the question covered are: What is the science behind climate change and how are countries reacting to the phenomenon?, how practical are alternative energy sources in developing countries and how do they affect development?, what does the Fukushima nuclear disaster tell us about the future of nuclear energy?, among many, many others. These questions are critical for future leaders, as we can witness every day when we read the news.
Outside of work, what do you like to spend your time doing?
Cortes: I have many extracurricular interests. One of my favorites is carpentry. Together with my brother, we've made several bookshelves, desks, and coffee tables. Almost every piece of furniture in my flat was made by us and I plan to make pieces for my office as well. Apart from this, I am a big literature nerd; my favorites include Russian and Latin American literature but my most admired social critic writer is James A. Baldwin. I'm also quite active; I enjoy swimming and hiking and generally being outdoors.