Part of a liberal arts education means exploring beyond one academic interest. It's a reason that made film lover (and maker) Paisley Dutcher choose Occidental over art school.
Going beyond the classroom has turned her Oxy experience into a fulfilling opportunity to gain real-world experience in the film industry while nurturing passions for a variety of subjects, from biology to yoga. Paisley recounts her unforgettable summer gig as a production assistant and artist on the set of hit indie film Brigsby Bear and offers a challenging perspective on what creates success both on campus and off.

From Movie Watching to Movie-Making
I always assumed everyone loved movies the way I did. I figured movies were made to be enjoyed, so I wasn't special in how much I enjoyed them. It wasn't until my senior year of high school, when I was trying to decide if I should pursue film as a career, that I learned how wrong I was. I was feeling unsure of my passion for film when my parents pointed out, to my honest surprise, that not everyone watches DVD commentaries in their free time—that, in fact, very few people have watched the same movie three times in a row and even fewer have watched a movie with their eyes closed to get a better sense of the score. I chose media arts and culture (MAC) as my major because I knew it would be the only major in which I could get credit for doing the things I already do in my free time.
Studying Outside the Box
I wanted to go to a school that didn't force me to choose a major that would dictate my life and classes for four years. Right before I began applying to colleges, I made the radical decision to pursue film instead of biology. I had always loved movies, but had never considered making them a career. Once I did, I jumped in with both feet. In my exuberance, I applied to colleges that allowed their students to do nothing but make art for four years, but there was one problem. I'd forgotten how much I loved the world outside of art and film. Just because I didn't want a career in biology, didn't mean I didn't love it. Occidental was the only school that didn't put me in a box. Now, after two years of classes ranging from narrative film to evolutionary psychology, I know I made the right choice.
Hooray for Hollywood
As a MAC major, attending college in L.A. is extremely convenient. When my cousin, Dave McCary (of Good Neighbor and SNL), directed Brigsby Bear, he gave me the opportunity of a lifetime with a place on the crew. He knew about my passion for film and valued my opinion enough to let me take a look at the script and work on some early concept art for the characters. While I was working on the film, I was able to attend important meetings simply because I was available and nearby. I got to attend a table reading in Hollywood as well as a design meeting with the artists of Stoopid Buddy Stoodios, who designed Brigsby Bear himself. Los Angeles is a massive creative hub where you can find dozens of creative institutions like Stoopid Buddy within 10 minutes of each other. I would have never had the opportunity to explore such places if I hadn't chosen to go to school in L.A.
On-Set Opportunities
As a production assistant on location in Salt Lake City, I did all the grunt work you'd expect from an intern-level employee. I printed reference images, made copies, worked with receipts and ran to Office Depot more times than I can count. Then, about a week into pre-production, the production designer, Brandon Tonner-Connolly, who knew I could draw, offered me a chance to work on some illustrations for the film. I was terrified, but I did my best. He threw my work in with the work of several professional illustrators and, several attempts later, I was the first to strike style gold. I was still definitely an intern, but now I got to split my time between finding background images for a character's living room and creating images that feature prominently in the film. I still can't believe I didn't dream that.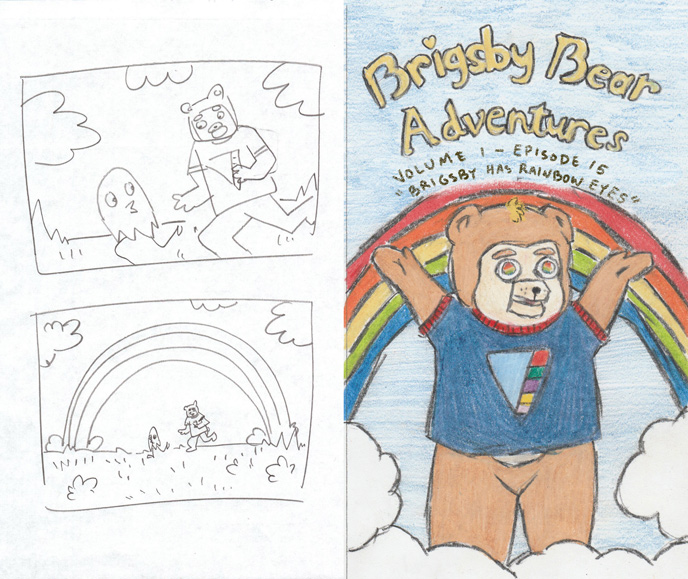 Industry Advice, On Campus and Off
This filmmaking experience taught me that natural talent, while helpful, is by no means necessary. Working in an industry as fast-paced and collaborative as film is far more about diligence and consistency than any magical ability. Yes, I can draw, but I certainly wasn't any better than the professional illustrators who also submitted drawings. I just had a faster turn-around. The moment Brandon gave me a note, I started working on a new version (or 12) to better suit the story's needs. I succeeded at my job because I was willing to do it all day, every day, and in the best way I knew how. And there's nothing magical about that.
The MAC major, like the film industry, is built on relationships. You will have far more success if you reach out to your teachers on a personal level than if you assume it's enough to just come to class and turn in your homework. This is especially true at Oxy, where some of your MAC classes could be as small as 13 people. Let your professors get to know you so they can better help you get what you need out of your time here at Oxy.
Learn more about the media arts and culture major at Oxy.