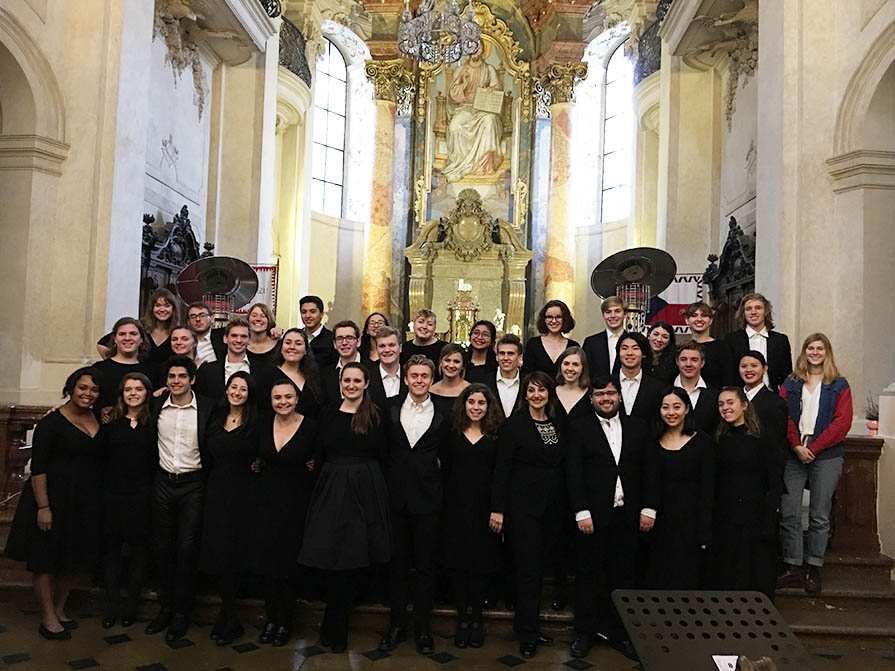 The field study component for this course will take place in Italy in May 2022.
Audition for and enroll in MUSC 121 or 122 (Glee Club) and earn 2 credits which can count as a Fine Arts core course and also count toward the Ensemble Requirement of Music Majors.
Itinerary
Program logistics (flights, etc.) will be discussed in September 2021. View the proposed itinerary.
Program Description
Studying and mastering the music of the great composers is a regular and crucial aspect of the coursework of MUSC 121 and 122 every year. Mastering the music associated with Rome, Florence, and Venice and then actually singing the works of these great masters in the significant architectural spaces for which they were written is an opportunity unlike any other. This will provide a deeper understanding of history, religion, art, and their interconnections. It will also provide a deeper insight into the creative process, as we explore why certain pieces were written in a certain way, depending on the acoustic for which they were written.
From the Medieval era through the 19th century, Italy was one of the centers of Western classical choral music. This choral music was, until the rise of opera in the 17th century, almost exclusively liturgical, written for a specific occasion and a specific religious architectural space. The choral chanting of the Roman Catholic mass and prayers, the foundation of classical choral music as we know it, originated in the monasteries and churches of Rome. Florence, where later opera was born, was a particularly important center from the 14th to 16th centuries, when choral polyphony began to flourish. In the great Roman cathedrals in the mid 16th century, Palestrina defined a new approach to polyphony. By the end of that century, Venice had become the center of musical life, not only of Italy but in all of Europe. Indeed, the position of maestro di cappella of St. Mark's in Venice was the most coveted compositional position on the Italian peninsula, and its distinctive architecture gave rise to a new polychoral compositional style in the early Baroque era. Italy remained a center of choral music creativity.
Course Outcomes
Students will develop an understanding of the artistic and cultural significance of the music of Italian composers Vivaldi, Gabrieli, Palestrina, Rossi, and Scarlatti. Students will learn masterpieces of these composers with attention to stylistic concerns unique to each composer and era. They will develop a complex understanding of the interrelationship of architecture and sound and of the dynamic process of re-creating masterworks in varied acoustic settings. By the end of the course students will be able to present highly polished, historically accurate and sensitive performances of these masterworks.
Faculty Leader
NTT Associate Professor Desiree LaVertu, Director of Choral & Vocal Activities, will lead the Glee Club Italy 2021 program. An expert in both historical performance practice in choral music and the bel canto school of singing, she has been professionally engaged with this subject matter as a performer and as a teacher for 25 years. Professor LaVertu has conducted at the National Cathedral in Washington, D.C, the Naval Academy Chapel at Annapolis, Stanford Memorial Chapel, and Walt Disney Concert Hall in Los Angeles, among others. She has led choral singing experiences throughout the Southwest, Pacific Northwest, and Eastern Seaboard of the U.S., and to Ireland, Spain, Portugal, Austria, and the Czech Republic.
Participants and other information
38-40 students, 1 faculty instructor (Professor LaVertu), 1 Oxy staff member (Bill Schmidt), 1 additional chaperone, 1 professional tour guide and translator, and support services from MCI (Music Celebrations International). MCI is one of the premier concert tour companies in the world. MCI will handle all the in-country logistics and expenses (tour guide, lodging, transportation, museum visits, etc.), releasing the instructor to focus attention on teaching and the student learning experience.
Requirements
The primary prerequisite for the course is the successful negotiation of the lengthy and comprehensive Glee Club audition process that is required for enrollment. Read more about the audition process.
Additionally, a written application is required in the IPO portal.
NOTE: Students will normally be expected to stand and move around for at least 5 hours per day including walking up-hill, stair climbing, walking on uneven pavement, and standing on narrow stairs in cathedrals while performing. Average temperatures in January are 45 - 55 degrees.
Information Session
An info session with Professor LaVertu & a member of the IPO staff about the program will take place in early September 2021.
Estimated Cost
$2,300 charged to the student account (all course-related travel within Italy, some meals, museum entrances, academic resources, etc.)
$1,525 additional estimated costs (meals $200, insurance $25, airfare estimate $1300)
Financial Aid
The total ($3,825) will be included in Financial Aid calculations for Fall semester 2021. A Financial Aid officer will determine how your package may be adjusted depending upon your need. Please contact the Financial Aid Office with further quesions.