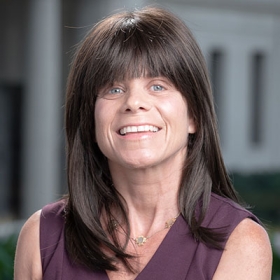 B.A., Clark University; M.A., Ph.D., University of Illinois, Urbana-Champaign
In addition to teaching departmental core courses, Andrea Hopmeyer teaches courses that explore how individuals grow and change across the lifespan and the growing pains that accompany those changes.
Her courses include Methods in Psychological Science, Developmental Psychology, and Adolescence. She also teaches a writing seminar entitled Populars, Jocks, and Nerds: Peer Relationships in Childhood and Adolescence. Andrea Hopmeyer's research focuses on the social and emotional development of children, adolescents, and emerging adults. She has published articles on loneliness, peer victimization, popularity, and crowd affiliations.
Published articles co-authored with students:
Alexis Morse, Amy Wax, Eric Malmquist: "Protester, Partygoer, or Simply Playing It Down? The Impact of Crowd Affiliations on LGBT Emerging Adults' Socioemotional and Academic Adjustment to College" 
Amy Wax, Tal Medovoy:  "Commuter College Student Adjustments: Peer Crowd Affiliation as a Driver of Loneliness, Belongingness, and Risk Behaviors"
Tal Medovoy: "Emerging adults' self-identified peer crowd affiliations and college adjustment"
Tal Medovoy,  Jesse Fischer: "Emerging Adults' Self-Identified Peer Crowd Affiliations, Risk-Behavior, and Social-Emotional Adjustment in College"
Jesse Fischer: "Affiliation With Antisocial Crowds and Psycosocial Outcomes in a Gang-Impacted Urban Middle School"
Jonathan Nakamoto: "Unpopularity and disliking among peers: Partially distinct dimensions of adolescents' social experiences"
Janna Kim: "The Attributes Adolescents Associate with Peer Popularity and Teacher Preference"