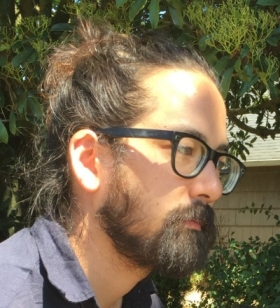 Non-Tenure Track Assistant Professor, Engligh
B.A., Sarah Lawrence College, M.F.A., University of Montana
Hours:
Th 11:30am-12:30pm (ENGL 280); F 11:30am-12:30pm (ENGL382) or by request. Please contact Prof. Shimoda to schedule a Zoom meeting.
Publications
Books
The Grave on the Wall (City Lights, 2019)
The Desert (The Song Cave, 2018)
Evening Oracle (Letter Machine Editions, 2015)
Portuguese (Octopus Books/Tin House, 2013)
O Bon (Litmus Press, 2011)
The Girl Without Arms (Black Ocean, 2011)
The Alps (Flim Forum Press, 2008)
Selected Publications
"The White String," The Yale Review, April 2020.
"Bayt al-Qasid, The House of Poetry," Prelude, January 2020.
"Ghosts of the Golden Pavilion," Tricycle, December 2019.
"The Shadows of Trees on the Wall," The Spectacle, December 2019.
"The Fruits of Suffering," Harper's, September 2019.
"We Have Been Here Before," The Nation, August 2019.
"5 Artists Who Explore Japanese American Incarceration," Lit Hub, August 2019.
"Death Valley," The Paris Review, August 2019.
"The Period of Summoning Relatives," The Margins, August 2019.
"The Woman in the Well," Nat. Brut, June 2019.