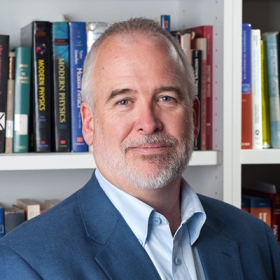 Ph.D., University of Massachusetts at Amherst
Office:
Hameetman Science Center 118
Physicist George Schmiedeshoff studies quantum matter.
An experimental Condensed Matter physicist, Schmiedeshoff studies liquids and solids under extreme conditions such as very low temperatures and high magnetic fields. The goal of his work is to better understand new forms of magnetism and superconductivity and the delicate states of matter that can form near quantum phase transitions*.
Recent work includes the development of miniature dilatometers that can measure length changes (shrinkage due to cooling, for example) smaller than the diameter of a hydrogen atom.
Schmiedeshoff collaborates with scientists at Ames Laboratory/Iowa State University, Boston College, Caltech, Cambridge Pressure Cells, Los Alamos National Laboratory, the National High Magnetic Field Laboratory, Quantum Design, and the University of California/San Diego. He reviews proposals to the National Science Foundation and to the National High Magnetic Field Laboratory. He reviews articles submitted to The Physical Review and Physical Review Letters, Philosophical Magazine, Journal of Low Temperature Physics, and Review of Scientific Instruments. The author of over 50 peer-reviewed publications (15 with undergraduate student co-authors), Schmiedeshoff's work is supported by the National Science Foundation.
*A quantum phase transition is a phase transition between different quantum phases of matter at zero temperature. Examples of quantum phases are: superconductors, antiferromagnets, spin liquids, and Fermi liquids.