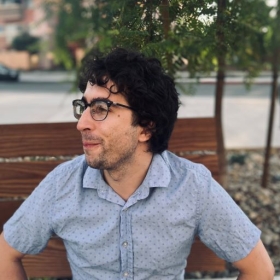 Visiting Instructor, Religious Studies
B.A., Binghamton University; M.A., CUNY Graduate Center; M.Phil., Ph.D., New York University (in progress)
Hours:
TR 1:30-3:00pm (Zoom, by appt)
Areas of specialization: history of Jewish communities in the Middle East & North Africa, Jewish intellectual history, Ottoman history
Prof. Benattar teaches courses on Modern Jewish History, Culture, & Politics.
His current dissertation project involves a study of debates over authority and leadership in early twentieth century Ottoman Jewish society, focusing in particular on the controversial early career of journalist and scholar Avram Galante (1873-1961). Using a range of multilingual published and archival sources, he demonstrates Galante's Ladino-language journal La Vara (Cairo, 1905-1908) as a key fulcrum in fierce communal disputes over the cultural orientation, social commitments, and political function of Jewish community administration. 
Prof. Benattar also regularly contributes book reviews and cultural criticism to a variety of online and print publications.