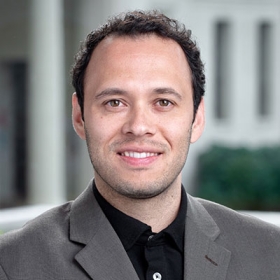 Assistant Professor, Diplomacy and World Affairs
B.A., UC Berkeley; Ph.D., USC
Hours:
Thurs 3:00-5:00 and by appt
Juvenal Cortés is a scholar of democracy, democratization, and new forms of democratic participation with a focus on Latin America. Read his Oxy Story profile.
His teaching and research aim to understand the lives of everyday individuals—especially the marginalized—in a globalized world and their ability to participate in politics and the economy and lead meaningful lives.  His research concentrates on the examination of direct democracy—including referendums and initiatives—and its potential to shape societies and redefine the role of citizens in politics.  His work has been published in journals like Mexican Studies/Estudios Mexicanos and Latin American Policy.  Prof. Cortés also has contributions in books—including a chapter on the responses of Latin American governments towards the Zika virus epidemic.  Additionally, and integral to his research, he is currently collaborating with his brother on an academic graphic memoir of their childhood experience migrating from Mexico to the US. 
Courses
DWA 101. International Relations: The Changing Rules of the Game
DWA 224. Latin American Politics
DWA 228. Democracy and Comparative Democratization
DWA 256. International Terrorism
DWA 286. Public Diplomacy in the Americas
DWA 288. Global Environmental Challenges and Politics
DWA 290. Physics for Future Presidents