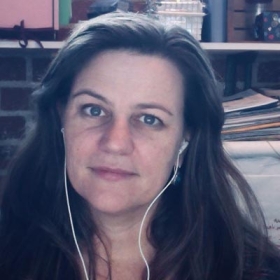 Non Tenure-Track Assistant Professor, Theater
Hours:
by appointment, email professor
As Director of Engagement her work centers around building relationships with individuals and organizations to include them in the creation of new community-specific plays. Since 2003, Paula has served as director of the company's Institute programs that teach Cornerstone's methodology to artists, activists, educators and others across the U.S. In collaboration with her colleagues, she designs, implements and produces Cornerstone's Intensives and Summer Residencies. Paula aims to contribute to the expansion of community-centered practices in theater. To that end she's been a guest at many university classrooms, and led workshops with organizations like Theater Communications Group, Network of Ensemble Theaters, and Imagining America.
Paula first joined Cornerstone as a union stage manager with regional theater experience: Taper Too, Shakespeare Santa Cruz, Milwaukee Repertory Theater, the Oregon Shakespeare Festival, and others. For Cornerstone she stage-managed Los Biombos in Boyle Heights (directed by Peter Sellars), AKA in Beverly Hills, For Here or To Go? (presented at the Mark Taper Forum), Peter Pan in Cleveland, and Crossings at St Vibiana's Cathedral in downtown Los Angeles. She also stage-managed a few Cornerstone plays produced in shopping malls.
She achieved a BA in Dramatic Art from University of California, Santa Barbara.
Paula loves the state of California, her home city of Los Angeles and the many people and stories contained therein.