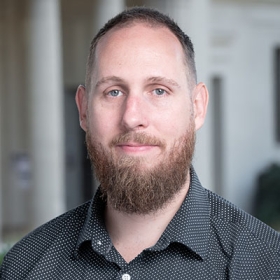 Non-Tenure Track Assistant Professor, Media Arts and Culture
B.A., Utah State University; M.A., Colorado State University; Ph.D., University of Minnesota
Hours:
T, W&Th 12:30-1:35 or appt.
Dr. Anderson is the 2019-20 Visiting Assistant Professor of Emerging Media in the Media Arts & Culture Department.
Dr. Anderson (PhD, University of Minnesota) builds digital media theory through research on video games culture and game design. His most recent research investigates how game design addresses issues of disability in gaming, how games portray mental illness, and theories of game work. His research also examines video game player communities, narratives, and the relationships between video games and players. He teaches courses on digital media, new media literacy, and media analysis. Dr. Anderson also designs independent games, which he publishes for free on skylarell.net.