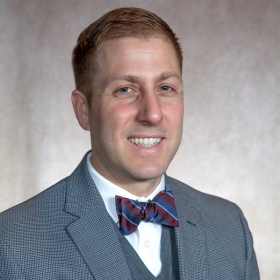 Ray A. Billington Professor of United States History
B.A., Cornell University; M.A., Stony Brook University; M.A., Ph.D., Cornell University
Hours
Tuesday and Thursday 2:30-3:00pm
Thomas Balcerski is an associate professor of American history at Eastern Connecticut State University and the author of Bosom Friends: The Intimate World of James Buchanan and William Rufus King (Oxford University Press, 2019). He has also widely published articles in academic journal, including the White House History Quarterly, Civil War History, Journal of Social History, New York History, and Pennsylvania History, and has essays in The Worlds of James Buchanan and Thaddeus Stevens, edited by Michael J. Birkner, John Quist, and Randal Stevens (2019), and A Companion to First Ladies, edited by Katherine A.S. Sibley (2016). A public-facing historian, he recently appeared on the Discovery+ series "The Book of Queer" (2022) to discuss the sexuality of Abraham Lincoln.
Since 2019, Balcerski has contributed to the national conversation on presidential affairs. He has been in demand for speaking engagements at institutions nationwide, among them the Kinder Institute on Constitutional Democracy at the University of Missouri, Ashland University, the James A. Garfield National Historic Site, the Historical Society of Pennsylvania, the Southern Methodist University Center for Presidential History, the White House Historical Association, Fraunces Tavern Museum, and the First Ladies Association of Research and Education. His high-octane public presentations in the media and on college and university campuses across the nation are reflected in such media as Smithsonian Magazine and New Jersey Monthly Magazine; The Financial Times of London; Newsweek; BBC World News; CBS News (Canada); C-Span; TRT World (Turkey); Asahi Shimbun (Japan); Time Magazine; NBC; the Advocate; the Greenwich Times; Politico; and dozens of local radio stations, television stations, podcasts, and YouTube channels. He has also penned opinion pieces for the Washington Post, CNN, and other outlets.
Balcerski's first book, Bosom Friends: The Intimate World of James Buchanan and William Rufus King (Oxford University Press, 2019), builds upon his research in gender and LGBTQ+ history. The book considers the personal and political relationship of James Buchanan of Pennsylvania (1791-1868) and William Rufus King of Alabama (1786-1853) and argues that it conformed to a pattern of intimate male friendship that proliferated during the nineteenth century. Written as a dual biography, Bosom Friends reveals the many intricacies of their conjoined lives and, in the process, changes how we think about political power in the Civil War era. Since its release, Bosom Friends has been widely reviewed, with the Wall Street Journal declaring that it "enlarges our understanding of the factors that can erode friendships and rupture nations. Rarely has any scholarly treatment of the disintegrating Union felt more urgent." Ultimately, intimate male friendships were, and continue to be, a critical factor in the political success.
Balcerski's current book project, which builds upon his interests in American political and gender history and particularly partisanship and party development, explores the long history of the Democratic Party, America's oldest partisan institution. The Greatest Party Ever Known: A History of Democrats from Jefferson to Biden considers the Democratic Party, from its inception as a reactionary group in the 1790s through its evolution as the party of civil rights for African Americans in the 1960s, embraced a core set of conservative values. His research traces key themes in the party's history, among them attitudes towards slavery and race, views on economic policy, its relationship to populism, the often-gendered language of campaign rhetoric, and engagements with international affairs. Accordingly, Balcerski's project clarifies the terms of contemporary debate by providing a richer understanding of the Democratic Party in its formative years.
Selected Writings/Publications
"Kevin McCarthy is getting schooled in history." CNN Opinion, January 4, 2023.
"Biden's waffling on a future presidential run comes at great risk." CNN Opinion, Sept. 23, 2022.
"Rating Biden's First Year This President's Day Weekend" (with Jonathan Wharton). CT News Junkie, Feb. 15, 2022.
"Ranking the Best…and the Worst Presidents." CT News Junkie, July 2, 2021.
"Turns out Donald Trump wasn't the worst president in US history, historians say." CNN Opinion, June 30, 2021.
"Notably Absent: Presidential No-Shows on Inauguration Day." White House Historical Association, April 26, 2021.
"The Jersey Shore's History of Wooing U.S. Presidents." New Jersey Monthly, Aug. 25, 2020.
"#LadyGraham went viral — and not just because of Lindsey Graham's politics." Made by History, Washington Post, June 10, 2020.
"Was James Buchanan the First Gay President?" Advocate Magazine, Nov. 26, 2019.
Bosom Friends: The Intimate World of James Buchanan and William Rufus King (Oxford University Press, 2019).
"The 175-Year History of Speculating About President James Buchanan's Bachelorhood." Smithsonian Magazine, Aug. 27, 2019.
"Beards, Bachelors, and Brides: The Surprisingly Spicy Politics of the Presidential Election of 1856." Commonplace 16, no. 4 (Summer 2016).
Courses
HIST 295: Topics in History: U.S. Presidents and First Ladies
HIST 395: Special Topics in History: The Democrats, Jefferson to Biden