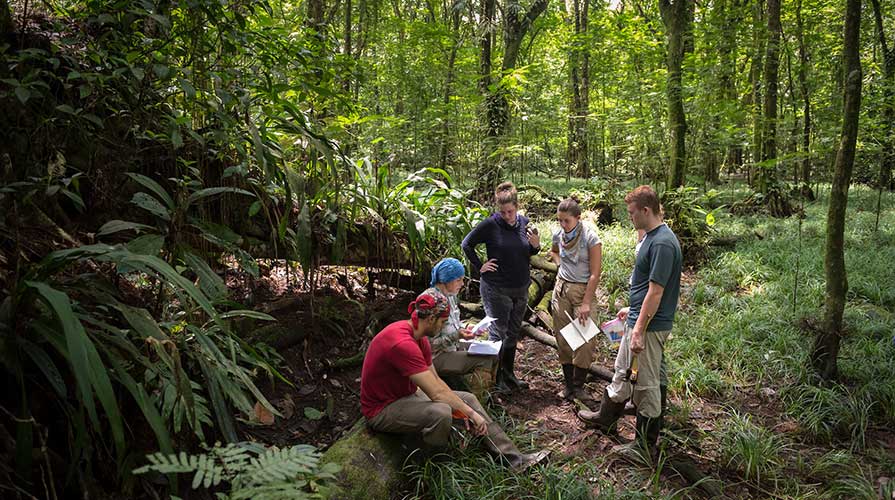 On behalf of the International Programs Committee (of Faculty Council), Corporate and Foundation Relations and International Programs, thank you for considering mentoring a Richter Scholar through the application and research cycle. Learn more about the key dates, recent changes to the program and supervisor responsibilities detailed here.
Overview
Allocations from the Paul K. and Evalyn E. Cook Richter Trust allow Occidental to award 6 - 12 summer student research grants for projects conducted outside the U.S. for 8 to 10 weeks, participation in the Undergraduate Research Center's summer research program and a modest stipend for supervisors ($400).  
Richter Research  opportunity can be life changing for a student and your role is crucial to their success. We know your time is valuable and we appreciate that you are willing to take the time to mentor students through this opportunity. In advance, thank you for all the wonderful work you do with our students.
Key Dates
February 3 – Complete Recommendation for Final Application
March 1 - Final Acceptance Decisions Announced
Late July - Debrief w/ Richter Advisee and Prepare Oral Presentation for URC Conference
August - Read and Approve Final Research Paper/Report
Research Tracks
To broaden accessibility and respond to student and faculty interests, we have differentiated three types of projects. The traditional independent research type remains virtually unchanged. We have added community-based and university-facilitated research tracks to leverage the resources of our growing international partnerships. 
Advising Richter applicants may vary depending on the selected track and students may only apply to 1 of the 3 offered tracks.
Supervisor Responsibilities
In accepting to be a student's supervisor you will be asked to answer a specific set of questions about the student you intend on advising. When you begin to work on the approval form (similar to a study abroad recommendation, the student will send this form to you electronically) we recommend that you have a good idea of how you would answer the questions below with regards to your potential advisee.
How will this experience be complementary to your student's undergraduate study?
Does the student's previous coursework or experience prepare them to do research abroad?
How will your student be able to build on this experience within the Occidental curriculum after his/her return from research abroad?
Is there anything specific that you have directed your student to focus on while abroad on this research project?
Have you discussed resources and materials that will be relevant for the student's research proposal and methodology?
Have you discussed what the student will need to do in order to prepare for the research abroad experience?
Research outside of the United States can create new layers of complexities which a student may be forced to navigate. Please comment on the student's capacity for intercultural exchange within a community or in the research site.
Is there any reason that this student should not participate in this program?
Regular Meeting
Past supervisors and students have found that meeting regularly is essential. Below are the links for two sample meeting logs from students that participated in the Independent Research track. Please keep in mind these may look different with the newly added tracks.
Richter Research Tracks & Application Process 
This Richter proposal has several components that the student must develop independently under your direction and mentorship. Please click here to learn more about this application process.
Unlike the independent research track, the community-based and university-facilitated research tracks only require the student to compose a personal statement and a literature review during the proposal process.
The other proposal elements will not become fully developed until later stages, post acceptance. Although, the research projects for community-based and university-facilitated will become more defined as the student works with their in-country hosts, it is essential that the students have a sold understanding of the context which pertains to their research. (e.g. history, politics, data, culture, community, methodology, etc.)
All students regardless of track selection will benefit from your advisement on fit and project appropriateness. Your academic background and expertise will help the student to frame how a Richter research project could fit in with their overall academic, career, and personal growth trajectory.
Richter Mentors
At Occidental, faculty mentoring of students is a critical component in the Richter process. Most importantly, the faculty member is responsible for ensuring that the project proposed by the student is appropriate for the location selected and that the student's preparation before departure is adequate for the successful completion of the project.
Only the faculty mentor can make these determinations, or better yet, help to shape the project during the proposal process to maximize the student experience when abroad. This may take considerable time, as all good undergraduate mentoring does. However, only the faculty mentor can provide the pre-departure guidance that can transform the application process into the experience that a Richter Award promises: one that is intellectually and personally transformational.
For more detailed information about undergraduate mentorship visit the Occidental College Center for Teaching Excellence (CTE) Moodle Page. There are very helpful resources posted there posted under the "Mentoring Undergraduate Research Faculty Guidebook."