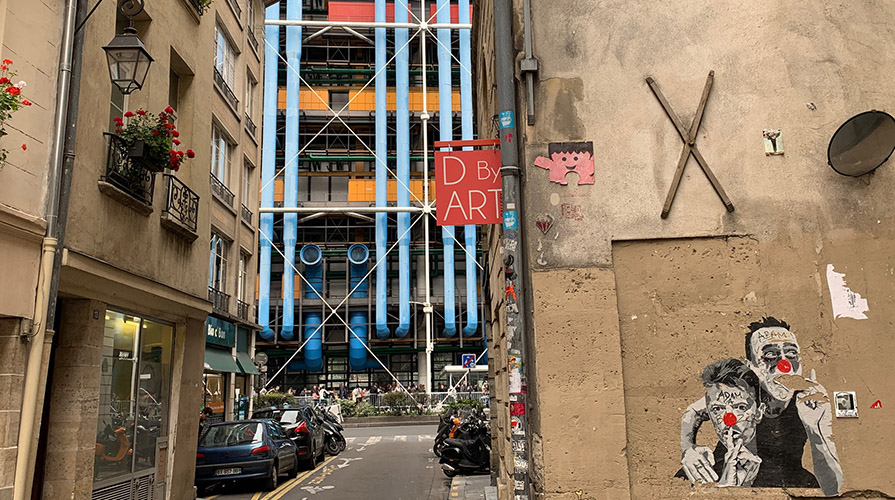 Take Art History 288 Paris and Berlin: Capitals and Crossroads of the 20th Century (4 Credits) on-campus in the Spring and travel in June to complete the field study component. (June 2022)
Program Description
The cities of Paris and Berlin formed a major axis of cultural production and exchange during the twentieth century. Both cities were vibrant catalysts for the work of cultural producers of all stripes - from artists, writers, filmmakers, musicians, and architects to social theorists, scientists, psychologists, and political activists. As capitals, they also fostered and endured some of the major social and political upheavals of the twentieth century: from the trauma of World War I, to the creation of a networked, intercultural model of exchange in the 1920s and 1930s, and finally, the actual occupation of Paris by Berlin in the 1940s.
We will explore some of the most important individuals, communities, urban sites, and events associated with Paris and Berlin during this period, culminating in on-site work in each city that will afford you the opportunity to pursue varied modes of presentation: writing, photography, collage, map-making, and video.
Course Outcomes
Students will develop an understanding of the histories of twentieth-century Paris and Berlin as artistic and cultural capitals by researching key urban spaces, artistic practices, and modes of national and international cultural interchange associated with these two modern European cities. Site visits, urban and cross-country rail travel, and in-country work will enhance understanding of the radically interdisciplinary and networked approach to cultural production that marked these cities between 1900 and 1945. Through mentored research focusing on individual artists and urban sites in both cities, students will develop their research and presentation skills, and discover new ways of integrating knowledge across academic disciplines. Site-based, hands-on work in each city will enrich student understanding of Paris and Berlin as capitals and crossroads of the twentieth century.
Faculty Leader
Professor Amy Lyford, of the Art and Art History Department, will lead the Paris-Berlin program. Professor Lyford (Ph.D., U.C. Berkeley, 1997) lived in Paris for 1.5 years while conducting research for her doctoral dissertation, which then became the core of her first book, Surrealist Masculinities: Gender Anxiety and the Aesthetics of Post-World War I Reconstruction in France (University of California Press, 2007). Her second book, Isamu Noguchi's Modernism: Negotiating Race, Labor and Nation (University of California Press, 2013), focuses on the American sculptor Noguchi, who himself lived and worked in Paris during the 1920s. She is currently completing a book about the surrealist artist Dorothea Tanning, and embarking on a new project about the Paris-based surrealist photographer Dora Maar.
Itinerary
For a sample itinerary click here: Itinerary 
Participants
14-16 students, 1 faculty instructor (Professor Amy Lyford, Art  and Art History), and support services from IES.  All students must be responsible, mature, self-motivated, and deeply curious about a range of disciplines. They must provide evidence of success of the following: having worked independently, having managed their time well, having sought out and risen to meet new challenges, and having remained positive and adaptable when encountering the unexpected of a new environment. They must be open to new experiences. Students from a range of disciplines who meet these criteria are encouraged to apply. Students will normally be expected to stand and move around for 5 hours per day including walking up-hill, stair climbing, walking on uneven pavement, and carrying their own luggage as part of inter-city rail travel. Given the rigorous nature of a faculty led programs, students are restricted from leaving the program location during the official program dates.  Travel delays, border complications, and safety issues, etc. may impact student participation in the course.
Pre-requisite
Students must be at least sophomore status. Student with language skills in French or German are encouraged to apply, but no language experience is required.
Information Session
TBA  
Estimated Cost $6889
$5089 charged to student account (all course-related travel within Paris & Berlin, some meals, in- country travel, academic resources, etc.)
$1800 additional out-of-pocket expenses ESTIMATES (international airfare $1,100, additional meals $600,  and $100 mandatory cell phone rental)
Financial Aid
The total additional cost ($6889) will be included in Financial Aid calculations for Spring semester 2022. A Financial Aid officer will to determine how your package may be adjusted depending upon your need. Please contact the Financial Aid Office with further questions.
Apply!
Application will open in summer 2021.
Deadline to apply is October 15 by 4pm