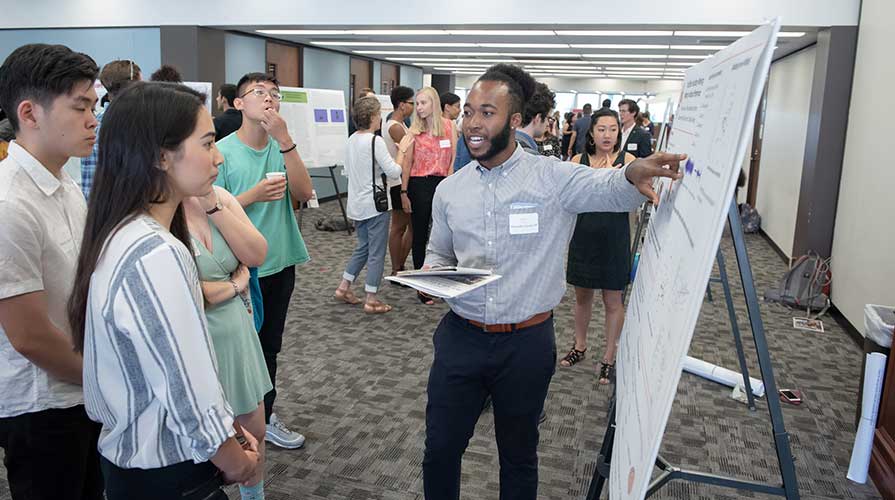 There are numerous opportunities for undergraduate students to present the results of their research and creative endeavors, including our own annual Summer Research Conference. The Undergraduate Research Center also provides support for students to present at professional conferences with the ASP Conference travel funds.
---
*If you plan to present a poster at a conference other than Occidental's, please be sure to check the conference website to find out what size poster is required, when and where to set up, etc. If you are interested in printing a poster please contact us at urc@oxy.edu to make an appointment a minimum of a week in advance. General information on how to set up your poster to be printed at the URC.
Here is some general information on how to prepare an effective Poster or Oral presentation for any research conference (shared by permission of Prof. Andrew Shtulman, Psychology/Cognitive Science).
---
Where to present?
In addition to presenting at Oxy's End of Summer conference, we recommend you also consider presenting your work at SCCUR, NCRC or NCUR!*
The Southern California Conference for Undergraduate Research (SCCUR) is an undergraduate research conference that takes place each November at a college or university in Southern California. Occidental traditionally has one of the largest contingents of student-presenters at this day-long conference. At last years' SCCUR held at Pasadena City College, thirty seven Oxy students had abstracts accepted to present at the conference and shared their work in both poster and oral presentation formats. The presentations were multi-disciplinary and ranged from the arts to the sciences.
The 27th annual SCCUR will be hosted by California State University San Marcos on November 23, 2019!
The URC will sponsor the registration fee for all Oxy students accepted to present at the conference and attending faculty. Students are required to complete an ASP Conference Travel grant in order to request funds for travel/lodging expenses. Applications are due November 4, 2019 by 4:00 pm. Please note: ASP Conference Travel grants are typically limited to $400 per project. The ASP Conference Travel grant is not intended to be the sole support for any project.
Note: If you are not applying for a Conference Travel Award the URC will pay for your registration fee. Use our promo code "oxy2019" when registering.
For information on the 2019 conference visit the SCCUR website for abstract submission, registration and event info.
The URC will cover the registration fees for student presenters and faculty only. Make sure to register using your Oxy email and enter the promo code oxy2019.
Important Dates:
October 26, 2019: Abstract Submission Deadline
November 4, 2019 by 4:00 pm: ASP Conference Travel application deadline
November 6, 2019: Registration Deadline (Use promo code: oxy2019)
---
The National Collegiate Research Conference (NCRC) is the nation's largest student-run research conference. Visit the NCRC homepage for more information. Started in 2012, this multidisciplinary conference is an exciting opportunity for Oxy students from all majors to present their work and to attend panels and lectures by well-known researchers. The URC will offer support to students who wish to present (sorry, we cannot offer funding to students who wish to simply attend). The NCRC is primarily a poster-based conference, but some of the most experienced undergraduate researchers may also be invited to serve as plenary speakers. Students selected as plenary speakers will receive a travel stipend from NCRC and we think some Oxy students would be competitive for this honor. If you apply to the NCRC and are accepted you must send the URC a copy of your acceptance notice and then fill out a Conference Travel application within three days of your acceptance to the conference. Please do not register without first checking with the URC. There is no mechanism for a promo code to use at registration - funding support will only be offered through the ASP Conference Travel program
The 8th annual NCRC will be held on January 23-25, 2020 at Harvard University. 
Important Dates:
December 1, 2019: Application/Abstract Submission Deadline
January 2020 (3 days after approval notification): ASP Conference Travel application deadline
---
The National Conference on Undergraduate Research (NCUR) is a research association established in 1987. A conference is held each spring to present and support undergraduate research nationwide. The URC will provide partial funding to attend the conference. Visit the NCUR homepage for updates, photographs and other information.
The 34th annual NCUR will take place on March 26-28, 2020 at Montana State University (MSU) in Bozeman, MT.
When creating an account for abstract submission and registration, do not forget to list the URC e-mail (urc@oxy.edu) under "Additional Sponsor Email", so that we are notified about your submission and acceptance. Please don't submit an abstract nor register without first checking with the URC.
To inquire about presenting at NCUR please stop by the URC or e-mail us at urc@oxy.edu. In order to make the opportunity to present at NCUR available to as many students as possible, the URC will only fund students once during their undergraduate experience.
NOTE: Once a student has presented at NCUR, repeat applications for support will not be considered. Students, particularly those majoring in the sciences, are encouraged to consider presenting at professional conferences or annual meetings in lieu of NCUR; Science Scholars may not present at NCUR.
Important Dates:
December 6, 2019 (11:59 MST): Abstract Submission Deadline
January 15, 2020: Notification of Decision on Abstracts
January 30, 2020 by 4:00 pm: URCs ASP Conference Travel Application Deadline
February 21, 2020: Early Registration Deadline
May 1, 2020: Final report and expense report due to URC
---
The 2019 SACNAS, National Diversity in STEM Conference will be held on October 31 - November 2, 2019 in Honolulu, Hawai'i.
The Society for Advancement of Chicanos/Hispanics and Native Americans (SACNAS) is an inclusive organization with over 45 years of experience fostering, from college students to professionals, in attaining advanced degrees, careers and positions of leadership in STEM. SACNAS serves approximately 6,000 members, a larger community of 20,000, and with 115 SACNAS student and professional chapters throughout the U.S. and Puerto Rico.
The URC has a long history of supporting Occidental students who wish to present their work at SACNAS. Given that the 2019 conference is located in Hawai'i, we expect a higher-than-usual level of interest and are setting some parameters for these applications.
You can apply to present at SACNAS beginning March 2019.
Students must be members of SACNAS in order to apply. One-year student memberships are $15 and the URC will reimburse students for this cost. Join SACNAS and bring us your receipt and we will reimburse you for the membership fee, no matter whether or not you end up presenting at the conference. The reimbursement request must be made within 30-days of the date of the original expense.
Oxy students who apply to present their research at SACNAS 2019 must first apply for a travel scholarship from the organizers. If they turn you down, it is ok, you can still seek support from the URC! But you need to ask them for support before turning to us. The deadline to apply for SACNAS travel scholarships is April 3, 2019 so be sure to apply for travel support even before you know if you are accepted to present!
Visit the SACNAS webpage for more information!
---
*Please note that you may only receive funding from the URC for either NCRC, NCUR or SACNAS 2019. Unfortunately, the URC does not have the funds to provide funding for students who wish to present at multiple conferences in one year. (SCCUR is an exception; students may present at SCCUR and another conference using URC funds.)