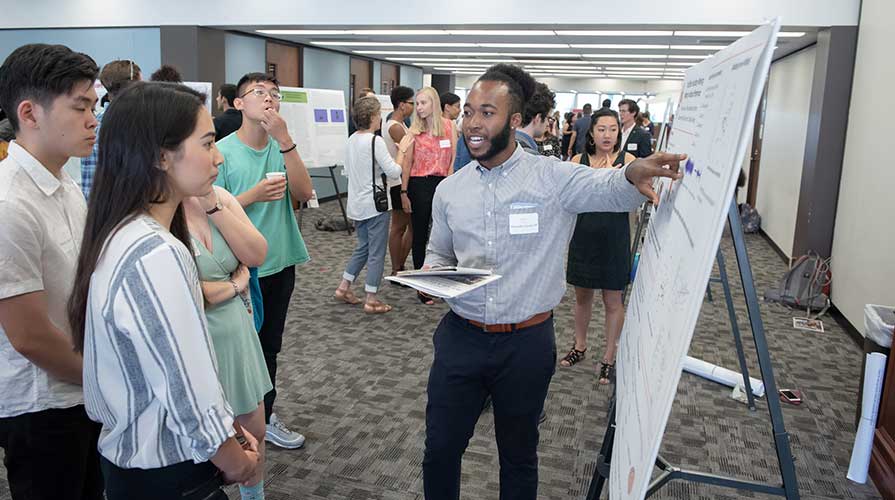 There are numerous opportunities for undergraduate students to present the results of their research and creative endeavors, including our own annual Summer Research Conference. The Undergraduate Research Center also provides support for students to present at professional conferences with the ASP Conference travel funds.
Note, due to the ongoing coronavirus pandemic, students may currently apply for funding for registration fees to present at virtual conferences.
---
*If you plan to present a poster at a conference other than Occidental's, please be sure to check the conference website to find out what size poster is required, when and where to set up, etc. If you are interested in printing a poster please contact us at urc@oxy.edu to make an appointment a minimum of a week in advance. General information on how to set up your poster to be printed at the URC.
Here is some general information on how to prepare an effective Poster or Oral presentation for any research conference (shared by permission of Prof. Andrew Shtulman, Psychology/Cognitive Science).
---
Where to present?
In addition to presenting at Oxy's End of Summer conference, we recommend you also consider presenting your work at SCCUR, NCRC or NCUR!*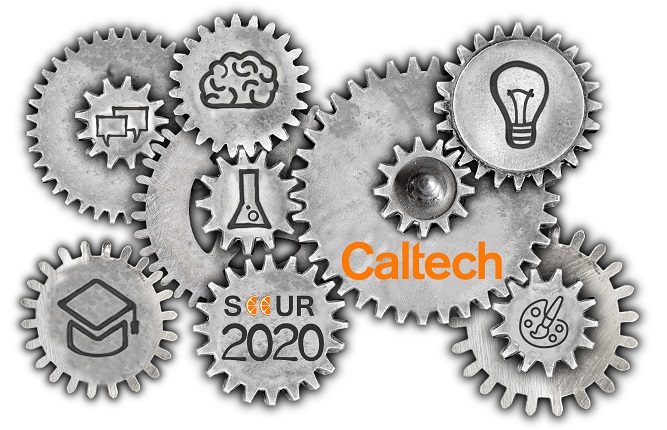 The Southern California Conference for Undergraduate Research (SCCUR) is an undergraduate research conference that takes place each November at a college or university in Southern California. Occidental traditionally has one of the largest contingents of student-presenters at this day-long conference. At last years' SCCUR held at CSU, San Marcos, twenty six Oxy students had abstracts accepted to present at the conference and shared their work in both poster and oral presentation formats. The presentations were multi-disciplinary and ranged from the arts to the sciences.
The 28th annual SCCUR was set to take place at Caltech on November 21, 2020, but has been cancelled due to the current COVID-19 pandemic.
SCCUR Saturdays is an academic and professional development series for undergraduate researchers sponsored by the Southern California Conferences for Undergraduate Research (SCCUR) organization. The events are open to all SoCal college and university students, faculty, and staff. Visit their website for event listings and registration information.
---
The National Collegiate Research Conference (NCRC) is the nation's largest student-run research conference. Visit the NCRC homepage for more information. Started in 2012, this multidisciplinary conference is an exciting opportunity for Oxy students from all majors to present their work and to attend panels and lectures by well-known researchers. The URC will offer support to students who wish to present (sorry, we cannot offer funding to students who wish to simply attend). The NCRC is primarily a poster-based conference, but some of the most experienced undergraduate researchers may also be invited to serve as plenary speakers. Students selected as plenary speakers will receive a travel stipend from NCRC and we think some Oxy students would be competitive for this honor. If you apply to the NCRC and are accepted you must send the URC a copy of your acceptance notice and then fill out a Conference Travel application.  There is no mechanism for a promo code to use at registration - funding support will only be offered through the ASP Conference Travel program.
NCRC 2021 will be hosted virtually from January 24-26, 2021
Applications Now Open, visit the website to apply.
Application Deadlines
December 10, 2020, Early Application Deadline: $25 registration fee
December 21, 2020, Late Application Deadline: $35 registration fee.
---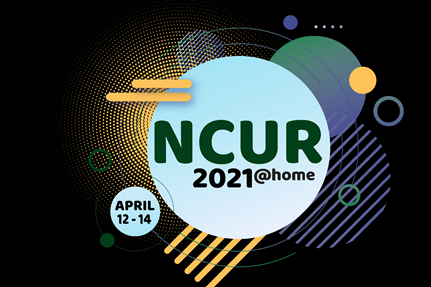 The National Conference on Undergraduate Research (NCUR) is a research association established in 1987. A conference is held each spring to present and support undergraduate research nationwide. The URC will provide partial funding to attend the conference. Visit the NCUR homepage for updates, photographs and other information.
The 35th annual NCUR 2021 @Home will be Virtual. Mark your calendars for April 12 - 14, 2021.
CUR has been monitoring the ongoing COVID-19 pandemic situation for many months and has made the decision that the safest way to hold NCUR is in the digital space. You can expect to apply for and attend NCUR just as you would any other year, but from the comfort of your home. No traveling, no hotels required. You will have the option to present a digital poster, give an oral presentation, showcase an art display or performing arts, and more.
When creating an account for abstract submission and registration, do not forget to list the URC e-mail (urc@oxy.edu) under "Additional Sponsor Email", so that we are notified about your submission and acceptance. Please don't submit an abstract nor register without first checking with the URC.
Early Decision Abstract Submission Deadline: November 1, 2020
Abstract Submission Deadline: December 1, 2020
To inquire about presenting at NCUR please e-mail us at urc@oxy.edu.
---
*Please note that you may only receive funding from the URC for either NCRC or NCUR. Unfortunately, the URC does not have the funds to provide funding for students who wish to present at multiple conferences in one year. (SCCUR is an exception; students may present at SCCUR and another conference using URC funds.)