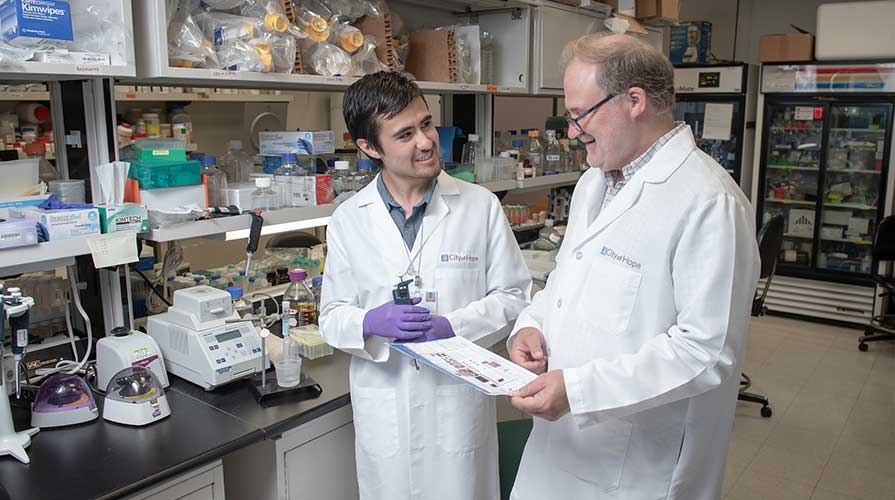 The URC will support one-two student researchers at the City of Hope in Duarte, CA.
The primary goal of the Eugene and Ruth Roberts Summer Student Academy at City of Hope is to provide university students with an opportunity for a "hands-on" research experience. This program seeks to find students possessing exceptional potential for performing biomedical research.Summer Academy students design and work on their own research projects in areas of their specific interests. City of Hope faculty members act as mentors providing valuable guidance and support, while also encouraging independent thought and exploration.
Specific projects will be defined by the City of Hope. Funds are provided for study grants and a supply award to cover a portion of the mileage costs (if necessary).  In addition to the SRP expectations, Oxy's City of Hope fellows are expected to submit a final report to the URC after the program ends in August.
The Oxy SRP cover sheet along with a copy of your résumé and a letter of recommendation from an Oxy professor are due to the URC (NOT to the City of Hope) on February 10, 2020 by 4 pm. If you are interested in the program, please contact the URC for more information. 
Application and deadline information for the summer 2020 Eugene and Ruth Roberts: City of Hope Summer Student Academy has not been posted. The application must be submitted on-line by the deadline on March 9, 2020. Once completed a printout of that application should be submitted to the URC.
It's important to note that this is a two-step process! You must complete both the City of Hope application and submit the required documents to the Occidental College URC in order to be considered as an applicant for this program.