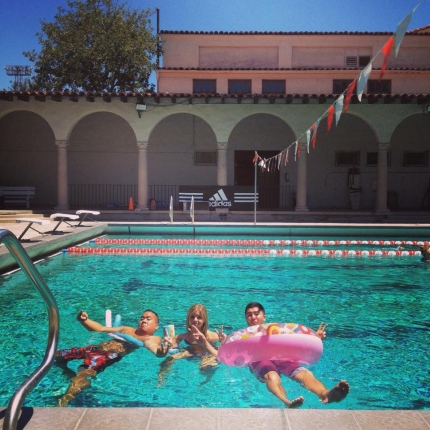 Hey everyone,
As the fall semester ends, it is just starting to hit me that I only have one semester left at Oxy. The real world is rapidly approaching and I am desperately trying to make the most of my remaining Oxy experience. That's why instead of working on my grad school apps or looking for jobs, I'm going to spend the next hour reminiscing with you all and sharing 7 things I wish I had known starting at Oxy. 
1) Make friends with Barry, Kathy, and Jenny
Possibly the most important bullet point on the list. Oxy has a bevy of amazing food trucks surrounding it, many within walking distance. All Oxy students know about the classics (Sonia's, Leo's, and La Estrella), but there are others that fly under the radar. One of the best food spots in Highland Park is actually right behind the 99 cent store where 10 different delicious food trucks set up every Tuesday.
Besides playing sports in high school, I was never really involved in anything besides academics. Although I changed that attitude significantly coming to Oxy, I still wish I would have tried to get more involved during my first year. One of my favorite things about Oxy is that nobody here is just a student. Everyone gets involved in something outside of the classroom and by getting more involved during my first year, I would have been able to narrow my interests earlier.
The first reason I am including this on the list is because I came to Oxy absolutely clueless on what I wanted to do once I graduated. Thankfully, the CDC has resource after resource to help students with that exact question. The other reason is that the people that work in the CDC are absolutely incredible. Not only are they helpful and accessible, but they are also so fun to be around. I regularly stop by the office to catch up with them and see if there are any upcoming programs that fit my interest in education (they also always go hard for the Oxy Halloween costume, see their oxy.edu page).
 My first year RAs played a huge role in shaping my college experience and I am still regularly in touch with them, even though they have graduated. They go above and beyond to make sure you feel comfortable and confident transitioning to college (not to mention they put up amazing decorations each semester).
Before I came to Oxy, professors' office hours seemed like some abstract thing that all colleges briefly mentioned in tours. I didn't take advantage of them my first semester here and I wish I could go back in time to help my lame first year self realize what he was missing out on. Oxy professors actively enjoy students coming in to talk about classes (or even fun topics unrelated to the class depending on the professor). Not only will office hours help you get feedback on a draft of a paper, but it will also allow you to develop relationships with your professors that will exist long after you graduate from Oxy. 
I came to Oxy being extremely excited to live in Los Angeles, but I quickly became distracted about all the comings and goings on campus. Looking back, I wish I would have explored more of the city earlier on. Whether that looks like going to Venice Beach or Staples Center, there are so many different ways to get immersed in Los Angeles. On the bright side, I've still got one more semester to pack in as much of the city as I can.
Thanks to anyone who made it through all this (although I'm fairly sure my mom is the only one who has made it this far). I look forward to posting again with an update on how the final semester is playing out.
Best,
Keane