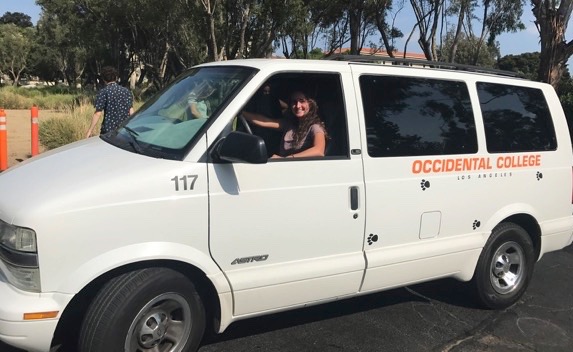 Quit calling your Ubers and ordering your Lyfts and take the Bengal Bus - for free!
The most underrated thing on campus: The Bengal Bus. The Bengal Bus is a free shuttle service that operates within a 7-mile radius around campus. From trips to Target to the Staples Center, we are here for you whether you need shampoo or a ride to see the Lakers. Just this weekend I shuttled people to see Goldlink at the Novo Arena, and although I couldn't go myself, all I had to do was hand over the aux cord and I got the full experience in the van. That's another great part about the Bengal Bus; everyone is super chill and not only do I get to see cool places that I wouldn't otherwise, I also discover new music.
Every Saturday we take wild card trips to special places around LA for free. By posting the trips in the weekly Oxy digest emails, it is super easy for anyone to sign up. You can explore the second largest city in the United States with no cost at all. We are not even halfway into the semester and we've already been to Griffith Park, Santa Monica, the Getty, and more! On the Santa Monica trip, I was able to drive to the beach, hangout in the sand for hours, and drive back to campus.  Last Saturday I got to go to the Getty and walk around an amazing museum that I had never been to before. I urge everyone to come and join me.
This year driving for the Bengal bus has been great. When I'm not talking to my passengers I am either listening to a new album recommended by them or catching up on my latest podcasts. I hope to see you on my next shift! Did I mention that it's free?