I'm Jill Marucut, a junior at Oxy and a newly declared Politics Major. Although I'm technically enrolled at Oxy as a full-time student, I am currently earning full academic credit by participating in Oxy's unique program - Campaign Semester.
Campaign Semester, a program active during election years, allows students to work full-time on a campaign while gaining academic credit and being enrolled as a full-time student.
Participating in Campaign Semester is very simple. The student can choose which swing state he or she is interested in working and which congressional candidate or presidential candidate he or she wants to promote. The student is expected to start working on/before the first day of school at Oxy, and is later expected to return to campus to participate in specialized discussion groups, classes, and various other writing workshops exclusive to Campaign Semester students.
Given the simplicity of Campaign Semester enrollment and my desire to be heavily invested in a presidential campaign in an east coast swing state, I chose to join Philadelphia's official presidential campaign working to reelect President Barack Obama.
Now, I am currently working in North Philadelphia, in a small neighborhood called Kensington. Our designated turf specifically consists of the area from Front
St to Kensington, and Tioga to Somerset. It's one square consisting of 5,000 doors.
To help organize this community of Philadelphians, I am accompanied by my full-time coworkers, Lorenzo and Tiara, and my supervisor, also named Lorenzo. Together, we've achieved amazing objectives. While posted at a popular transportation hub, we've registered hundreds of voters during one day. We've recruited loyal volunteers who consistently crank out hundreds of calls with their friends and family. We've swayed undecided voters into the Obama for America (OFA) camp simply by speaking to locals with sensitivity, authenticity, and humor. We've energized the democratic base in Philadelphia, one of the most critical democratic areas in Pennsylvania that happens to be surrounded by conservative suburbs on all sides.
Now, with 12 days left until election day, we've changed our targets, tactics, and strategies to prepare for GOTV.
GOTV, Get Out the Vote, is the critical four-day period consisting of election day and the three days prior to it. During this time, we expect to knock on all 5,000 doors within our turf four times. In addition, we aim to contact voters via phone multiple times as well. To execute this plan, we plan to have
back-to-back (and non-stop) phone banking and canvassing shifts for all four days.
To prepare for the intensity of GOTV and ensure its fluidity, we have been desperately trying to secure staging locations and acquire volunteers to fill the hundreds of shifts required to contact each potential voter within Kensington.  
However, achieving all these objectives has been a struggle. First of all, securing an "OFA approved" staging location has been next to fruitless. According to the standards of OFA, the ideal staging location should serve as a comfortable hub for canvassers and phone bankers to congregate, and it should be equipped with WiFi. With our turf mainly surrounded by local restaurants selling Philadelphian favorites such as water ice and cheese steaks, the occasional barber shop and beauty salon prepared to provide any services at affordable prices, multiple stands to cash in checks, and various social service agencies--many of which use the minimal amount of materials to maintain and sustain their business--finding staging locations has been difficult, to say the least. As of right now, we currently have three staging locations locked in, but only one approved by OFA. While our staging location at Immigration Services has been deemed as reliable, the rest of the staging locations--including Recuerdos, a 40+ nightclub, and Laberintos de Pasion, a local Spanish restaurant--have gone unrecognized by OFA.
Acquiring a large amount of long-term volunteers hasn't necessarily been the norm for us; many people in our turf are already struggling on a daily basis to find work, and/or balance multiple jobs. To a significant amount of people in our turf, keeping tabs on the presidential election hasn't been too much of a priority.
Given these circumstances,  it's harder for our efforts to be quantified. However, this hindrance hasn't stopped us before. During phase one of the campaign, where we've been expected to build our team by acquiring X amount of volunteers, making X amount of phone conversations, eliciting written commitments from passionate Obama su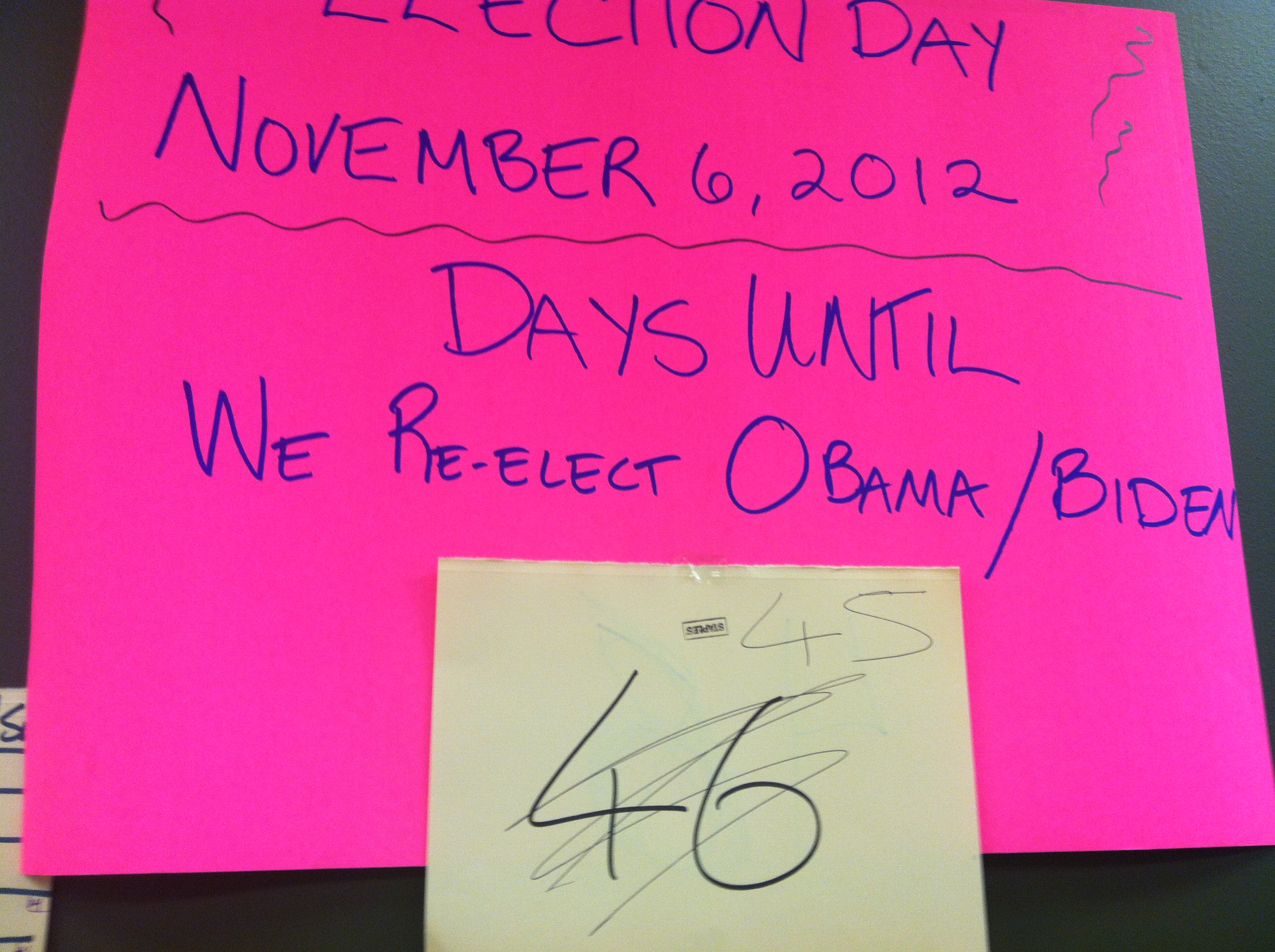 pporters, we've constantly surpassed goals by remaining flexible, sensitive, and compassionate towards the inhabitants in our turf.
Now, as we approach GOTV, which is in less than 11 days, we need to keep in mind a few key elements. Although the number of shifts needed to achieve a successful completion of GOTV might seem daunting, we CAN and WILL trust that our community will turn out the vote. We might not acquire as many "Commit-to-Vote" cards as we'd like. We might get more rejections than acceptances as we keep on adding to our volunteer base. It might not seem like our efforts are recognized as much as we would like, but I have to remember that these standards cannot be used to accurately gauge the political leanings of Kensington.
When it comes down to it, Philly WILL turn blue. It'll be the bluest amongst the surrounding area, and it WILL carry us to a victory nevertheless.