As part of the Class of 2020, Occidental College is awarding two honorary degrees.
Joanna Hall Gleason '72
Joanna Hall Gleason is a Tony Award-winning actress, singer, director and teacher whose career on Broadway, in films and on television has spanned five decades. Born in Toronto, Canada, Gleason graduated from Beverly Hills High School, where she first demonstrated her versatility as an actress in musicals and plays under the tutelage of John Ingle '50. After a year at UCLA, she transferred to Occidental, where as a speech and drama major she again demonstrated her versatility by starring in three productions that were taken to the Kennedy Center American College Theater Festival. Shortly after graduation in 1972, she made her professional debut in Promises, Promises at the Long Beach Civic Light Opera and started working her way into West Coast regional theater circles, including an appearance as Ophelia opposite Stacy Keach in Hamlet at the Mark Taper Forum.
She made her Broadway debut five years later in I Love My Wife, for which she was honored with a Theater World Award. As the Baker's Wife in the original production of Stephen Sondheim's Into the Woods, she won the 1988 Tony for Best Actress in a Musical. It was not her first Tony nomination, which came in 1985 for her work in A Day in the Life of Joe Egg. She was nominated for a third time in 2005 for Dirty Rotten Scoundrels. She has also received three Drama Desk Awards and an Outer Critics Circle Award for her work on Broadway in such productions as Social Security and It's Only a Play.
Having made her television debut the same year she first appeared on Broadway, her TV credits as a regular or guest star include The West Wing, The Practice, Murphy Brown, Friends, ER, Blue Bloods, Love & War, The Good Wife, Oh Baby and Bette. Her film appearances include Hannah and Her Sisters, Crimes and Misdemeanors, FX/2, Mr. Holland's Opus, and Boogie Nights.
Gleason has been teaching acting since 1987 when she was asked to do a workshop at N.Y.'s Circle In The Square Theatre School. Since then, she has taught and made guest appearances at Occidental as well as such institutions as Pace University, UC Irvine, Stella Adler Studio, De Sales University, and Los Angeles High School of the Arts. She has also run professional workshops for songwriters and opera singers. She lives in Connecticut with her husband, actor Chris Sarandon.
Gabriela Cowperthwaite '93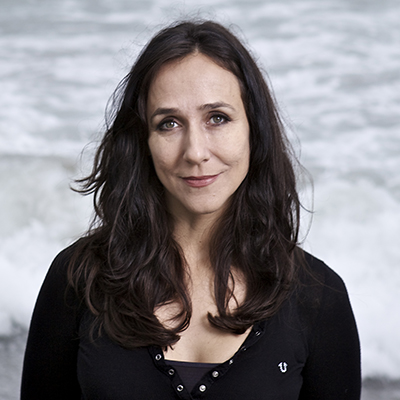 Gabriela Cowperthwaite is a documentary and feature filmmaker. A political science major at Oxy, Cowperthwaite cites Professor Jane Jaquette's Women, Politics, and Power class as influential on her eventual career path. She was pursuing a graduate degree in political science at USC when, during a trip to Guatemala, she saw a woman toting a video camera in her backpack and interviewing children on the street. The encounter inspired her to turn to documentary filmmaking.
Cowperthwaite had been making documentaries for television for 12 years (including Animal Planet, Discovery, ESPN, History, and National Geographic) when she read "The Killer in the Pool"—Outside magazine writer Tim Zimmermann's July 2010 story about Dawn Brancheau, a top trainer at SeaWorld who had been killed by a 6-ton bull orca named Tilikum five months earlier. Puzzled by why an intelligent creature like a killer whale would turn on its trainer, her questions became a documentary titled Blackfish, which premiered at the Sundance Film Festival. It quickly found an audience of more than 20 million people when it aired repeatedly on CNN and was released theatrically. Initially, SeaWorld attacked the film as misleading and scientifically inaccurate, but in the face of the powerful public reaction it generated—including in Congress and state legislatures—the multi-billion-dollar firm announced in 2016 it would end its breeding program and all killer whale performances at its theme parks.
Blackfish's success led to opportunities for Cowperthwaite to direct feature films. She received solid reviews for her 2017 debut, Megan Leavey, about a young Marine corporal and her military combat dog in Iraq, and most recently released Our Friend, a story of coming to terms with the loss of a loved one starring Casey Affleck, Dakota Johnson and Jason Segel. She is currently working on a narrative thriller and two documentaries. Cowperthwaite lives in Los Angeles with her husband, Dr. Brian Wilbur, and their twin sons.