A second opinion on the last 25 years, and an alternate solution to Oxy's late-'80s crosses conundrum
Running the Numbers
"Life After 100" (Summer) contained congratulatory descriptions of the College's last quarter-century that avoided inconvenient details. Those 25 years have not been kind.
In 1988, Occidental's endowment was $130 million, which placed it 75th among the nation's colleges and universities. Pomona College had $242 million and ranked 47th. By 1998, Occidental also had $242 million and ranked 133rd, but Pomona's had grown to $675 million. In 2011, Oxy had $342 million and ranked 187th. Frugal Pomona had accumulated $1.7 billion and ranked 41st.
Oxy would need an endowment of $435 million just for the amount per student to have kept pace with inflation since 1988. If the school had maintained its 1988 rank of 75th, the endowment would be $1 billion.
Endowment rank fell from 75th to 187th, and 112 institutions that had smaller endowments than Occidental in 1988 have since surpassed it. This has gloomy implications for tuition, financial aid, faculty quality, and enrollment.
Campus publications regularly boast about Oxy's many applicants, but the applicant pool is inflated by recruiting students who have little interest in the school and by offering refuge to those who fear their first or second choice might snub them.
In 2011, Occidental had 6,112 applicants to Pomona's 6,149. Oxy admitted 2 of every 5 candidates. Pomona chose 2 of every 12. Now for worse news. About 1 in 5 of those admitted to Oxy actually enrolls, while 2 in 5 of Pomona's more elite group matriculate. Nearly 80 percent of the applicants admitted reject Oxy.
Occidental trumpets its presence in an exciting international metropolis whose racial and ethnic diversity, abundant multicultural influences, and dynamic spirit of innovation provide unmatched opportunities. Pomona is nestled in the San Gabriel Valley not far from the former Ontario Motor Speedway and a few miles west of vibrant Rancho Cucamonga. But Pomona is doing something that Occidental is not.
Oxy should stop fantasizing about being the nation's most distinctive urban liberal arts college. It already may have achieved that goal. Now the challenge is to chart a more prudent course, and that means establishing some mundane objectives. Endowment and admissions data reveal that many people have significant doubts about the institution. If the next 25 years sustain the trend, by 2037, Occidental will have endured half a century of decline.
Roger Magyar '66
Sacramento
Cross Wits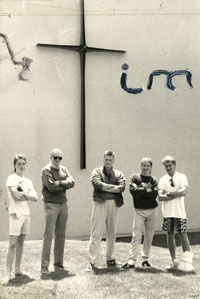 "I read with interest "Cross Words: A Chronology" (Summer), with its insights by the great Alan Freeman '66 M'67, as it relates to my favorite story as part of the Tim Club.
The "Tim Club," originally a joke, grew into an official campus organization in 1989 and 1990. In true Oxy fashion, we were inclusive of all names, but you had to wear a sticker saying "Hello my name is Tim." We had a Tim Awareness Week, a Tim Film Festival (culminating in a showing of The Rocky Horror Picture Show, starring Tim Curry) and if you look in the yearbooks from 1989 and 1990, you'll see our photos alongside the other clubs.
Our finest hour was when we wrote a letter to the editor of the Oxy newspaper, identifying the sticking point of the controversy being the aversion to taking down the crosses off of the side of Herrick Interfaith Center. We pointed out that the Tim Club needed a clubhouse, and that if they instead added a lower case "i" and "m" that they could give us the building and kill two birds with one stone. Soon after the letter ran, the issue was resolved. At the time, the Oxy newspaper's policy was to never run pictures with the letters to the editor, so the photo that we submitted with the letter never ran. That well-worn image (left) still sits on my desk.
Tim West '90
Henderson, Nev.