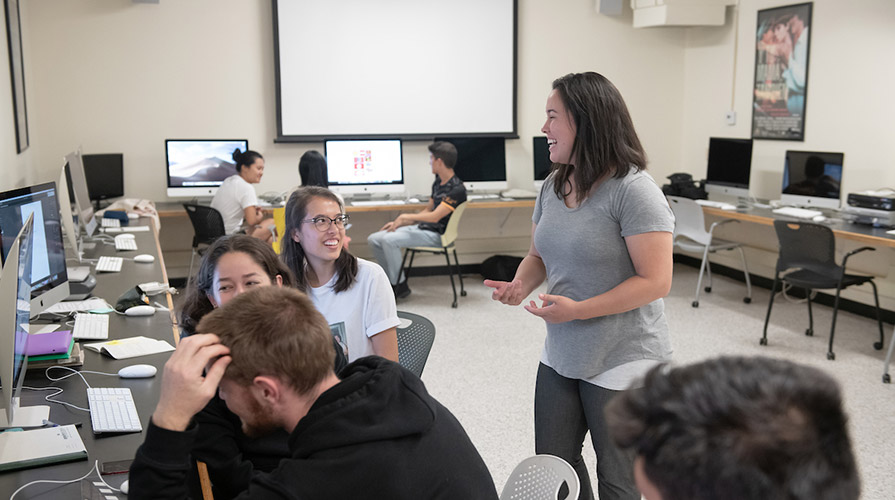 Preparation for your academic journey at Oxy.
Core Program
All students must complete a Core Program of required courses in order to ensure a broad education in the liberal arts and sciences. For a summary of the Core requirements visit the Core Program website. Course registration will occur later in the summer. 
Advising Preparation
The registration dates for new, incoming students for the Fall 2021 semester are not yet available. To get a sense for how the process works, feel free to review the information below, which explains how it was run last year. This page will be updated once advising details are available!
Students must meet with their assigned faculty adviser in order to obtain their registration PIN letter. (In cases where your academic adviser is unavailable, PIN letters may be obtained through the Advising Center. Making an appointment at the Advising Center for a specific meeting time is strongly recommended. It is important to set an appointment with an adviser as soon as possible, as office hours are limited.) If you have an advising session but for some reason your adviser is unable to give you your PIN letter, ask the adviser to send you a note indicating you have had an advising session. Forward that note to the Advising Center in order to retrieve your PIN letter.
To prepare for your advising session, refer to Course Counts and the Advising Handbook to start mapping out the courses you would like to take this fall. Course Counts has many features to assist you in selecting courses, including specialized searches. The College Catalog is the definitive source for all academic policies and requirements for majors, minors, and Core that you will need to fulfill over the next four years in order to earn your Oxy degree. This worksheet allows you to sketch a tentative schedule of classes (with backup/alternative classes) to share with your adviser.
Transfer Students
Don't forget to review your Grades and Academic Records (GAR). This application is found in myOxy under the "My Gateway" link. Review your transfer work by clicking on the link for "Transfer Courses" and your progress toward completing Core requirements by clicking on the "Core Requirements" link. You should also compare the courses you have taken with the requirements for your intended major as indicated in the College Catalog. You may need to complete a Transfer Credit & Course Substitution Form if you feel any additional transfer work should count toward your Core or major requirements.
While planning your schedule, it is important to review course prerequisites. You will not be able to register for a course that has a course prerequisite unless GAR indicates one of your transferred courses has been equated to the necessary Oxy course equivalent. To view which courses have already been equated, click on the link for "Transfer Courses" in GAR. You will see each course that has been transferred and its Oxy equivalent, if any. If you do not see any courses equated to the prerequisite course(s) you may submit a Transfer Credit & Course Substitution Form to equate the transferred course to the necessary Oxy course. Alternatively, you may request an electronic prerequisite override from the instructor. In order to provide a waiver, instructors will need your student id number and the subject, number, and section of the course you wish to add.
Registration 
The registration dates for Fall 2021 new students are not yet available. Once they have been determined, they will be published here.
Incoming First-Year Students
All incoming first-year students will register in two rounds. During the first round of registration incoming students will register for up to 10 units. During the second round incoming students will register for the remainder of their schedule (up to an additional 8 units). Students register in two groups; those who register in the first group for the first round will register in the second group for the second round. The registration order of these groups will be switched when it is time for spring semester registration. The normal schedule is four, 4-unit courses (16 units). Some courses have different unit values but 16 units each semester maintains progress toward the 128 units required for the Bachelor of Arts degree. Full time students may register for up to 18 units in any semester. The time for your two rounds of course registration will be clearly indicated on the PIN letter you receive from your adviser.
Important note for students who have committed to taking an Oxy Immersive or CSP Plus: You will be pre-registered into the preselected courses. Be sure to check your schedule during registration. You may register for additional courses in the second round of registration, if needed, to bring your total enrollment up to the normal load of 16 units.
Incoming Transfer Students
All transfer students will register for their entire fall schedule in one registration session. The time for your registration session will be clearly indicated on your PIN letter.
How do I register?
The process for registration is described in detail on the Registrar's website. Please review this link before your time to register so that you know what to do when your registeration time arrives. We encourage you to go into the system and register as soon as your registration session starts. During registration there will be a Zoom meeting scheduled for any student to drop in and ask a question or troubleshoot a registration issue. The details of the Zoom meeting, including the passcode, will be prominently displayed on the PIN letter, on the Registrar's website, and on the Advising Center's website.
Questions
If you have any questions about these procedures, or if you encounter any difficulties with the registration system, please contact the Registrar's Office at registrar@oxy.edu or join the Zoom session (see PIN letter for passcode).
Placement Exams
Some courses require a placement exam to be taken prior to registration. Even if you are not certain what major you will declare, we highly recommend completing exams for subjects in which you have had prior experience. This will help you get ahead of the game!
In general, students who plan on taking courses in math, chemistry, French, German or Spanish should take an online placement exam this summer. (Placement exams for other languages and for music theory will be available later in the summer.) That said, there are some exceptions:
If you will be studying a language for the first time, you will be able to enroll in a 101-level course without taking a placement exam. 

If you took an AP, IB or SAT II score in the subject, you may be able to use your score to determine placement. 
For more guidance about whether you should take a placement exam, we have created two short videos that cover the language exams and the math and chemistry exams. Taking your placement exams prior to the advising period will help you register for the courses you need to start pursuing your academic goals as soon as you can. 
To take an online placement exam or to learn more about them, visit the Advising Center's Placement Exam page.