Learn more about Joel Garcia's augmented reality artwork, Astrorhizal Networks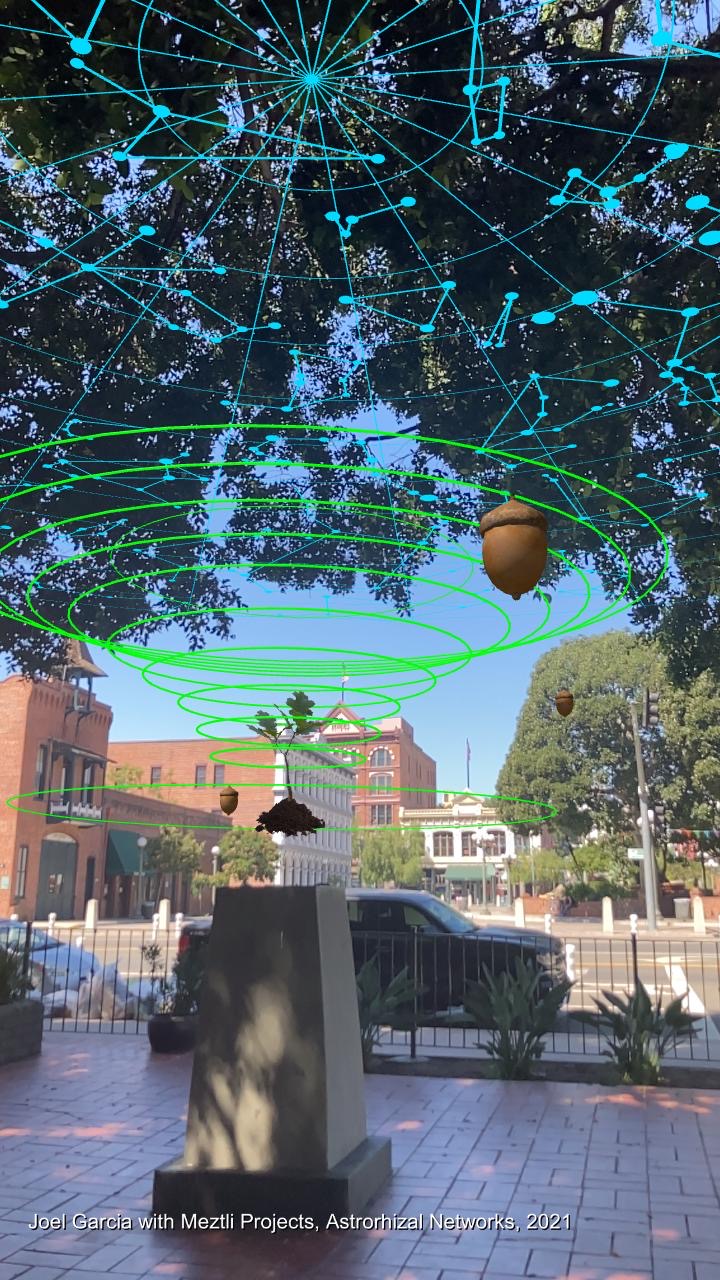 Astrorhizal Networks is a monument that imagines the possibilities for a future in Los Angeles where Native people are not just acknowledged, but land has been returned and new growth has begun. Joel Garcia chose the site where the Junipero Serra statue stood until summer 2020, when it was toppled in a ceremony. In its place, Garcia has placed an oak sapling, radiating green circles of light out and up towards a constellation of stars. Throughout, you see acorns dot the sky. The image of the oak sapling calls on the possibility of growth and repair. Garcia notes that the radiating green rings function as a type of collective holding—an articulation of our community caring for and encouraging the oak tree to grow. This work is a gesture towards rebuilding connection to the earth, and de-centering human experience. The animated vertical movement also calls our attention to the connection between the roots, earth and sky. 
Garcia notes, "When we talk about marking time through these monuments, for Indigenous folks there's different ways of making time. So I thought, if we bring these Indigenous concepts into monument making and memorializing, it is important that we offer a different perspective as well".  
Use the map below to view Joel Garcia's Astrorhizal Networks on-site in Los Angeles at Yaanga Park.
You can hear Garcia speak more about Astrorhizal Networks in the video below, and in an original article he wrote for Monument Lab's Bulletin publication reflecting on his project and process. 
Learn more about Encoding Futures: Speculative Monuments for L.A. and view the other artworks
This project is made possible by the generous support of the Andrew W. Mellon Foundation.