Oxy Arts builds community through innovative and inclusive arts experiences. Below is a list of programming from the 2013-2014 academic year.
March 19, 2014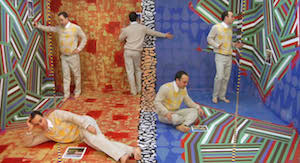 The Trouble Between Us: An Exhibition organized by Kenneth Tam
The artists in The Trouble Between Us use video to put themselves on display.  The video camera provides an opportunity to perform, or to play with the idea of what a performance can be. Some of the videos rely on digital manipulation to insert an artist's body into surreal, unsettling spaces.  The artists explore the nuances of video as a medim, creating environments for their actions that go beyond traditional sets and backdrops. Audio plays an important role in the work in the exhibition, either with the use of hypnotic, evocative soundtracks or by the absence of sound.  For the artists in this exhibition, video is a space where bodies can inhabit new and strange roles.
The Trouble Between Us is organized by artist Kenneth Tam and includes work by Patty Chang, Josh Mannis, Pat McElnea, Maria Petsching, Kenneth Tam and Kaari Upson. 
On view: March 19 - April 19, 2014
February 5, 2014
As an exhibition, Watershed examines Tsuno's deep relationship with regional waterways, especially the San Gabriel and Los Angeles Rivers and their tributaries. Through his research and experiences, the artist, a lifelong local fishing enthusiast, developed an interest in the non-native plant life that has grown up in the waterways and has become part of the ecosystem. Tsuno photographs the various watershed elements.  He distills the images to form his highly layered system and creates paintings and prints that depict his perception Los Angeles.
On view: February 5 - March 8, 2014
November 3, 2013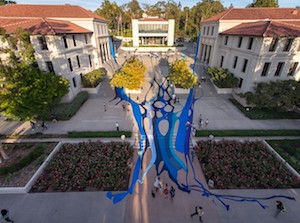 Liz Collins: Knitting Nation 12: H20
Knitting Nation is a speculative series of site-specific performance and installation projects by Liz Collins. For KN12 Collins worked with Advanced Projects in Interdisciplinary Arts students to theatricalize the connection between body and machine, textile and space that is at the invisible center of globalized garment manufacturing. As the knitters sway in rhythm with their machines, the chromatic streams of knit yardage serve as architectonic scale drawings. On November 6, 2013, Liz Collins brought Knitting Nation 12 to the Occidental College as the campus's inaugural Wanlass Artist-in-Residence.  In addition to the daylong site specific performance, Collins' two-week residence featured a new gallery-based temporary installation, Distancer-Pursuer, part of the artist's zig zag fringe series; and a public dialogue with noted art historian, Julie Bryan-Wilson. The Los Angeles campus was be the first west coast site of Knitting Nation.