Oxy Arts builds community through innovative and inclusive arts experiences. Below is a list of programming from the 2016-2017 academic year.
April 25, 2017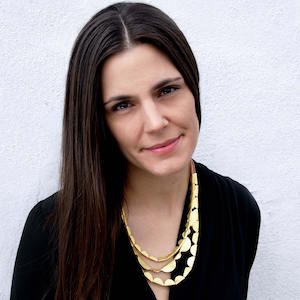 Oxy Arts Speaker Series: Elizabeth Cline 
Elizabeth Cline has dedicated her career to supporting interdisciplinary artists and artistic communities. For the past eight years she has curated and produced performative, site responsive works across Los Angeles. Previously she was the Assistant Director at Machine Project, an arts non-profit in Los Angeles and a Curatorial Associate at the Hammer Museum, where she organized artist's projects in the Public Engagement program. As a librettist and director, her work explores consciousness through subjectivity and time. Read more about Elizabeth's work on the Industry LA website.
April 20, 2017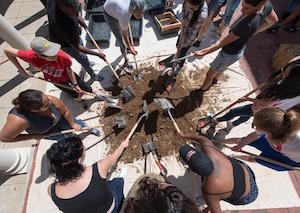 Rafa Esparza: HERE
HERE is a site-specific installation on the Occidental College campus inspired by Rafa Esparza's work and interactions with students and staff during his residency at Oxy. From February 1 through April 20, the College's Weingart Gallery serves as both an exhibition and work space for Esparza, highlighting the process of art-making as the exhibition in and of itself. On April 20, Esparza's 10-month residency at the College culminates in the opening of his site-specific art installation on the campus grounds. Beginning at Mt. Fiji and placed in a delineating fashion in four campus locations (Mt Fiji, Weingart Patio, Hameetman Career Center Patio, and the Olive Grove), Esparza's four adobe sculptures will be collectively conceptualized by students, staff and the artist.
April 4, 2017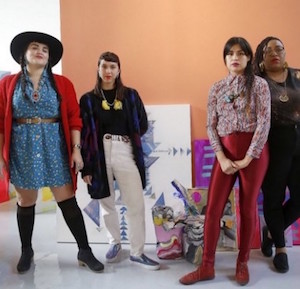 Oxy Arts Speaker Series: Black Salt Collective 
Black Salt is a collective based in Oakland and Los Angeles comprising Sarah Biscarra Dilley, Anna Luisa Petrisko, Adee Roberson and Perkins, all women of color. Black Salt embodies cultural and contemporary narratives. The work is cultural, but not "cultural" in the anthropological sense of the word, as cultural art is often seen through a Western lens. Black Salt is about contemporary non-linear identity in which experience results in atmosphere. Black Salt Collective honors the non-linearity of time with an infinite archive of universal depths. We not only imagine a future that sheds white supremacist, heterosexual, and patriarchal ideals, we create a universe where the dreams of our ancestors and the hopes of our descendents live and interact. We create a universe where there are alternative futures and alternative pasts, where oracles become realities, where histories are honored and transmuted, where deep healing can take place. With careful composition and intention, we will transform the constriction of the gallery into the Black Salt universe. Read more about the Black Salt Collective.
April 1, 2017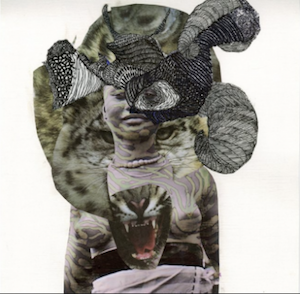 Student Gallery Visit & Workshop with Kenyatta A.C. Hinkle
Kentifrica Is: Re-Imagining Collective Geographies at 18th Street Arts Center 
In April of 2017, Oxy students were invited on a field trip to view Oxy Arts Speaker Series artist and Wanlass 2017/2018 Artist in Residence Kenyatta A. C. Hinkle's exhibition Kentifrica Is: Re-Imagining Collective Geographies at 18th Street Arts Center in Santa Monica! Kenyatta led a hands-on workshop with Oxy students, and guided them through a special tour of the exhibit. Students were asked to bring a along personal object to "remix and reimagine" in the workshop. These objects acted as a stand-in for people, places and experiences that have been erased.
March 31, 2017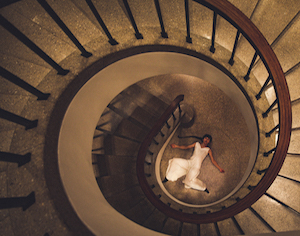 Heidi Duckler Dance Theatre - Spring 2017 Student Workshop & Performance 
In March of 2017, Oxy Arts brought Heidi Duckler Dance Theatre to campus to lead students in an exploratory movement-based workshop. Students who participated in the March workshop had the opportunity to create and perform in an original collaborative work developed site-specifically in the AGC Rotunda
Martin Mull once said "Writing about music is like dancing about architecture" –to suggest it's a silly or frivolous activity. Local site-specific choreographer Heidi Duckler disagrees entirely and shared her place-making art skills with Occidental students in her workshop.
March 30, 2017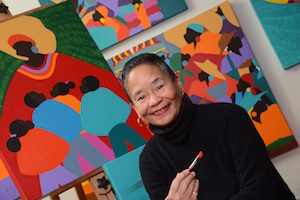 Synthia Saint James 
On March 30th, LA-based visual artist Synthia Saint James visited Oxy's campus for a meet and greet, lecture presentation and book signing. Synthia Saint James is a world renowned multicultural visual artist, an award winning author and/or illustrator of 17 children's books, several poetry and affirmation books, a cookbook, a play, a monologue, and the autobiographical book titled Living My Dream: An Artistic Approach to Marketing (which was nominated for a NAACP Image Award in 2012).
March 27, 2017
Seeing the Unseen
by Jewel Phan, Kayla Williams 
Azmari x Kikuyu
by Waruguru Waithira, Olani Ewunnet 
March 23, 2017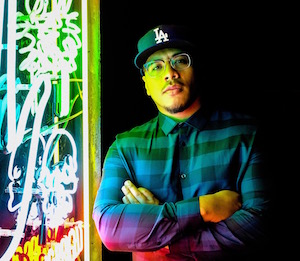 Patrick Martinez: Po-lice
Patrick Martinez chose to turn to his own artistic dash cam to focus on the never-ending reports of police brutality that have come to light over the past few years. Taking on the ultra-American Pee Chee folders, Martinez replaces typical American imagery with illustrations that accurately depict the deathly racial situation coming to light in America right now: police brutality and misconduct. "The original Pee Chee folders had a theme of youth and sports," says Martinez. "I'm switching that all-American sports scene with real situations."
On view March 23 - April 16, 2017
March 14, 2017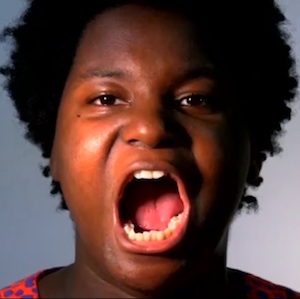 Kenyatta A.C. Hinkle
Kenyatta A.C. Hinkle is an interdisciplinary visual artist, writer and performer. Her practice fluctuates between collaborations and participatory projects with alternative gallery spaces within various communities to projects that are intimate and based upon her private experiences in relationship to historical events and contexts. A term that has become a mantra for her practice is the "Historical Present," as she examines the residue of history and how it affects our contemporary world perspective. Hinkle received her MFA in Art & Critical Studies Creative Writing from CalArts and BFA in Painting from the Maryland Institute College of Art. Read more about Kenyatta's work. 
February 24 - 26, 2017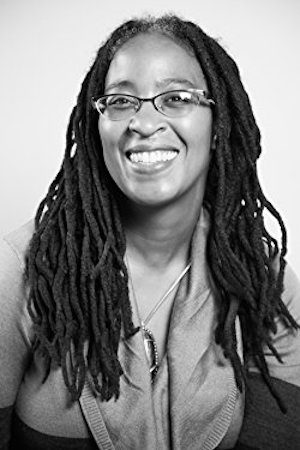 Camille Dungy - The 23rd Robinson Jeffers Association Annual Conference
Poetry of Place: Camille Dungy Poetry Workshop
February 24, 2017
This conversation, between Camille Dungy and special guest poets​ Douglas Kearney and Zinzi Clemmons​, treats Blackness as an entry-way to rethinking nature and its relationship to poetry.
Keynote: Camille Dungy
February 25, 2017
"The View From Hawk Tower Today: A Contemporary Environmental Poet Reflects on What Robinson Jeffers Has Meant to Her"
Camille T. Dungy is the author of four collections of poetry: Trophic Cascade (Wesleyan UP, 2017), Smith Blue (Southern Illinois UP, 2011), Suck on the Marrow (Red Hen Press, 2010), and What to Eat, What to Drink, What to Leave for Poison (Red Hen Press, 2006). Her debut collection of personal essays is Guidebook to Relative Strangers (W. W. Norton, 2017). Dungy edited Black Nature: Four Centuries of African American Nature Poetry (UGA, 2009), and co-edited the From the Fishouse poetry anthology (Persea, 2009). Her honors include an American Book Award, two Northern California Book Awards, a California Book Award silver medal, two NAACP Image Award nominations, and a fellowship from the NEA. Dungy is currently a Professor in the English Department at Colorado State University.
February 21, 2017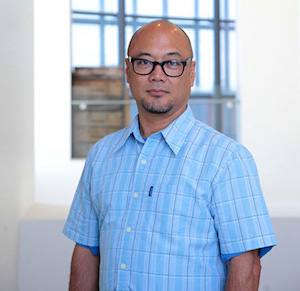 Oxy Arts Speaker Series: Clement Hanami 
Clement Hanami is a Japanese-American artist. He grew up in the predominantly Hispanic Los Angeles, California suburb of East Los Angeles, just outside downtown. His mother is a hibakusha, or atomic bomb survivor. His father was a World War II evacuee. Clement is currently the Art Director at the Japanese American National Museum and primarily responsible for the design, installation, fabrication and maintenance of the Museum's major exhibits, and New Genres teacher at the Los Angeles County High School for the Arts. He was also a Cultural Affairs Commissioner for the City of Culver City from 2004 to 2010. He received a Getty Visual Arts Fellowship in 2000 and a COLA Artist Award in 2007 given by the Department of Cultural Affairs, City of Los Angeles. Read more about Clement's work.
February 16, 2017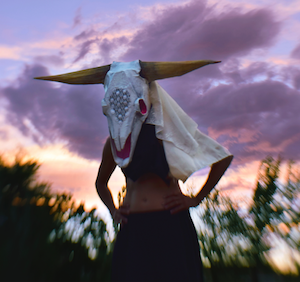 Eve-Lauryn Little Shell LaFountain: Waabanishimo: Miigaadan (She Dances Till Daylight: Fight It)
Eve-Lauryn Little Shell LaFountain is a Los Angeles based multi-media artist. Her work explores feminism, and her mixed Turtle Mountain Chippewa and Jewish identity through lens based media and installations. She has shown in several venues and festivals including the Venice Biennale, the Museum of Contemporary Native Arts and Addison Rowe Gallery in Santa Fe, the Smithsonian Museum of the American Indian in New York, and ImagineNATIVE FIlm + Media Festival in Toronto. She received her Bachelor of Arts from Hampshire College in 2008 and a dual Master of Fine Arts from the California Institute of the Arts in Photography/Media and Film/Video in 2014. She teaches and curates at the Echo Park Film Center, and also works at the California Institute of the Arts.
On view February 16 - March 5, 2016
February 15, 2017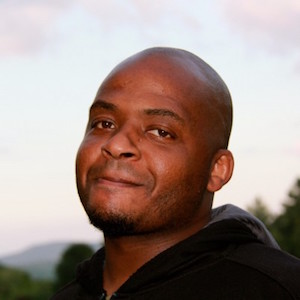 Kiese Laymon: They Don't Even Know": Black American Abundance in the Age of Trump and Bush and Reagan and Bush and Obama and You
Kiese Laymon's keynote contests the current arguments for scarcity, lack, pathology, and loss saturating the airwaves, in order to think about the "abundance" within the black cultural tradition.
February 16, 2017
Kiese Laymon: Black Abundance - Black Survival
This panel wonders how thinking of this abundance also alters the perennial conversation about the "survival" in black culture. Quite often, survival suggests a life frequently reminded of its limits-- a life shorn off from abundance. In this conventional narrative, the need to survive makes thinking of abundance a moot point. In turn, having abundance means being oblivious to the fundamental needs of communal life. Today's cultural and political climate calls on us to redefine abundance and survival so they can count as complements, not separate concerns. What innovations has black life produced in the seemingly straightforward need to survive? How does the abundance in black life point us back to our shared needs and goals?
February 7, 2017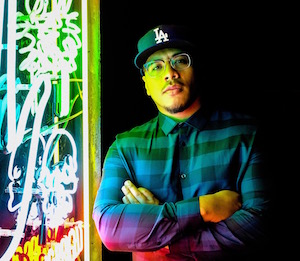 Oxy Arts Speaker Series: Patrick Martinez
Patrick Martinez is a son of Los Angeles. His diverse cultural background (Filipino, Mexican, and Native American) provides him a unique lens through which to view and interpret his surroundings. Influenced by the Hip Hop movement, Martinez's work leverages the signage, language, and surfaces that underpin visual life in Los Angeles. His work frequently reflects subtexts of power and inequality he observes in culture and in life. All Season Portfolio will be a cross-media platform, including new pieces from Martinez's Pee Chee series of paintings and drawings that memorialize victims of police brutality, new neon text sculptures that reference Hip Hop lyrics and LA vernacular signage, and new mixed media stucco paintings, all made in response to this contemporary American moment. In tones ranging from elegiac to defiant, and using visual strategies that eliminate distance between work and viewer, Martinez offers a vigorous, deeply felt response to the clamor and unease of life in Los Angeles, California, USA, 2017.
November 20, 2016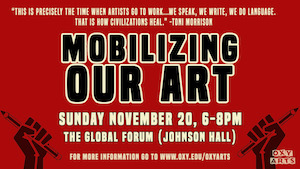 Mobilizing Our Art
As a follow up to our  Performing Racial Justice: Panel Discussion in October, and in response to the shifting dynamics of our country, Oxy Arts organized Mobilizing Our Art, a performance/panel/dialogue/think tank that took place on Sunday, November 20th from 6-8pm. This event provided a space for artists and the community to come together, dialogue, brainstorm and create a plan of action for how we as artists can move forward and create art that reflects and affects the shifting world around us.
November 18, 2016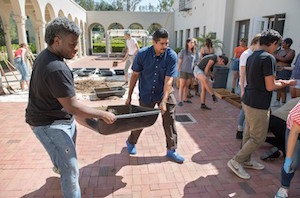 Adobe Brick Making Workshop with Rafa Esparza 
On November 18, 2016, Wanlass Artist in Residence Rafa Esparza led an Adobe Brick Making Workshop on Weingart Patio. This workshop was free and open to the public.
L.A. native and visual artist Rafa Esparza was the 2016/2017 Wanlass Artist in Residence at Occidental College. The title of his residency was "Manos de Obra (Rituals in Land)," and he taught students how to craft adobe bricks that were used in his campus installation HERE.
November 2, 2016

Following Beatrix: A Performance by Flora Wiegman
In November of 2016, Dancer/choreographer Flora Wiegmann organized a durational performance that inhabited numerous outdoor spaces on the Occidental College campus. Stemming from her interest in landscape and architecture, and inspired by Beatrix Ferrand's role in shaping the landscape at Occidental during the 1930s, the piece examined how these influences may affect our movement through campus today. The qualities of the various settings (such as a thoroughfare, amphitheater, archway, or fountain) shaped and reshaped the way in which the score unfolded, often defining the amount of space in which the bodies have to dance. The work was designed to be both something that may be "happened upon" while students and faculty go about their day, and as a formal performance that can be viewed for long periods of time and followed to its various locations.
October 18, 2016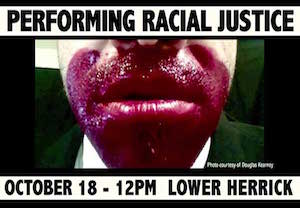 Performing Racial Justice Panel
How can our creative practice actively impact the fabric of society? Why is art integral to social justice movements? Performing Racial Justice brought together six LA-based arts professionals whose work is actively rooted in racial justice to discuss their practices, and to participate in a moderated panel about creating performance-based work with social impact.
September 8, 2016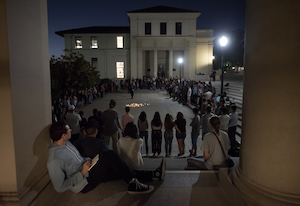 What To Send Up When It Goes Down
What To Send Up When It Goes Down is a play-pageant-ritual-homegoing celebration meant to disrupt, honor, and reclaim. An attempt to honor those lost to racist violence in America, the piece uses language, song and movement as a means of reflecting in order to cleanse and uplift. The goal is cleansing/catharsis through the exercise of viewing and participating in the piece, while also making space for collective emotions following tragedy. Written and directed by Aleshea Harris.
August 14, 2016 - June 17, 2017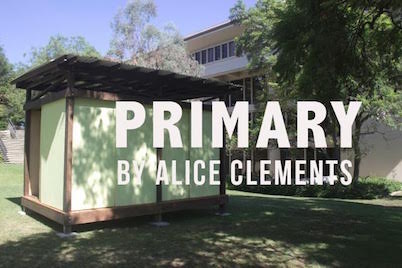 Los Angeles Museum of Art (LAMOA)
LAMOA is an approximately 13' x 10' x 10' exhibition space curated by Könitz, and a sculpture in its own right. Established in Könitz's Eagle Rock backyard in 2012, the museum is a venue for exhibitions and performances from members of her artistic community. Artists are invited to create work specifically for the venue and its unique structural form. Through this arrangement the space evolves with each exhibition into a new audience experience.