In Plain Sight (IPS) is a coalition of 80 artists, activists, and organizers dedicated to the abolition of immigrant detention and culture of incarceration. Learn more about the Fall 2020 exhibition and curricular integration below.
Exhibition 
---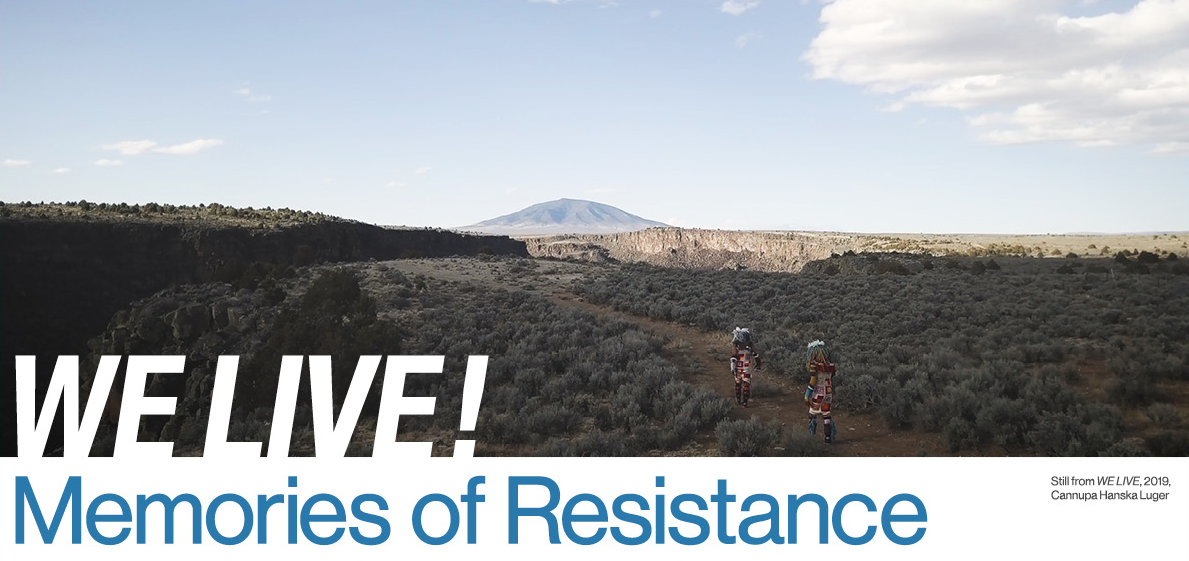 OXY ARTS and In Plain Sight present WE LIVE! Memories of Resistance, a group exhibition of 14 artists. 
September 14 — November 29, 2020
Participating artists: Felipe Baeza, Margarita Cabrera, Sonya Clark, Beatriz Cortez, In Plain Sight Coalition, Sky Hopinka, Cannupa Hanska Luger, Alberto Lule, Maria Maea, Karen Martinez, Guadalupe Rosales, Dread Scott, Tina Takemoto and Devon Tsuno.
View 3D Exhibition Walkthrough
WE LIVE! Memories of Resistance brings together In Plain Sight artists that engage the contemporary political stakes of historical remembrance and collective memory. Employing a diverse range of formally innovative creative practices, their artworks transport viewers through pasts, both real and imagined, to propose a future beyond white supremacy, settler colonialism, and the brutality of policing and punishment. Some artists manipulate materials or mine archival documents to expose the intergenerational reverberations of racism and state violence, while others invite community collaboration to reconstruct histories of resistance and to heal traumatic loss. Still others incorporate ancestral myths, histories, and knowledge to recognize the resilience of oppressed communities and to design speculative spaces of possibility, protection, and belonging.
Curated by Kyle Stephan and Paulina Lara
Learn more about WE LIVE! Memories of Resistance
Activity Guide
---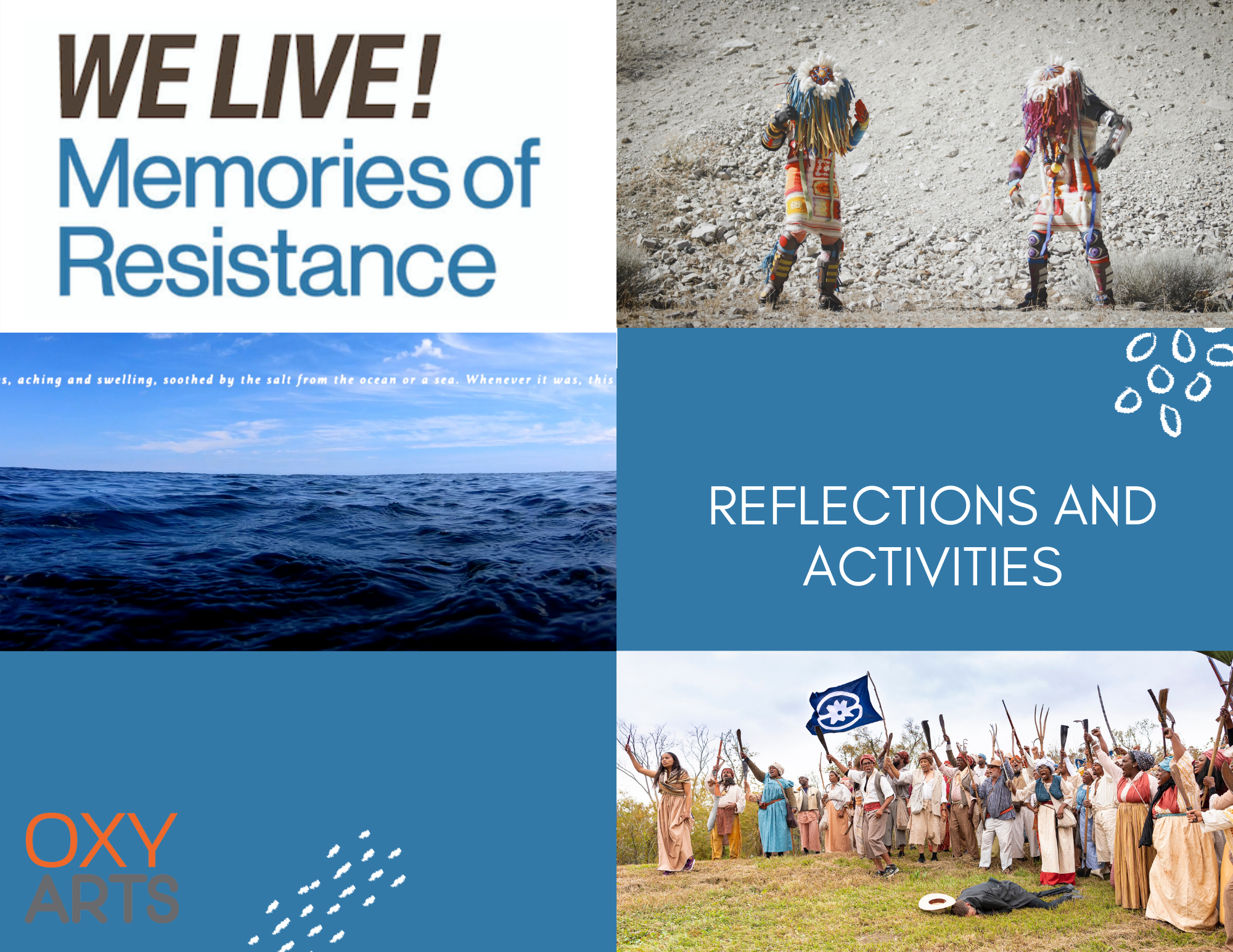 Recommended for 4th-8th grade students, the exhibition activity guide features three prompts to further engage with and reflect on the themes presented in WE LIVE! Memories of Resistance. 
Download the activity guide or follow along online! 
WE LIVE! Exhibition Activity Guide
 
Related Programming 
---
ALL TIMES IN PST
Sept 17 | 6pm
Collective Memory and Intergenerational Music
Panel Discussion with Cumbiatón Collective
DJ Set with DJ Funky and DJ Sizzle
Sept 24 | 5pm
Another Dimension: Reinventing Public Art and Activism with Emergent Technologies
Artist Talk with Nancy Baker Cahill
Oct 8 | 11am
Healing Intergenerational Trauma with Internal Martial Arts 
A workshop with Yunuen Rhi
Oct 13 | 5pm
Reimagine LA: Abolition on the Ballot with Justice LA
Community Organizing Workshop Series 
Oct 15 | 5pm 
Narcissister Organ Player (Dir. Narcissister)
Filmmaker Introduction and Post-Screening Q&A 
Oct 20 | 5pm
Take Back Tech to Abolish ICE with Mijente
Community Organizing Workshop Series 
Oct 21 | 5:30pm
Screening of The Infiltrators
Post Screening Q&A with Alex Rivera and Cristina Ibarra
Oct 22 | 5pm 
Artist Talk and Discussion with Dread Scott
Oct 27 | 5pm
Mutual Aid Praxis with Ground Game LA
Community Organizing Workshop Series 
Oct 28 | 5pm
Déjenme Gritar (Let Me Scream)
Performance by Dorian Wood + La Victoria
Nov 4 | 5:30pm
Artist Talk and Conversation with Sky Hopinka 
Conversation with Sky Hopinka on his latest project, maɬni – towards the ocean, towards the shore 
Nov 10 | 5pm
Alternatives to Police with CAT911
Community Organizing Workshop Series 
Nov 12 | 5pm
Kenturah Davis in conversation with Felipe Baeza
Nov 20 | 7pm
Sama: The Divine Listening Room
Performance by Arshia Fatima Haq + Maral
This program is made possible by the Remsen Bird Fund and the Arts and Urban Experience Initiative, which is generously funded by the Andrew W. Mellon Foundation.
Curricular Integration
---
Our partnership with In Plain Sight extends into the Fall semester curriculum through the Oxy Immersive Semester Programs and the Cultural Studies Program Plus (CSP).  
Arts in Los Angeles Immersive Semester
The Arts in Los Angeles Immersive Semester includes 12+ units of coursework that will orient students to multi- and trans-disciplinary scholarship on the history, theory, and practice of LA arts, as well as community-based work/internship options that will provide students with professional opportunities to actively engage in local projects/communities. 
Visit the Arts in Los Angeles Home Page
Cultural Studies Program (CSP)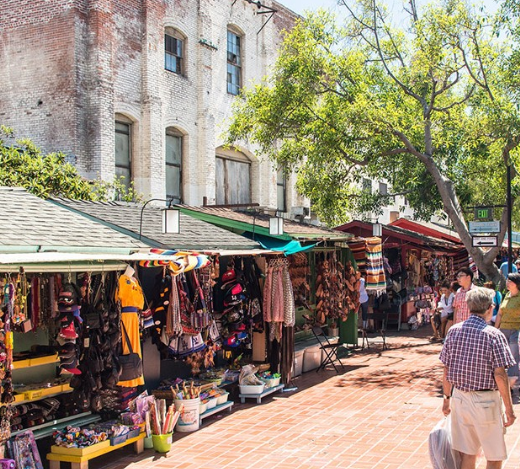 The Cultural Studies Program Plus (CSP) offers a lecture series and two special seminars within the Core Program. The seminars offered during Fall 2020 are CSP 1: California Immigration Semester and CSP 2: Explusions: Un/documented Migrants, Refugees, and the Stateless.
In Fall 2020, the CSP Lecture Series will open with a conversation between artists Cassils and Rafa Esparza about their collaboration launching In Plain Sight.
CSP 1: California Immigration Semester 
CSP 2: Explusions: Un/documented Migrants, Refugees, and the Stateless
Follow the In Plain Sight Project
---
Independence Day Weekend 2020 | Project Launch 
Read coverage of the In Plain Sight launch:
80 artists sent messages over U.S. detention centers, Los Angeles Times (July 3, 2020)
Protesting U.S. Immigration Policies, Artists Aim for the Sky, New York Times (July 3, 2020)
#DefundHate: Artists Create Skytyped Messages Denouncing the Immigrant Detention Crisis, Hyperallergic (July 6, 2020)
Look Up: 80 Artists Are Skywriting to Highlight the Injustice of Immigration Detention in America, Vogue (July 7, 2020)
Visit the In Plain Sight website to learn more about how you can take action to end immigrant detention in the U.S. 
About In Plain Sight
In Plain Sight is a coalition of 80 artists united to create an artwork dedicated to the abolition of immigrant detention and the United States culture of incarceration. A highly orchestrated mediagenic spectacle and poetic action, this project is conceived in five parts -- a poetic elegy enacted on a national scale, an interactive website, an anthology docuseries, accessible actions for the public to take to join the movement against immigrant detention, and cultural partnerships producing arts-related education and engagement.
Over Independence Day weekend 2020, In Plain Sight launched the nation's skytyping fleets to spell out artist-generated messages in water vapor, legible for miles. These messages were typed in the sky over detention facilities, immigration courts, borders, and other sites of historic relevance. As the planes soared, they made visible in the sky what is too often unseen and unspoken on the ground: the appalling, profoundly immoral, imprisonment of immigrants.
In Plain Sight steered the gaze of those sheltered in place into the borderless sky. Although we are living in uncertain times, there is one thing that is certain: we need to work towards ending immigrant detention. Our immigrant community does not have protection from the deadly coronavirus and lacks basic supplies including soap, disinfectant and face masks. We cannot distance ourselves from the fact that this community will fare poorly in this crisis.
In Plain Sight aims to amplify the voices organizing on the inside and outside of detention centers, bringing together artist interventions and direct support for those urgently working towards immigrant justice. We aim to serve the decades-long movement built by people working, often as volunteers, as part of powerful coalitions, networks, and local organizations supporting the immigrant community. Our team, intersectional in our identities, experiences, and expertise, is dedicated to drawing attention to the calls to action crafted by experts on the ground and in communities, and to uplifting the voices of all those currently detained. We strive to do this in a collaborative and intentional manner. We stand in solidarity with all those working to end immigrant detention and the culture of incarceration. We welcome all comments and suggestions regarding how we can further uplift local voices, and center the voices of those who are directly impacted.
SOLIDARITY STATEMENT
The liberation of immigrant, LGBTQI+ and Black communities are deeply bound together. The violence our communities suffer is rooted in white supremacy and colonization. We stand in solidarity with the Movement for Black Lives and their ongoing work for a just and free world.