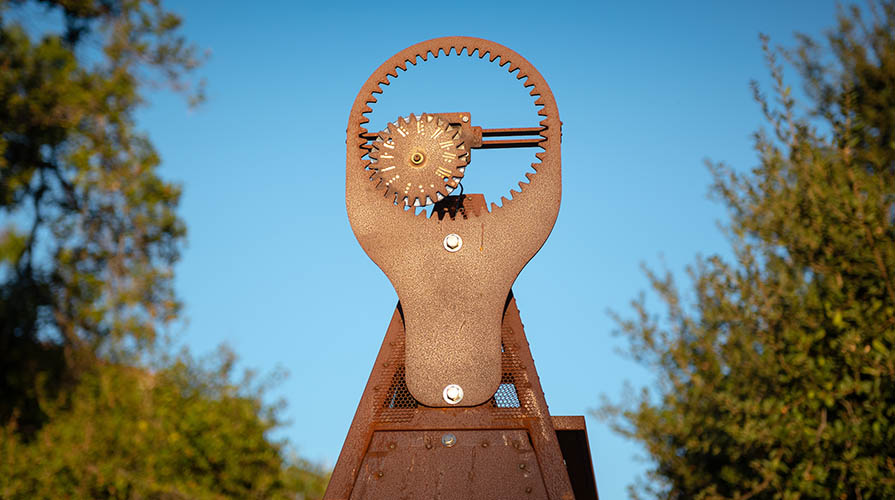 Find out about upcoming Oxy Arts initiatives, opportunities and co-sponsored student events here.
OXY ARTS Paid Internships  
Each semester Oxy Arts connects 4 selected students with local art partners across Los Angeles for an immersive paid internship. This is an opportunity to gain hands-on experience working with artists and organizations across different aspects of the art world—exhibition, publication, performance, education, and more. Host partners include artworxLA, Avenue 50 Studio, Bob Baker Marionette Theater, CASSANDRA Press, and Clockshop. Read more about each host site and specific internships at this link before applying. This is a paid student worker position at $15/hour for a 10 hour per week commitment. Internships will be 10 weeks long during the spring semester.
Applications for Fall 2021 internships are not open at this time. The application process includes filling out a google form, and sending your resume and cover letter as one pdf with your name and the intern site in the file name to ffleming@oxy.edu. Your cover letter should be specific to the intern site you are applying for. You may apply to multiple intern sites. If you would like support writing your resume and cover letter, email careers@oxy.edu to attend a career education class or set up an advising appointment. 
The Oxy Arts Internship program is made possible by the generous support of the Andrew W. Mellon Foundation.
OXY ARTS Community Studio @ LAUSD
The OXY ARTS Community Studio @ LAUSD program is a new arts education program building on our Collaborate after school arts workshop. Oxy students will be placed at a local Highland Park elementary school to lead a six-week afterschool visual art workshop to 4th grade students. 
This position is paid hourly ($15/hr), up to 6.5 hours per week for 10 weeks. This includes paid prep at the beginning of the semester, including training and curriculum development, followed by six weeks of classes at the assigned school site. You will be responsible for developing your own original curriculum. Classes will be held on weekday afternoons. There will be multiple days of the week available and we will work with you to place you at a school site that best fits your schedule. 
To apply for a Fall 2021 teaching position, please fill out this application. Completion of the Collaborate course, or a combination of other relevant Education courses/ teaching experience is required for this student worker position. Questions? Email ffleming@oxy.edu
The Oxy Arts Community Studio program is made possible by the generous support of the Andrew W. Mellon Foundation.
Black Arts Fund 
The Black Arts Fund is committed to supporting the creative expression and artistic production of Black students at Occidental. In the Spring of 2020, Occidental College senior Darla Howell was granted funds by Oxy Arts to produce a documentary about Black students at Occidental College. The process inspired her to initiate a fund dedicated to supporting creative projects for Black students. The goal of this fund is to provide that sustained support for Black students each year for a wide range of creative projects across disciplines.  
Oxy Arts is working with the Black Student Association (BSA) in management of the fund. BSA is creating a sub-committee of students who will review applications and support the grantees over the course of the year as they complete their projects. Applications will be accepted this Fall, with a goal to fund 5 students at $1,000 each, making it possible for them to complete a creative project this academic year that they will present in the Spring of 2021.  
Student Collective
The Oxy Arts Student Collective was launched in the fall of 2018 as an organization for students engaged in or curious about the arts. The Collective offers students first-hand experience in the Los Angeles arts ecosystem through trips to local museums, brown bag lunches with local artists and industry professionals, student-led, hands-on art workshops and many more opportunities to get involved with the arts in the community. Still in its inception, the Collective is a great opportunity for students to have a say over programming and future direction. Please email oxyarts@oxy.edu if you are an Oxy student and would like to be involved.
Collaborate Courses
ARTS100 - 1 Oxy Arts Collaborate Workshop: Middle School
ARTS100 - 2 Oxy Arts Collaborate Workshop: Elementary School
The Oxy Arts Collaborate Workshop brings a teaching artist, Oxy students, and youth from the neighboring Highland Park schools together in creative collaboration. During the first six weeks of the semester, Oxy students will learn core arts education and public engagement pedagogy. They will work with lead teaching artist Patricia Yossen and collaborate in teaching teams to develop curriculum for an original after school art workshop. In the following 6 weeks of the semester, Oxy students will collaboratively their workshops for local 4+5th or 6-8th graders, culminating in a final public presentation. This course is an eligibility requirement to apply for a paid position through Oxy Arts to lead after school art classes through our Community Studio teaching program, on-site at local Highland Park elementary schools. You are required to submit an application to register for this class.
The application for the Fall 2021 semester is closed. Please email ffleming@oxy.edu with any questions or if you would like to be added to the waiting list. 
The Oxy Arts Collaborate program is made possible by the generous support of the Kathryn Caine Wanlass Charitable Foundation and the Andrew W. Mellon Foundation.
Co-Sponsored Events
Is your club hosting an event? Is it in alignment with Oxy Arts core principles and values? Did you know that Oxy Arts can support your club's event through co-sponsorship and/or cross-promotion? Contact us at oxyarts@oxy.edu.