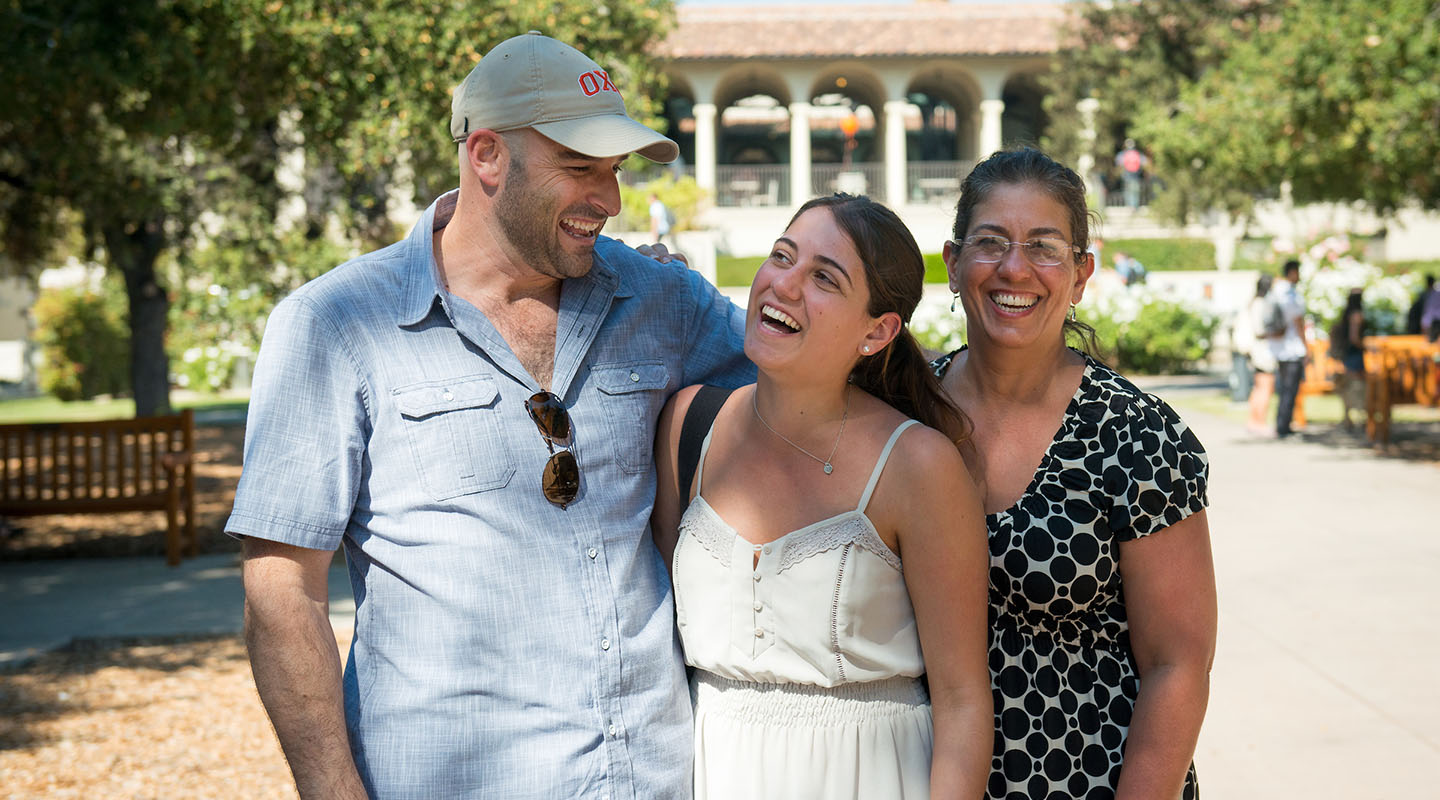 Answers to commonly asked questions for new Oxy parents & family
When is Orientation?  What's happening during Orientation?
Fall Orientation happens in late August. Spring Orientation is typically the Friday before school starts in January. Each Orientation has special programming for parents and families--we encourage you to attend. 
Describe the Registration Process. When do classes start?
New students begin by creating an Oxy account and will first register for the required CSP course over the summer. If students would like to take French, German, Spanish, Math or Chemistry while at Oxy, a placement exam is required. Students must take the online placement exam during the summer prior to their first semester at Oxy. If students would like to take one of these courses in the Fall, they may pre-register by taking the placement exam and contacting the Advising Center over the summer. Students may make an appointment either by phone or online. During Orientation, students will meet with their academic adviser and register for all other courses.  The college reserves seats for new students in many classes that are eligible to first-year students. Students may continue to add and drop courses through the first week of classes.
Does my new Oxy student have a checklist of things they need to accomplish in preparation for their arrival on campus?
Yes, the new student guide and new student website will provide a list of to-do's for your student. Information for incoming students will be available in early June.
When will my student get their tuition bill?  How can I access it?
The College will send the first bill on July 16, and payment will be due August 1. Bill will be issued to the student through electronic billing (eBills).  If your student is receiving financial aid and has completed their financial aid paperwork, the financial aid award will appear on the bill as a credit. Students will be able to access their eBill by logging into their myOxy account. 
Your student can authorize someone else to view their account and pay their student account balance as an authorized user. Authorized users may be added and deleted as necessary, but only by the student. It is the student's responsibility to set up authorized users for their student account. Once added, the authorized user specified will receive an e-mail notification which contains an initial eBill password and login instructions.  An e-mail notification will be sent to each address provided when a new eBill becomes available.
My student's bill shows a charge for a double room. Does that mean my student has definitely been assigned to a double?
The "double room" charge on the first bill is only a holding charge, and does not guarantee that your student will be placed in a double. The bill will be updated accordingly when final room assignments are made in early August.  Questions about housing assignments or this charge on the bill can be directed to Residential Education and Housing Services.
What is tuition insurance?
Occidental offers an optional Tuition Refund Plan, administered by GradGuard, which protects your educational investment by reimbursing tuition, room and board charges should your student need to withdraw from school due to a personal illness or accident.  This plan extends and enhances the College's published refund policy. This plan is optional, but if you wish to participate in the plan, you need to submit an application with payment directly to GradGuard before the first day of classes. Please click here to learn more about the plan.
What is student health insurance? 
All enrolled students must have healthcare insurance that covers primary care services in Los Angeles County. Occidental offers a student health insurance plan through United HealthCare Insurance that covers primary, urgent, emergent, pharmaceutical and behavioral health care locally, nationally and internationally. There are no breaks in coverage, so your student will be covered while on winter and summer breaks. Full details on Oxy's student health insurance plan through United HealthCare are available on the Emmons Wellness Center website. The Occidental Student Health Insurance Program (OSHIP) premium cost for the 2018-2019 academic year is $2,594, but may be waived for students who are covered under a parent's policy or have other health care coverage. If your student does not waive the student health insurance, your student will be automatically enrolled in the student health plan and the full amount will be billed to your student's account.You can view the Emmons billing and insurance frequently asked questions or contact emmons@oxy.edu for more information.
My student is covered under my health insurance. How does my student complete the health insurance waiver?
A student may waive out of the student health insurance plan by filling out an online waiver and providing proof of active health insurance that covers primary care services in Los Angeles County. A plan that only provides urgent and emergency care is insufficient to waive the student health insurance. Typically, plans that meet the minimums for the waiver are most PPO and POS plans, California-based HMO plans, and Kaiser plans. Depending on your individual plan's rules, you may need to secure Away From Home coverage to qualify for the waiver. Insurances that usually do not meet the minimum requirement of the waiver include out-of-state HMO plans, Medi-Cal plans, and state-sponsored Medicaid plans.
The deadline to waive is August 17, 2018. Students who waive in the fall will be automatically waived in the spring. Students may also waive in the spring or add the student health insurance if their insurance needs change.
If you are not planning to waive health insurance, please visit the waiver website to "opt-in" to the health insurance plan. By doing this, you will be able to access and print your health insurance card. If you do not opt-in or waive the student health insurance, your student will be automatically enrolled in the student health plan and the full amount will be billed to your student's account.
Do you recommend any local lodging options for visiting parents and family members?
Many family members choose to stay at hotels in nearby Glendale or Pasadena. Oxy provides a list of partner lodging providers, some offering regular and special event discounts, that hopefully suit a variety of family needs and budget. Learn more about local hotels here. 
Can my student bring a car to campus? If my student does not have a car, is there public transportation available?
Students can park for free on campus, but must register their vehicle with Campus Safety. For more information visit the Campus Safety parking page.
For students who do not bring a car, there are many transportation options on and near campus. Visit the Getting Around Town page to learn more.
Does the college close at a certain time?
The college is always open, but not all entrances or offices are open. Please call (323) 259-2500 or call Campus Safety (323) 259-2599 after hours or on holidays.
Where can I learn about meal plan options, locations for food on campus and my student's special dietary needs?
Campus Dining offers a variety of meal plan options, locations to grab a snack or enjoy a full meal. Options to accommodate special dietary consideration are available at every meal. To learn more, visit the Campus Dining website.
May I direct my philanthropy in support of my student's experience?
We are grateful to have the support of many alumni, parents, friends and foundations. A gift to the Oxy Annual Fund joins their support to enhance your child's unique liberal arts education. The Oxy Annual Fund provides unrestricted support for the current year's most needed priorities on campus. These include career services, athletics, international programs, research opportunities and faculty hires. Visit the Giving website to learn more.
Where can I find information about campus events? The academic calendar?
Upcoming campus events are listed on the college calendar. The 2019-20 Academic Calendar is also available on our website.
Oxy's social media accounts are another great place to keep up with the latest Oxy happenings.