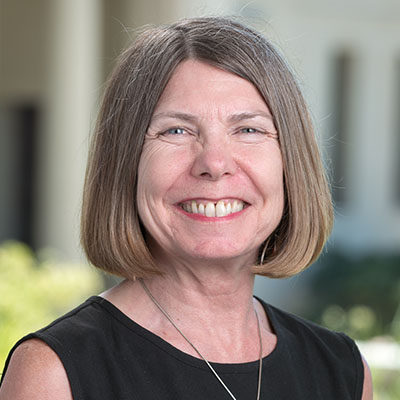 Secretary of the College and WSCUC Accreditation Liaison Officer
In her role as Secretary of the College, Schnirring acts as the liaison between the Board chair, the President's Office, and senior staff and serves as confidential staff to a number of board committees. She directs all activities related to Board meetings, assists with recruitment, election and orientation of new board members, and maintains Board records. She manages senior-level personnel searches, serves as the college's WSCUC Accreditation Liaison Officer, and on a number of campus-wide committees.
Schnirring has previously held positions at Oxy as Interim Assistant Dean of the Library/CDLA (2018-19), Chief of Administrative Affairs in the Office of the President (2014-18), AVP/Scholarship Technology Officer (2010-14), Director of the Center for Digital Learning & Research (2009-10) and Instructional Services Librarian (2006-09). A graduate of the 2009 Frye Leadership Institute and the 2007 ACRL Information Literacy Immersion Program, Schnirring received her MLIS in 2005 from San Jose State University. Prior professional work includes over eleven years in IT technical support and end-user training in the corporate sector.