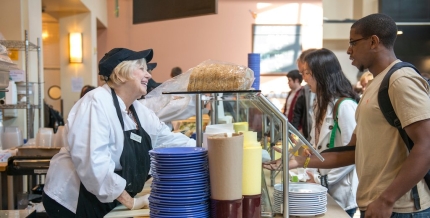 The "Sandwich Lady" Says Farewell
Kathy Lauriha, affectionately known to Oxy as "The Sandwich Lady," is retiring. Kathy's last day will be Wednesday, January 31. It is a testament to Kathy's loyalty to students, staff, faculty, and alumni that she has scheduled her last day so as to be able to greet students who will be returning from fall semester programs abroad or at the UN.
Kathy arrived at Oxy in the fall of 1997 to begin her second career, having formerly been a flight attendant. She staffed the daily faculty lunch service and quickly developed strong relationships. When the Marketplace opened in 1999, Kathy moved to the new sandwich station, where she has been preparing ingredients and making sandwiches individually to order ever since. Kathy has impacted countless community members and visitors with her personal attention, not only to the perfection of sandwich assembly, but to our collective well-being.
Kathy declined our offer to have a party. Instead, she would like to hear from you. Kathy loves to communicate, and notes and letters from the Oxy community are something she can take with her to savor for years to come.
We encourage you to send your letter to Kathy in any of these ways:
1.      When you see Kathy working, look for the clear plastic "paint can" decorated with her name at her station and drop in your letter.
2.      Send your letter to Kathy the old-fashioned way, via snailmail:
Kathy Lauriha
c/o Campus Dining F-13
Occidental College
1600 Campus Road
Los Angeles, CA 90041-3314
3.      E-mail your letter to dining@oxy.edu. Your letter will not be private, but we will print a copy and give it to Kathy.
Please be sure to include your name and contact information for Kathy on your letter, and thank you for celebrating her 20 years of service to Oxy!