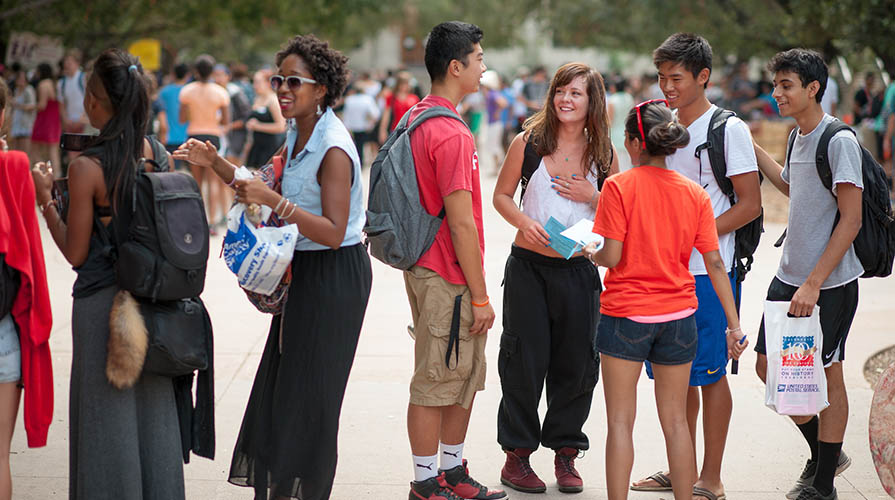 One of our goals is to create resources that are useful to you as student organization leaders. Please check back often to see the latest postings and contact us if you have any suggestions for things you'd like to see posted.
Student organizations give vibrancy to campus life. They provide students opportunities to connect with others who have similar interests, educate the campus about issues pertaining to the group's mission and purpose, and leave a legacy at Oxy. This handbook outlines basic policies and procedures that student organizations will use to conduct business on campus. 
Events
Scheduling a Meeting - You can schedule your organization meetings or a one-time info session that requires no extra resources (A/V, tables, etc.) by stopping by SLICE and talking with one of the PCs or the Department Coordinator. It is a quick process as long as you know your date, time, and preferred/backup locations.  Allow 24 hours for confirmation.
How to plan an event - This page will walk you through the basics of what you need to know to plan an event at Oxy. It will help you prepare for your meeting with SLICE to register the event.
Money Matters
How to fund your organization - This page will give you some ideas for where to find money on campus to help your organization accomplish its goals.
Information on Remsen Bird Funding Requests - Bringing an artist or speaker on campus? Find out how to apply to this special fund.
Sample donation letter - As organizations try to raise funds, sometimes you need a template for getting started.  You can use this as a starting point for your fundraising efforts. We would recommend personalizing it to your organization and the groups you are sending them to. Before you get started, please familiarize yourself with Oxy's Soliciting Alumni and Off-Campus Groups policy.
Communications
Oxy.edu Events Calendar - You can request an account for one person in your organization to be able to add your club events to the oxy.edu website. Use the account request form to get access.
Oxyconnect Accounts - Each organization receives an Oxyconnect account giving you access to email, calendar, docs, sites, and more for your organization. These accounts are created once per semester. Passwords are reset once per year. You can find out more about Managing Your Oxyconnect Account or learn some tips and tricks to Maximize Your Oxyconnect Experience.
Student Organization Mailboxes - Each organization gets a student org. mailbox at the Student Activities Center. If your organization gets mail for the club, rather than have it delivered to one of the e-board members directly, have it sent to your club mailbox. This will prevent having to change your address when officers graduate or study abroad and will make sure that your mail continues to get delivered. Just have your mail sent to:
Student Organization Name
c/o Student Activities Center
1600 Campus Rd. - M39
Los Angeles, CA 90041
You can then pick up your mail at the Student Activities Center located in Johnson Student Center Lobby during their normal operating hours.