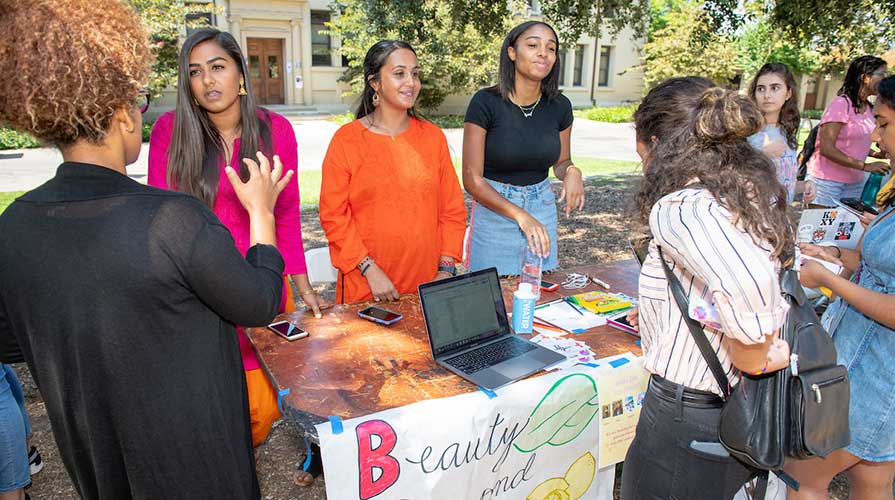 Step 1: Develop Your Idea
Get some other students together who are willing to help you get this new group started (minimum required is two current, full-time Oxy students - one to be the president and one to be the treasurer). Then find an advisor (must be a full-time Oxy faculty or staff member) who you have a relationship with or who might know something about the topic of your group. 
While you are doing this, talk to other students and have them sign your Student Support Petition. This will give you a chance to promote your group, but also provides an opportunity to make sure that students support your organization having access to their student fees through the ASOC Funding process. Please submit your Student Support Petition along with your New Club Development Worksheet.
Step 2: Write Your Constitution
Now that you have at least two student officers, a faculty/staff advisor, and a clear idea of what your organization will stand for and its goals, it's time to put it all down on paper so that when you graduate there will be a solid plan in place for the others that come after you to take over and keep the organization running. A constitution is required for recognition and there are some required statements that must be included in your constitution. Please use the Constitution Guide to ensure compliance.
Step 3: Obtain Recognition
Once you have a completed the New Club Development form, Student Support Petition, Club Constitution, and have identified at least 2 Oxy student officers as president and treasurer and a Oxy faculty/staff advisor identified, you must complete the Student Organization Information Form. Please have a digital version of your forms saved as you will be asked to upload the documents. For those organizations engaging in high-risk activities, there may be some additional steps necessary to iron out details before you can really get going. Once approved, you will be notified of your official recognition as a Oxy student organization. Please note that you are not an official Oxy student organization until you receive notice from SLICE and have met all requirements, which inlcude attending Club Leader and Treasurer Training.
Specialized Groups
Service Organizations must also register with SLICE. Email SLICE Asst. Director Lina Calderón-Morin at lcalderonmor@oxy.edu
Religious and Spiritual clubs must also register with Office of Religious and Spiritual Life. Email ORSL Director Susan Young at young@oxy.edu
Club Sports must also register with SLICE. Email SLICE Director Marcus A. Rodriguez at mrodriguez6@oxy.edu
Food Clubs must also register with Campus Dining. Email Associate VP for Hospitality Services Amy Andrews Muñoz at munoz@oxy.edu
Social Greek-Lettered Organizations have a separate recognition procedure. If interested in starting a new Greek chapter, Email SLICE Asst. Director Shaneice Warfield at swarfield@oxy.edu
Step 4: Maintain Recognition
All Oxy clubs have to do a few things to keep themselves active, and new groups have to do them right up front. First is for the club's treasurer to attend one of the annual treasurer trainings and afterwards take a quiz in the ASOC Finance Office. This training is where we present policy and resource updates to all organizations to make sure everyone is on the same page. If there is a change in treasurer after just one semester, the new treasurer needs to attend the training at the beginning of their first semester. Additionally, the club president (or an e-board representative) needs to attend an annual club leader training. And again, if there is a change in club leadership, the new president needs to attend a training at the beginning of their term. The fall club leader training and treasurer training is mandatory even if an officer attended the spring session.
The other piece is to update your officers on Presence whenever there is a transition. The outgoing president will have to make the updates. This keeps our records up to date and maintains your status as a recognized organization. Additionally, your club will be asked at the end of each semester to complete a transition on Presence. It will only take a few minutes and will assure that your club is always up to date. 
Club leaders are expected to find out when the training will take place. We will always announce them on the event calendar on Presence. You can always just come in to SLICE and ask for the upcoming dates. It is recommended to create a club email account that can be added to the club listserv as reminders will be sent out before the sessions. To create an email account, please contact SLICE.