Oxy Arts builds community through innovative and inclusive arts experiences. Below is a list of programming from the 2015-2016 academic year.
April 21, 2016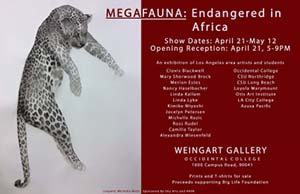 Mega Fauna: Endangered in Africa
An exhibition of artwork by Los Angeles area artists and college students inspired by the big mammals and wildlife of East Africa. Professor Linda Lyke's Advanced Printmaking Class and Photo-processes in Printmaking are featured in the show as well as students from CSU Northridge, CSU Long Beach, Loyola Marymount University, Otis College of Art and Design, LA City College and Azusa Pacific University.
On view April 21 - May 12, 2016
Read more about the exhibition
Occidental students have silkscreened t-shirts and made prints for sale during the opening reception to support Big Life Foundation and LEWA Wildlife Conservancy.  Big Life employs hundreds of Maasai rangers to protect one of the greatest populations of elephants left in Kenya and Tanzania from poaching and works with local communities to protect nature for the benefit of all. (www.biglife.org) Lewa promotes wildlife conservation, sustainable development and responsible tourism in northern Kenya. (www.lewa.org)
March 2, 2016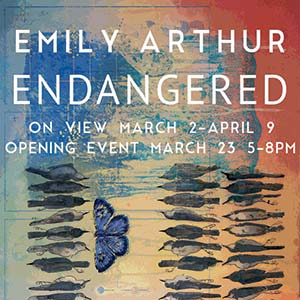 Emily Arthur: Endangered
Printmaker Emily Arthur, whose installations and works on paper comment on environmental degradation and human rights, will be the subject of a one-person show titled "Emily Arthur—Endangered" in Occidental College's Weingart Gallery March 2-April 9. A public reception with the artist will be held March 23 from 5 to 8 p.m. in Weingart Gallery.
Curated by Nancy Marie Mithlo, associate professor of art history and visual arts and chair of American Indian Studies at the Autry Museum of the American West, the show will draw on Arthur's exploration of Occidental's natural history collections, notably the renowned Moore Laboratory of Zoology collection of birds—one of the world's largest natural history research collections.
On view March 2 - April 9, 2016
November 9, 2015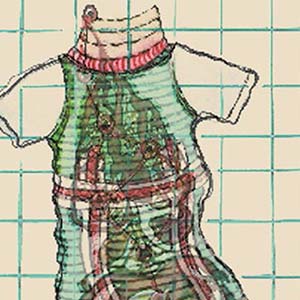 Sex and Gender in the Biotech Century
A lecture about Intersections of Feminist Art and Health Movements in Los Angeles
Join Oxy Arts and the Arts History & Visual Arts department for "Sex and Gender in the Biotech Century," an introduction to subRosa's work. The lecture will be followed by a question and answer session with the artists.
Read more about the event
In the 1970's feminists in Southern California pioneered a women-centered and organized feminist health movement that included radically new approaches to women-centered sexual, reproductive, and whole-body health care. Simultaneously, feminist artists founded women-centered artists' spaces, exhibition collectives, and feminist educational projects. The crucial intersections between these movements engendered new knowledge & research, which changed the representation and treatment of women's bodies in personal, social, medical, and political ways.
In 2015, access to health and gynecological care—as well as planned parenting— for women, and gender queer people, have again become highly contested issues politically, personally, and economically.  As well, the high-stakes art world is more exclusive, wealth and status based than ever, while art students rack up huge debts.
During a 3-day residency on campus, artists Faith Wilding and Hyla Willis of subRosa will engage students and faculty in conversation about intersections of Feminist Art and Health Movements through consciousness-raising, research, and a production workshop entitled Knowing Bodies—LA on November 10 and 11, 9:30am - 4:30pm in Mullin Gallery.
About the Artist:
Since 1998 the cyberfeminist collective subRosa has presented site and situation specific performative and interactive projects, exhibitions, publications, workshops, and lectures under the comprehensive theme "Sex and Gender in the Biotech Century."
November 22, 2015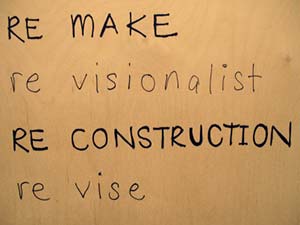 Miniatures Workshop with CamLab
Join Wanlass Visiting Artist CamLab, a ten-year collaboration between Anna Mayer and Jemima Wyman. The duo invites you to an experimental workshop remaking artworks in miniature. Together we will research and reproduce paintings, sculptures, photographs, and installations with themes of rape and sexual violence.
Read more about the event
Artworks range from text-based and conceptual to representational and graphic. This hands-on, social activity is a chance to make collective connections between material culture and the current spotlight on sexual assault on campus. Help us search the art-historical archive for artworks that make these difficult topics public.
CamLab will provide miniature art-making materials and hard copy books for research purposes. Bring a laptop if you can!  
OPEN TO ALL (but not limited to):
feminists, humanists, activists, pacifists, undecideds, non-artists, artists, crafters, idealists, cynicists, theory-heads, sisters, brothers, sibs, citizens, good googlers, fiddlers, citizen historians, wikipediafiles, dollhouse lovers, homemakers, converts, and people with questions! 
Snacks and beverages provided.
Co-sponsored by WCCW, The Women's Center for Creative Work. http://womenscenterforcreativework.com/
August 17, 2015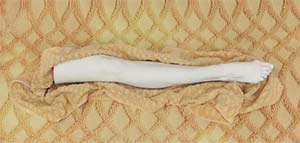 Heather Rasmussen: Sculptures, Photographs and Movement
Occidental College is pleased to present Heather Rasmussen: Sculptures, photographs and movement, an exhibition of new work by the Los Angeles based artist. The exhibition will feature works in which Rasmussen plays the role of both artist and subject. Using rotting vegetables alongside casts of her limbs the artist explores themes of preservation, decay, and the passage of time. By displaying her own replicated body parts, she calls upon the viewer to examine the fragility of ones own body.
On view August 17 - October 16, 2015