Taking Home Oscar
Technically, he got a medal, not the world's most recognized trophy. Still, Raffy Cortina '13 made Oxy history by winning top honors at the Student Academy Awards with his short Bottled Up
Standing on the stage of the Samuel Goldwyn Theater in Beverly Hills—and receiving a Student Academy Award for Best Alternative Film from ceremony host Bob Saget, no less—it would have been understandable if Raffy Cortina '13 had been tongue-tied in giving his acceptance speech. "Thank you guys for coming out—this is a huge crowd," the confident young filmmaker began. "And thank you, Bob—everywhere you go you seem to bring a 'Full House.'"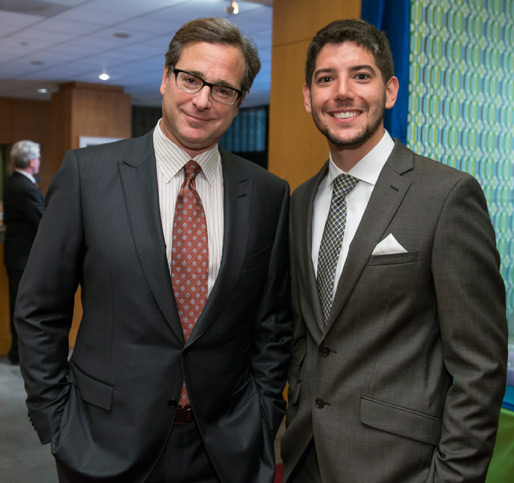 That's a pretty good line coming from a guy whose prize-winning 13-minute short, Bottled Up, contains no dialogue whatsoever. "I don't really think my writing is as strong as other elements of my filmmaking yet, so I wanted to play toward my strengths," he says. "My favorite moments in films are when the actors and the filmmakers can express so much that dialogue can't even come close to."
As the first Oxy student to win the national student film competition conducted by the Academy of Motion Picture Arts and Sciences on June 8, Cortina joins a select list of filmmakers who have left their footprints in the cement of the Hollywood landscape over the last 40 years. Past honorees include Pixar mastermind John Lasseter, Academy Award-winning director Robert Zemeckis, "South Park" co-creator Trey Parker, and Spike Lee, whose landmark 1989 film Do the Right Thing "solidified my desire to want to be a storyteller," says Cortina. "I could relate to it so much being from New York City, and I figured if Spike Lee could tell a story like this, that my voice could also be heard."
Four years ago, Cortina opted for Oxy over some of the country's more established film schools because he wanted a liberal arts education. It came down to NYU's Tisch School of the Arts and Occidental, and "for a filmmaker it's almost a sin against humanity not to choose NYU," Cortina says with a laugh. "In the end it came down to wanting to leave New York and try something new, and wanting an intimate college experience where there was a sense of community." Until the College flew Cortina out to Los Angeles as part of its Multicultural Visit Program, "I wasn't really considering Oxy," he admits. But after visiting campus, "I bought into it."
Cortina developed an interest in photography at age 7, even doing his own black-and-white darkroom work. While attending high school at Williston Northampton School in Massachusetts, he belonged to the student activities committee, which was trying to figure out a more engaging way to promote their offerings. "I came up with the idea of a program with an 'SNL' twist on the news, where we would give out information but do it in a satirical way." As a senior, working with the photography instructor who had mentored him, he was the teaching assistant of the school's first film class.
Building off his high school experience, Cortina enlisted his Braun Hall neighbor and fellow freshman Daniel Watson '13 in brainstorming a weekly TV program for the Oxy campus. Working with their classmates in the Core Studies Program in film, they completed the pilot episode of CatAList TV in April 2010, then spent their sophomore year massaging the concept into an ongoing series.
As a junior, Cortina made a 5-minute short, Cross Court, centered around a referee who blows a crucial call in a basketball game. He was inspired by the real-life saga of Major League Baseball umpire Jim Joyce, whose blown call cost Detroit pitcher Armando Galarraga a perfect game in June 2010: "I wanted to tell a story about forgiveness and dealing with people in the public and private spheres." Cross Court screened at a handful of film festivals and eventually made it to Joyce, who emailed Cortina after seeing the film.
Going into the summer of 2012, Cortina was eager to tackle a topic such as race or religion for his senior comprehensive project. "I had three or four different ideas, and even gutted out a few scripts that I just didn't like," he says. Less than a week before the start of fall semester, Cortina was walking back to the stockroom of the Apple Store in Pasadena, where he worked for a year and half, when he looked out onto the loading dock. "The door was open and the sun was shining through, and it made me think about what a dockworker might be fighting against—what obstacles he might have—and that led me to upward mobility. And maybe he has a belief system that he persistently gives into without giving it a second thought."
From that germ of an idea, Cortina quickly wrote the script for Bottled Up. With his girlfriend, Mary Dambro '13, as the film's co-producer and Watson as director of photography, he assembled a crew of about 25, most of them students in Oxy's Media Arts & Culture program. Cortina turned to Kickstarter last October to raise $2,400 to cover expenses such as camera equipment rentals, makeup, set design, costumes, and permits, surpassing his goal by $360.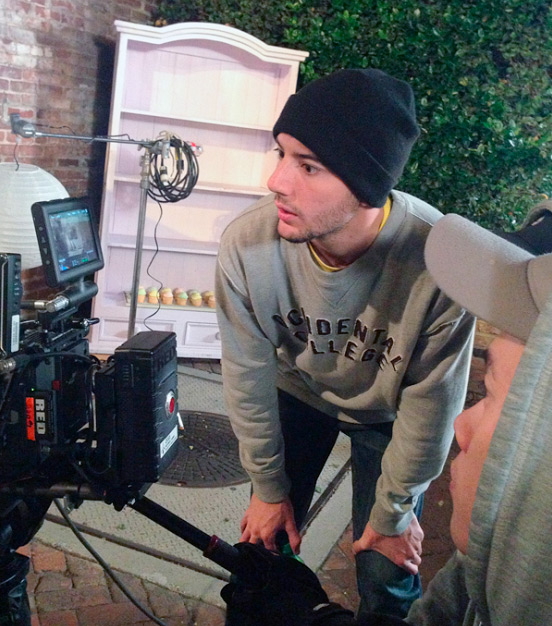 After casting professional actors Joe Abraham and Jane Osborn as the leads, Bottled Up was shot on a single weekend last November in an alley in Old Town Pasadena, followed by a green screen session using a room in Johnson Student Center. Completed just before the Academy's April 1 deadline, Bottled Up premiered at Oxy at the Senior Comprehensives Film Festival on April 12.
The awards ceremony capped a week of networking opportunities for the 16 student medalists, from meeting with different guilds and organizations to a Friday night dinner at Spago with the governors of the Academy. A personal highlight for Cortina and Watson was sitting down at Lionsgate with Now You See Me director Louis Leterrier. "We gleaned so much information from him," Cortina says. "He was so down to earth and accessible."
In addition to screening his short on the festival circuit, Cortina plans to stay busy networking in Hollywood and developing his own projects. "I'm going to have a story ready to go," he declares, and you believe him. It's hard to keep that kind of talent bottled up.