Services
Study, Research, Collaborate
The Academic Commons offers innovative spaces for displaying and creating digital media as well as traditional quiet study spaces that provide escape from distraction.
Display and Create Digital Media
The Brown Learn Lab, located on the second floor, is a multimodal learning space for classes, workshops, and group study. The room allows projection from a lectern as well as from modular tables with movable chairs, movable white boards, and an interactive smart board. Room reservations are required for classes and workshops and may be made through the Master Calendar. Individual and small groups may use the room without a reservation when the room is not booked. Instructors may request set up of up to 25 PC laptops in their R25 reservation. Students may borrow laptops from the circulation desk at the Info Center.
In addition to the Brown Learn Lab, the Library offers several group viewing rooms with digital projection on the first floor (Rooms 129, 130, 132, 133). Please reserve Rooms 129 and 130 in advance at the Info Center.
The oMac Lab, located on the ground floor, offers instructor projection and white board as well as 16 iMac computers. Reservations for classes and workshops may be made through the Master Calendar. Individuals and small groups may use the lab without reservation when the room is available.
Creative software, such as iMovie and Adobe Photoshop may be accessed in the oMac Lab on the ground floor and at the Creative Stations on the first floor next to ITS.
Additional desktop computers may be found on the ground floor outside of the oMac Lab, on the first floor next to ITS and Information Resources Operations, and on the second floor outside the Brown Learn Lab.
Collaborate on Projects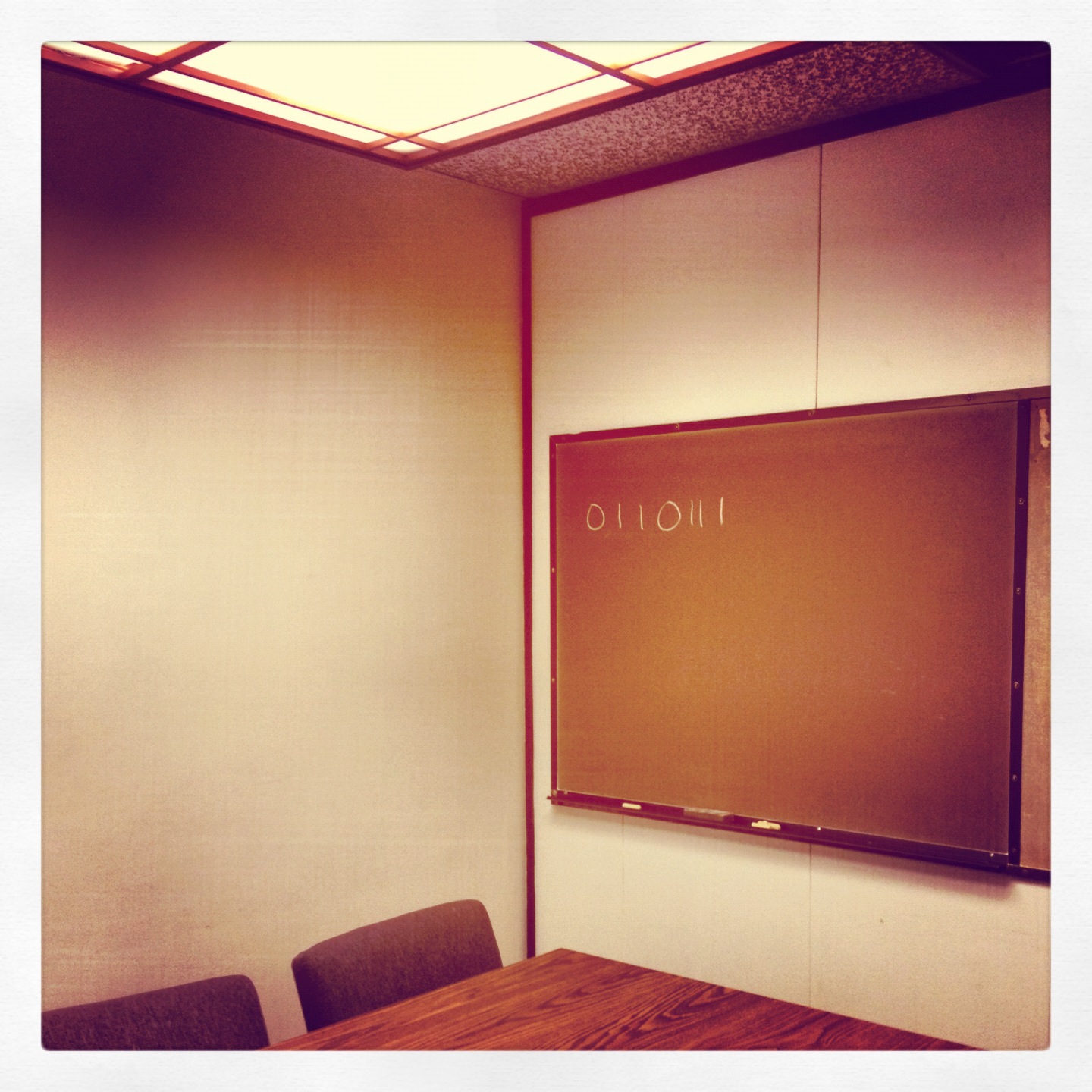 Students have made the second floor reference area into a space for socializing and group project work around large tables where they use their own laptops and the library's white boards to brainstorm and document ideas.
Groups also may use study rooms with retro blackboards on the first floor. Use is first-come first-serve, but individuals should please give precedence to groups. (Rooms 101, 102, 104, 120, 121, 122, 123)
Escape from Distractions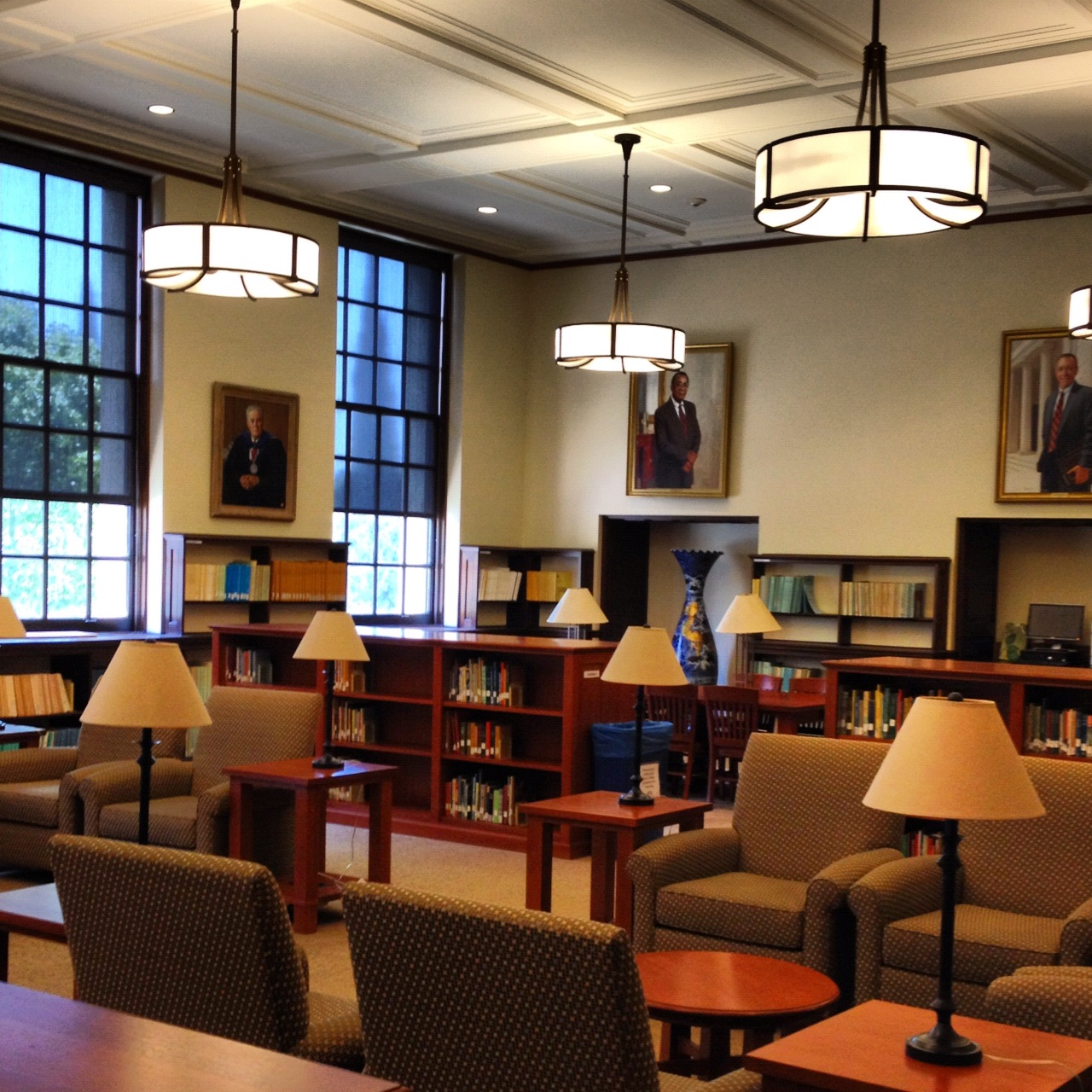 Work at tables or in comfortable chairs surrounded by periodicals and print materials in the Jeffers Room and Ahmanson Reading Room in the old wing of the second floor.
Additional quiet study carrels and couches may be found on the first floor in the old wing and on the third floor outside of Special Collections.
Space | Books + Equipment | Course Reserves | Printing
Access Books and Equipment
Borrow resources from Oxy
At the Info Center, members of the Oxy community can checkout books, media, laptops, laptop chargers, and Mac projection adaptors and also purchase ear buds for $3. Long term loans of laptops, sound equipment, cameras, projection, and telecommunications must be requested in advance though this form.
Borrow resources beyond Oxy
When searching for a resource, you can use our local catalog OASys to see if it is available here at Oxy. You can also search Link +, which allows you to explore holdings in a regional consortium of libraries, and borrow materials Oxy doesn't own. If you still cannot locate what you need, you may request it through Interlibrary Loan (ILLiad). The Oxynet username and password (email and MyOxy) serves as the ILLiad ID and password. New users will be prompted to complete account details using Oxynet info. Because we want to make it easy for you to order multiple items without multiple logins, you will need to close your browser to completely log out of your ILLiad account. Link+ and ILL can take up to a week so it is important to plan ahead. If you are unsure of the status of your request, contact Carol Siu at docdel@oxy.edu or x2628.
Suggest a Library Purchase
If you are a student or faculty member and need something for your research, teaching, or study that the Library does not own or subscribe to, let us know. We may help you get it from one of our many borrowing partners, or in many cases we will buy it for the the collection. To suggest the purchase of a book or audio/video recording, contact acquisitions@oxy.edu and include in your message as much information as you can about the resource (title, author, publisher, date and if possible, link to the item) or install our Library Request Bookmarklet. To inquire about a digital subscription (e.g. e-journals, datasets, etc.), please contact the college librarian, Bob Kieft (kieft@oxy.edu).
Course Reserves
Faculty may place library materials on reserve by downloading and completing this course reserve request form and sending it to ereserve@oxy.edu. Items are placed on reserve in the order received. Allow 2-3 work days for normal processing. Faculty should check their Moodle course pages to see when materials have been processed.
What can be placed on reserve?
Library-owned or licensed materials and items from faculty personal collections may be placed on reserve. ILL and LINK+ loans may not be put on reserve. Purchase requests for reserve items should be submitted as early as possible as some items may take 3-6 weeks to receive and process. Faculty are responsible for compliance with Copyright and Fair Use at Occidental College. Further guidelines are contained in the course reserve request form above.
Students may find course reserve listings for physical items (books, DVDs, special materials, etc.) and electronic items (articles in databases, online content, and scanned documents) in the corresponding Moodle course site.
Space | Books + Equipment | Course Reserves | Printing
Print, Copy, and Scan
Multifunction printers that also copy and scan may be found throughout the building. Color printing may be found on the 1st floor outside of ITS. During final exams, there is often an additional color printer installed on the second floor in the reference area.
Use of multifunction printers is free for members of the Oxy community (ID required). Go to the ITS website to read more about how to install print drivers and the new paper-saving Release-to-Print functionality.
If a printer malfunctions, please report the problem to the technology help desk at the Info Center or helpdesk@oxy.edu. If a printer needs paper or toner, please contact copycenter@oxy.edu.
Space | Books + Equipment | Course Reserves | Printing