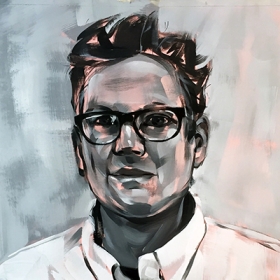 James Irvine Distinguished Professor, Art and Art History
B.A., B.F.A., Indiana University; M.F.A., Tyler School of Art
Hours:
On Sabbatical Fall 2022 & Spring 2023
Linda Besemer has taught painting and drawing at Occidental College since l987.
She has also taught academic courses in and gender theory in the Women's Studies Department. She has served as the Chair of both the departments of Art History and Visual Arts and Women's Studies. In 2005, Professor Besemer was awarded Occidental's faculty honor for professional achievement: The Graham L. Sterling Memorial Award. And, in 2006, she was granted an endowed professorship and became The James Irvine Distinguished Professor of the Arts.
Besemer's paintings have been featured in numerous museums, most notably: The Whitney Museum of American Art, The Corcoran Gallery of Art, DC, SITE Sante Fe, The Los Angeles County Museum of Art, The Albright Knox Museum, The Aldrich Museum of Contemporary Art, Grand Arts, The South Eastern Center for Contemporary Art, The Bucksbaum Center for the Arts, The Boulder Museum of Contemporary Art, The Weatherspoon Museum of Art, The Portland Art Museum, and The Palm Beach ICA.
She is also exhibiting internationally in Europe, Asia, and South America.
Besemer is a recipient of a Louis Comfort Tiffany Foundation Grant, The George and Eliza Howard Foundation Grant in Painting, The Craft Media Prize (Corcoran Gallery of Art), The Chuck Close Rome Prize in Painting, from the American Academy in Rome, and the Anonymous Was a Woman Grant, AWAW Foundation, New York.
Image: Rebecca Campbell, "Linda Besemer," Acrylic on paper, 30" x 22", 2016, Courtesy of the Artist
Courses
ARTS 102 Painting Fundamentals
Beginning with a familiarization of paint gesture and mark, then working through a formal study of basic visual elements (line, shape, form, light, space, and color) and simple subject matter (still life, landscape, the figure, abstraction), students develop a basic understanding of image construction and two-dimensional composition.
ARTS 210 Intermediate Painting
Intermediate study in painting, including developing theoretical, historical, and critical understanding of materials and media. Emphasis may change from year to year.
ARTS 310 Advanced Projects in Painting and Drawing
Advanced study in painting and drawing, including developing a theoretical, historical, and critical understanding of materials and media. Specific focus may vary from year to year.
ARTS 490 Studio Senior Seminar
Group critiques of individual projects in student's choice of medium. Discussion of techniques, exhibition problems, self-evaluation, and current art movements, in the context of the history of art.