CLICK HERE to Nominate a student for the NEWMAN CIVIC FELLOWSHIP

The nomination period for Campus Compact's 2022-2023 Newman Civic Fellowship has begun!
The fellowship is a year-long opportunity for students who engage in collaborative action with others to create long-term social change, who act to address inequality and polarization, and who demonstrate the motivation and potential for effective long-term civic engagement.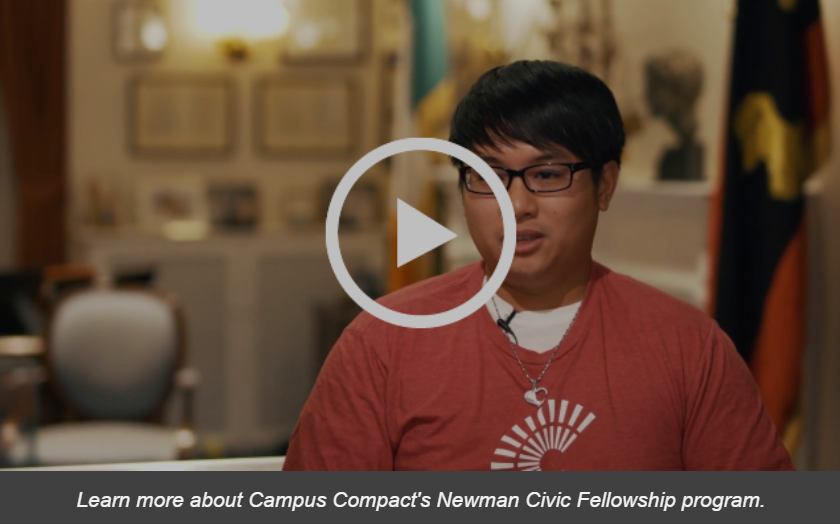 The fellowship provides students with training and resources that nurture their assets and passions and help them develop strategies to enact social change. Through the fellowship, Campus Compact provides in-person and virtual learning opportunities, networking, and mentorship for the students.
Each Campus Compact campus may nominate one student from their campus to become a Newman Civic Fellow. We hope you will join in nominating a student for this fellowship opportunity. This year's cohort of fellows is an inspiring group of engaged student civic leaders.
The Newman Civic Fellowship is intended to honor the leadership legacy of Campus Compact founder Frank Newman by recognizing community-committed students who:
Engage in collaborative action with others from campus or from surrounding communities in order to create long-term social change
Take action in addressing issues of inequality and political polarization
Demonstrate the motivation and potential for effective long-term civic engagement
In addition to these core characteristics, Newman Civic Fellow nominees for the 2022-2023 academic year must also meet the following eligibility criteria:
In keeping with Frank Newman's passion for educational access, we encourage nominators to give preference to students from backgrounds traditionally underrepresented in higher education
The nominee must have at least one year of their education remaining such that they will be enrolled for the duration of the 2022-2023 academic year
Nominees must commit to providing a short reflection piece (video, article, or letter format) to Campus Compact during their fellowship year
To nominate a student, click here. Nominations will be accepted until November 30. Questions about the nomination process can be directed to Jennifer Locke, Director of National and International Fellowships at jlocke@oxy.edu or Marcus A. Rodriguez, Assistant Dean of Students and Director of SLICE at mrodriguez6@oxy.edu.
---
Oxy's Partnership for Community Engagement (PCE) is dedicated to collaborative, long-term partnerships between faculty, students, staff, and community partners. Our approach emphasizes working with organizations to identify their needs and then addressing them collaboratively. PCE is led by the Center for Community Based Learning; Student Leadership, Involvement & Community Engagement; and the Urban & Environmental Policy Institute.
Oxy's approach develops citizens committed to lifelong learning and engagement for the sake of positive social change. There are numerous ways you can get involved as part of your Oxy experience:
Oxy Arts is the community-based arts hub of Occidental College. Oxy Arts hosts free art exhibitions, performances, film screenings, and workshops that are free and open to the community. Community Studio is our after school program for local 4-8th grade LAUSD students. Oxy Arts has a range of Arts Education and Community Programs for the Northeast LA community and beyond. Oxy students and community members can learn more about our programs at oxy.edu/oxyarts
SLICE brings together programs focused on student leadership, student activities and community engagement, in one central office. It gives students the opportunity to put Oxy's values into action through community-based collaborations with organizations in L.A. and beyond. Some of our programs include Days of Service, Alternative Spring Break, and our signature OxyConnects program, where students volunteer for a year with a community partner.
Based on community organizing practices, CCBL has a community engagement approach that aims to enrich Oxy students' learning and commitment to social responsibility. Courses incorporate field work and internships that meet learning objectives through off-campus projects with community organizations, schools, museums, and libraries. CCBL brings together students, faculty, and community partners as co-thinkers and collaborators in addressing social justice issues.
UEPI is a research, policy, and advocacy organization at Oxy that is committed to bringing about social change and a more just, livable and green society. UEPI engages students, faculty, and staff on campus and connects them with Oxy's community partners in L.A. and beyond. UEPI has over a dozen local, statewide and national programs that employ strategies related to research, organizing, coalition-building, education, advocacy and policy.
CLC connects Oxy students and elementary students in a warm and welcoming environment. As part of the Community Literacy course, Oxy students work one-on-one with younger pupils, tutoring them and helping them discover a love of reading, writing and creative expression. CLC integrates arts, technology, critical thinking and critical literacy in an engaging and meaningful way.
NPP enriches the educational experience of Oxy students by affording them real-world, hands-on educational experience outside the classroom. NPP volunteers work with local high schools to guide prospective college students through the application process, and host field trips to Oxy to help demystify the college experience.
Upward Bound helps students from low-income, first-generation backgrounds prepare for success in post-secondary institutions by providing them with a simulated college experience that is rich in academic and motivational support. Participants can take advantage of one-on-one academic advisement, weekly academic enrichment services and workshops, and a summer residential experience.