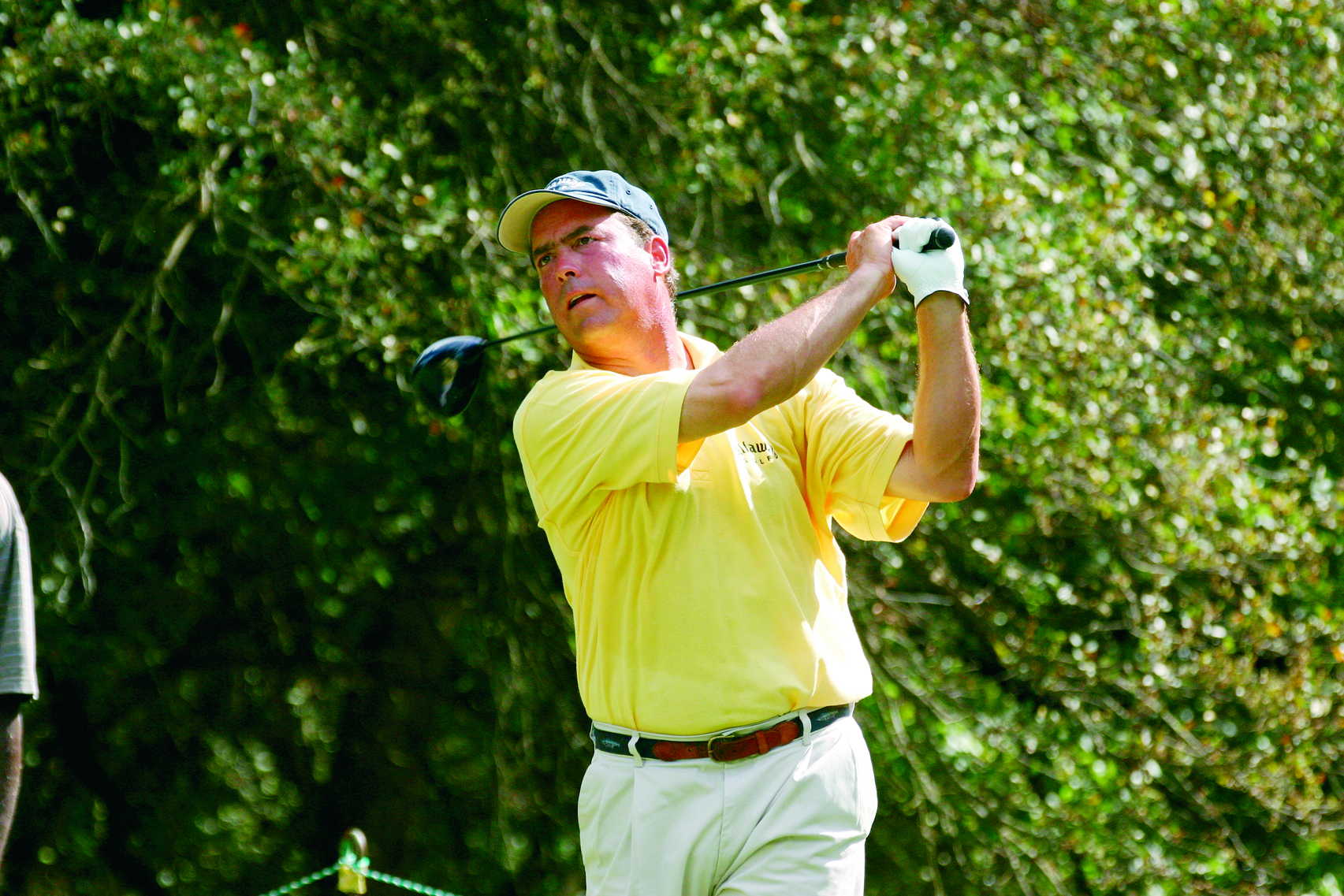 From Spring 2005: Golfer Olin Browne '81 didn't take his game seriously until his sophomore year at Oxy. Now the onetime anthropology major has won more than $5 million on the PGA tour
Saying that Olin Browne '81 got a late start in golf isn't much of a stretch, but consider this: In 1978—when Browne picked up the game the summer before his sophomore year at Occidental—a 2-year-old duffer named Tiger Woods went on "The Mike Douglas Show" showing off his putting skills to Bob Hope.
Browne's journey to a successful professional golfing career defies all logic. While Woods's case might be extreme, the PGA Tour is made up of far more players who spent every waking moment of their childhood on the greens than guys who started swinging the sticks at age 19. But golf rewards just one thing—the final number you write on the scorecard. There are no judges. There are no style points. It's just one person against the golf course.
"There's nowhere to hide," says Browne. "In football, if you trip, somebody else might make the tackle. In golf, if you trip, you're out there in the spotlight. How do you think Greg Norman felt after the '96 Masters (when Norman led Nick Faldo by six strokes entering the final round before falling out of contention with a Sunday round of 78)?"
Browne may have tripped a few times along the way, but the game "that grabbed me pretty hard" one summer on Cape Cod has been very good to him. He's won a pair of PGA Tour events, finished in the top five at a U.S. Open, heard his name called as he stood at the first tee at Augusta, and gotten to make a living playing a game he loves. "It's hard to look in the mirror and not feel pretty darn lucky," says Browne, whose career winnings on the PGA Tour exceed $5 million to date.
Luck may have had something to do with it, but hard work and perseverance played a much bigger role. Long before he teed off alongside Tiger Woods ("I've never seen anyone play like that. I cannot imagine anyone else ever playing to that level"), Browne spent years on the course working on his craft, hoping to prove he could reach the highest level. "It was only realistic because it was something he really was determined to do," says Joe Montijo '82, who played football at Occidental and remains a close friend of Browne's. "He devoted himself to it."
NCAA Division III schools don't produce a lot of professional golfers—only Trinity College (Conn.) alumnus Jay Williamson finished among the Top 125 on the PGA Tour last year—but Occidental was just right for a beginner like Browne. He joined the team his sophomore year and gradually moved up to the No. 1 player. "It was the perfect environment for me," says Browne. "By professional standards it wasn't a breeding ground, but we had a good coach (Bill McKinley) and a good group of guys."
Browne, who frequently runs into Oxy friends at tour stops, was twice a first-team All-SCIAC player and as a fifth-year senior received an at-large invitation to the Division III championship in 1982. "I had a pretty good week and then at the end of the third round, I got a case of the shanks," he says. "I shanked a shot on six consecutive holes."
Not exactly the blueprint for future success, but golf teaches you to accept failure. Like the time he played in a U.S. Open qualifier while a student at Oxy. "Olin asked me to caddy for him," says Montijo. "I don't remember exactly what he shot, but it was something like 85-85. If you would've asked me that question then (about him not making it as a pro golfer), I would've taken that wager."
"Guys that came out of college around that time—Corey Pavin, Steve Pate, Duffy Waldorf, Bobby Clampett—those guys had won amateur events, NCAA championships," says Browne. "I hadn't won a thing." But he wasn't in any hurry to put his anthropology degree to use. "My father started with that what are you going to do with your life pitch and I had no idea," says Browne. "I knew what I didn't want to do. Golf became more and more appealing. Everybody thought I was out of my mind."
He moved to Florida to try his hand on the mini tours before eventually earning his card to play on the PGA Tour. He played with some future big names like John Daly on the circuit—but with many more folks you've never heard of. "It's amazing how few made it out there," says Browne. "I'll play with (PGA Tour members) John Huston and John Morse and we'll say, 'I wonder what happened to so-and-so.'"
Life on the mini tours is far from glamorous, though Browne did get one early taste of the big time. One year out of college he qualified for the 1983 Kemper Open, a stop on the PGA Tour. Five years after he first played a competitive round, he was playing against the best players in the world. He shot 77-79 to miss the cut, but left with one lasting memory. "A little kid ran up to get my autograph," says Browne. "I started looking behind me like the cartoon. I says 'You want one of those guys.' He said, 'Yours is going to be worth something.' It was such an incredible feeling."
No such adulation awaited on the mini tours. "We'd pile three or four in a room and pay our own entry fees, which were about $600 a week," says Browne. "The first time I won some money I got a check for $997.17 and I thought I had won the lottery. You don't spend a lot of money on other things. You don't go out to eat—you get pizza or hamburgers. There was a level of camaraderie because we were all suffering through the same misery. We were working to pay for the next event or the electric bill."
This wasn't a summer or two of tough times. Browne spent the better part of a decade chasing a dream that didn't start to get easier until the PGA started the Hogan Tour in 1990, a sort of high-level minor league tour that improved tournament purses. There were times he thought about giving it up, but one person kept pushing him forward—his wife, Pam (Harder) Browne '81, whom he met at Oxy and married in 1987. "My stepsister asked when I was going to give it up," says Browne. "Pam was the one who said, 'Hey, this is what he wants to do.' She really encouraged me to keep going."
"I'm a big believer in doing what you want," says Pam, who played soccer as a Tiger and works as an assistant state's attorney in West Palm Beach. "I'm never going to say stop doing what makes you happy."
Though her hours are sometimes long and trials can be unpredictable, Pam's job has given the Brownes' lives a sense of normalcy and, just as importantly, a steady income. During the lean years, she says, "Olin had a home base and some stability. When the entire family travels and they're dependent on that one person, it can be difficult financially and personally."
Following the 1990 season, Browne went to tournament qualifying school, better known as "Q-school" where players attempt to earn their tour card. He missed by a single shot and was back on the Hogan Tour for another year. "That was very frustrating, but the next year I won my first event (the Ben Hogan Bakersfield Open) with my dad caddying and then I finished second at the next event. That really got me going."
"He was really determined to do it," says Montjo. "Ten years out of school and he was still playing the satellite tours. There was no glamour at all and the guy did what it took to learn to play competitive golf. When he got his shot, he was ready."
Browne finished 1991 with two victories and 11 top-10 finishes on the Hogan Tour and earned his PGA Tour card for 1992. He finished fourth at the Northern Telecom Open early that year, but then missed six of the next seven cuts. He bounced back and forth between tours for the next few years before finishing fourth at Q-school in 1995 to earn his tour card for 1996.
Following three top-10 finishes in 1996, his big breakthrough came in 1997 in his hometown of Washington, D.C., where he was playing in the U.S. Open at Congressional Country Club. He fired three 71s and a third-round 69 to finish tied for fifth, six strokes behind champion Ernie Els. His performance earned him an exemption to the 1998 Masters. "It's the only place I've played that surpassed expectations," says Browne, who missed the cut by two strokes. "Augusta is our golf mecca. It has such a history of incredible shots, incredible victories and agonizing defeats. Standing on the first tee is just an unbelievable feeling."
Later that year he won for the first time on the PGA Tour, chipping in from 40 feet to capture the 1998 Canon Greater Hartford Open in a playoff victory over defending champion Stewart Cink and 1987 Masters winner Larry Mize. "It was a beautiful chip shot," says Pam, who watched from the gallery with their two children, Olin Jr. and Alexandra. "That was a turning point. It defined his position on tour."
Browne's second PGA Tour victory came in 1999, when he shot a 66 on the final day to beat five golfers by one shot to win the MasterCard Colonial in Fort Worth, Texas. His name is etched on the tournament trophy alongside many of the game's legends, including Ben Hogan, Sam Snead, Arnold Palmer, Lee Trevino, Jack Nicklaus, Tom Watson, and Phil Mickelson.
Since 2000, Browne has had eight more top-10 finishes, including two last year—seventh at the Booz Allen Classic in Washington, D.C., and fourth at the U.S. Bank Championship in Milwaukee. However, the last two seasons he has finished just outside the top 125 on the money list, denying him a full exemption for the tour and thus limiting the number of tournaments he can enter.
The upside is that it's given him more weekends off to spend with his family. Unlike his own background, 16-year-old Olin Jr. "thinks the sun rises and sets on the golf course," while Alexandra, 13, is a tennis fanatic (Browne picks up his racket to play with her when the golf season ends). "It's pretty much fun," says Browne of following his children's athletic exploits. "You want to make sure you spend the appropriate amount of time with the people you care about."
And of course, there's Pam, who pushed him early on and now tells him when it's time to pull back. "Golf is so exacting," says Browne. "If you have any perfectionist inclination, it will drive you out of your marbles. She's the one that tells me to take it easy."
Browne made the cut in the first three tournaments he played in 2005 and hopes that the momentum he started in the second half of 2004 will carry forward. If it doesn't, faith and belief in himself guided him through his early struggles in golf, and he's not going to change now. He turns 46 in May—the same age as Nicklaus when he won his last Masters in 1986—and his future may include the lucrative Champions Tour for players 50 and over, but Browne's not thinking about that just yet. "Pam and I were talking about the future the other day," he recalls, "and she said, 'Why don't we worry about tomorrow.'"
Originally published in Occidental magazine, Spring 2005. Browne will be inducted into the Oxy Athletics Hall of Fame on October 18.