We are committed to keeping our campus community safe.
Occidental's Campus Safety Department provides security and emergency response services for the College 24 hours a day, seven days a week in keeping with its mission to serve the Oxy community with compassion, excellence and integrity. We are committed to working in partnership with the community to maintain a safe and secure campus and to create an environment free from the distraction of criminal activity and disorder.
Our full-time, unarmed, uniformed staff patrols campus on foot, on bicycles and in marked cars to respond to incidents and provide safety escorts. All staff are certified in first aid and CPR. Card access systems secure buildings after hours and blue-light emergency phones are in strategic locations on campus. The College has a written Memorandum of Understanding with the Los Angeles Police Department and calls upon LAPD's Northeast Division for support when needed.
Campus Safety Escort Service
Our safety escort service is available 24/7. We can take you anywhere on campus as well as locations off campus within designated boundaries. To request a safety escort, call (323) 259-2599.
Campus Safety Advisory Committee
CSAC seeks ways to improve relationships, communication, programming, and operational activities of the Campus Safety Department for the benefit of the Oxy community. Learn more about its agenda and activities.
Meet Our Director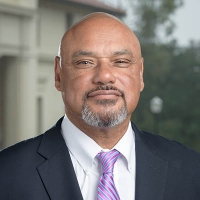 Rick Tanksley joined the Oxy community in January 2018. Rick brings over 30 years of experience working in public safety and emergency management, including 15 years of service as the chief of...