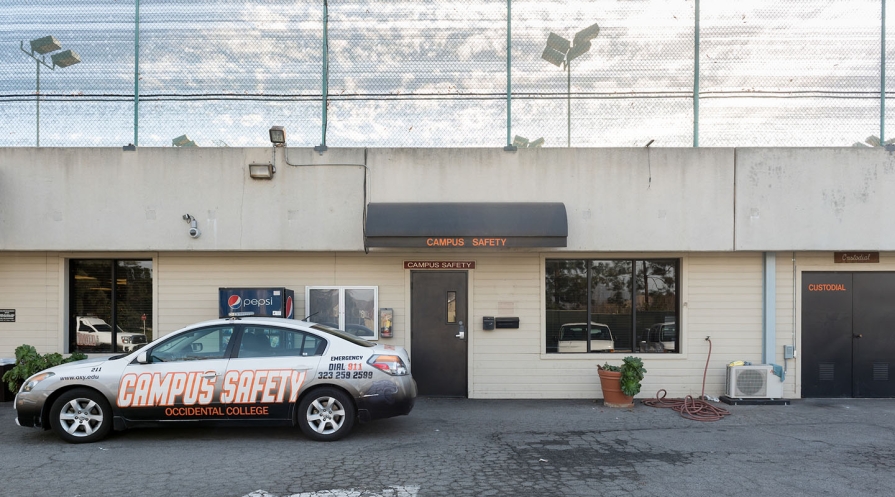 We are committed to keeping our campus community safe and instilling a culture of collaboration and trust.
Occidental's Campus Safety Office provides security and emergency response services for the College 24 hours a day and seven days a week in keeping with its mission to serve the Oxy community with compassion, excellence and integrity. We are committed to working in partnership with the community to maintain a safe and secure campus and to create an environment free from criminal activity and disorder.
Campus Safety serves the community in many different ways. Our full-time, unarmed, uniformed staff patrols campus on foot and in marked cars to respond to incidents and to provide service calls and safety escorts. We lock and unlock doors; assist students, staff, faculty and campus visitors; meet with contractors; and respond to fire alarms. All staff are certified in first aid and CPR. We've set up card access systems to secure buildings after hours and blue-light emergency phones are placed in strategic locations across campus. 
Campus Safety is also a critical component in overall threat assessment and risk management at Oxy. Its Emergency Preparedness Committee recently completed an all-hazards risk assessment for the College, identifying natural and man-made threats to the campus and preparing contingency plans for each.
Campus Safety Advisory Committee (CSAC)
CSAC seeks ways to improve relationships, communication, programming and operational activities of the Campus Safety Department for the benefit of the Oxy community. Learn more about its agenda and activities.