Jorge Gonzalez hotfoots it to London, Emmons expands its psychiatric and counseling services, and more
Futbol fanatic Jorge Gonzalez—vice president for academic affairs and dean of the College—wasted no time scurrying to the London Olympics when his beloved Mexico made it to the gold medal round in soccer. On August 11—26 rows up and on the 45-yard line—he retired the Mexican flag he'd carried (in defeat) to the last six World Cups after "El Tricolor" kicked its way past Brazil to gold medal glory, 2-1. Io Triunfo!
Mary Christianakis, associate professor of critical theory and social justice, received the 2012 Alan C. Purves Award for her article published in the August 1 edition of Research in the Teaching of English, the leading scholarly journal in its field. The article, based on a year of fieldwork and observation in a public school classroom in northern California, examines how fifth-graders use drawings and pictures in their writing. Christianakis' conclusions challenge "those who consider these forms of writing development immature or inappropriate beyond the early childhood and primary classroom," the citation reads.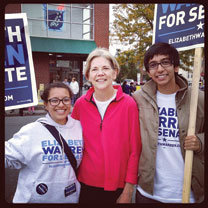 Estrella Lucero '14 and Nik Dodani '15, shown with Elizabeth Warren, Democratic candidate for U.S. Senate from Massachusetts, are two of 33 participants in Oxy's 10-week-long Campaign Semester, the only program of its kind in the country. From Honolulu to Boston, and from volunteer coordination to media relations, students are working both sides of the political aisle for a total of 10 different presidential and Senate campaigns in nine states.
A $1-million donation from the estate of Mose and Sylvia Firestone will expand on-site psychiatric and counseling services at Oxy's Emmons Health Center. "Mose and Sylvia had no children of their own, but spent much of their careers in child and family practice," says attorney Gary Kaplan '71, executor of the Firestone estate. "The Firestone Endowment for Student Counseling Services will continue that historic legacy by impacting Oxy students' lives for the better." Mirroring a nationwide trend, Emmons staff has seen an uptick in the number of students requiring mental health and counseling assistance.